Posts tagged: Parties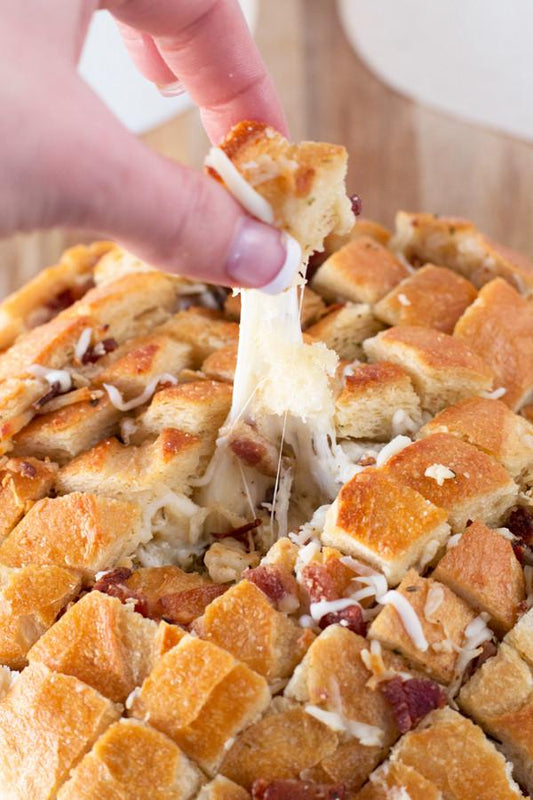 Hear that....? Gobble gobble! Thanksgiving is just around the corner and for all you piggy peeps out there, we know what you reallllllly want on turkey day. BACON. Seriously, though, when do any of us NOT crave bacon? The turkey might be the main event on Thanksgiving, but there's no reason you can't start out your day with some delicious bacon goodness. We're rounding up our top favorite bacon appetizers for you so you have plenty of time to prep for the big holiday. Even if the turkey turns out dry or the gravy is lumpy, at least you started off with a bang zoom pop of bacon to make up for it... HA don't worry, we know you pros wouldn't let any of that happen. Just make the bacon the opening act and we promise, your Thanksgiving is going to be off the HOOK. Bacon for the win, every dang time people!
Bacon Wrapped Tenderloin Bites with Creamy Horseradish Sauce - Joyful Healthy Eats Bacon Ranch Cheese Ball - Damn Delicious
Cream Cheese Stuffing Jalapeño Popovers - Whitney Bond Sweet and Spicy Sriracha Bacon Chicken Bites - The Gunny Sack
Bacon-Wrapped BBQ Shrimp with Chimichurri Dipping Sauce - Iowa Girl Eats
Feta and Bacon Stuffed Mushrooms - The Rustic Willow Grilled Bacon Wrapped Asparagus - Slim Sanity
Brown Sugar Candied Bacon - My Friend's Bakery Bacon Wrapped Dates with Goat Cheese and Rosemary - Spoon University
Bacon Wrapped Potato - Let the Baking Begin Maple Bacon Wrapped Andouille Bites - Loaves and Dishes
Bacon Straws - Army Wife to Suburban Life Sriracha Bacon Wrapped Stuffed Jalapeños - Sauce + Style
Pull Apart Bacon Garlic Cheese Bread - Sauce + Style
Bacon Jam Tartlets - Sauce + Style So after reading through all of these, which one do you want to start off your Thanksgiving feast with? Happy Turkey Day people!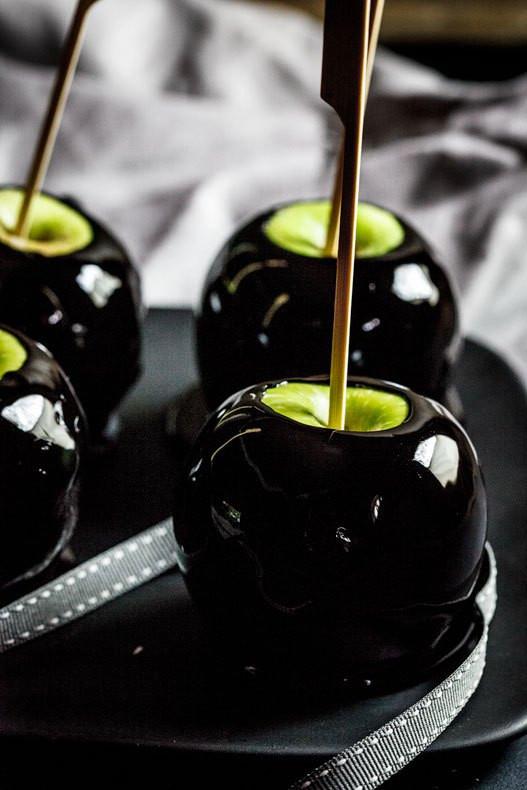 Halloween is one of those holidays that's mostly reserved for the kiddos. The dressing up, the trick-or-treating, the running all over the neighborhood like crazy gremlins - you start feeling a little silly about the whole thing as soon as you hit high school. Yea ok, you might be all grown up now. You might not see the fun in picking out a costume or staying out all night at a bar, but that doesn't mean you have to stop celebrating the holiday! Being a grown up means you get to do whatever the hell you want, and this year we wanna celebrate Halloween like the classy AF adults we are. Ditch that store-bought candy and whip up some tasty treats with a little spooky flair. It'll make that whole kids ringing your doorbell every 5 seconds thing SO much easier (or it'll take the edge of you running after your kiddos when they are all on crazy sugar highs). So grab the gang and have a party! Throw on a little Thriller and a witchy hat. Fill up those cocktail glasses and cheers to celebrating the holiday like the unbelievably mature adult you are. Just be sure to serve all of these spooky grown-up Halloween recipes, because that's how you really start adulting so hard.
Spiderweb Cake - Delish
Candied Apples - Delish Candy Corn Jello Shots - A Beautiful Mess
Strawberry Ghosts - Miss Candiquik
Dracula's Dentures - The Girl Who Ate Everything Twilight Bloody Good Vampire Milkshake Shots - Frog Prince Paperie
Pumpkin Cheesecake Truffle Mummies - Creme de la Crumb Tombstone Taco Dip - Better Homes & Gardens
Spooky Fried Mozzarella Eyeballs - Foodie Crush Pumpkin-Shaped Cheese Ball - lol foodie
Poison Toffee Apples - Simply Delicious Pumpkin Cocktail - Punchbowl
Petri Dish Jell-O - Sugar & Cloth
Halloween Candy Bag Caramel Corn - Sauce + Style And for a final treat, try pairing booze with all that leftover candy you have!
The Complete Guide to Pairing Halloween Candy with Booze - Sauce + Style Happy Halloween!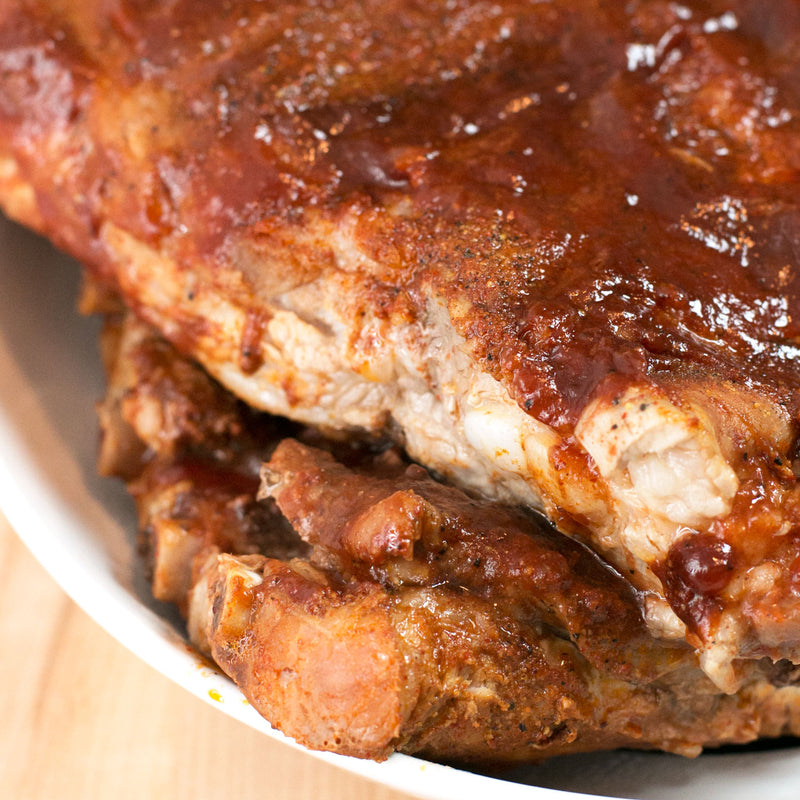 You know when you want those tasty, saucy, oh-so tender ribs but you don't have the time to slave away over the grill? I'm talking about those weeknights when you want to roll up to a giant slab of ribs without spending an arm and a leg, and without having to tend to a grill all dang day.
Wish no more, because I've got your weeknight meal run rescue right here. All you have to do is get your slow cooker ready for a day's worth of cooking those meaty bones low and slow. When you get home to these bad boys, your home will smell like BBQ and you'll be drooling in anticipation of that fall off the bone tender meat!
It's the rub PLUS the Pig of the Month BBQ Love Me Tender BBQ Sauce that make these ribs so ridiculously flavorful and delicious. You don't have to worry about adding extra liquid because these ribs will put their own juices to work. You don't end up with a gross watery mess at the end of this cooking round. Nope, you get those perfectly cooked, tender, melt-in-your-mouth ribs you've been dreaming of. So who's hungry?!
[vimeo 187700215 w=640 h=360]
Crockpot Memphis Style BBQ Ribs from Pig of the Month BBQ on Vimeo.
INSTRUCTIONS: In a small bowl, whisk together spices to create the super secret rub. Remove the membrane from the ribs and cut slab into three equal pieces. Add one of the three piece to the insert of a slow cooker. Top with one third of the rub, using your hands to rub it into the meat. Top the slab piece with one third of the BBQ sauce. Repeats these layers (ribs, rub, sauce) until the last layer of sauce. Cook on low for 8 to 10 hours. Remove from slow cooker and serve.
Shop This Post
Pig of the Month BBQ Love Me Tender BBQ Sauce  
*Recipe, photos and video by Meghan Bassett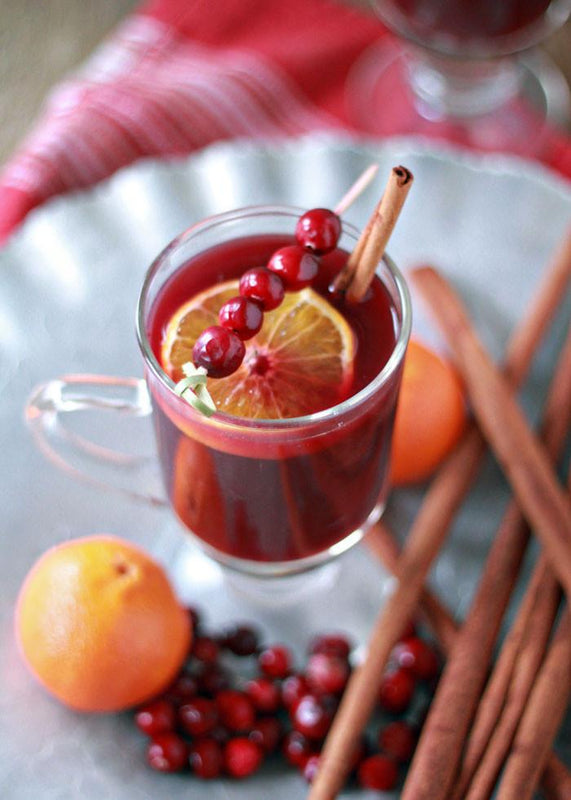 You know that warm feeling when you are enjoying a cocktail? The boozy heat that rises inside of you and makes you feel all cozy and happy from the inside out. You know the one I'm talking about, right? It's the one that makes you grateful for everything in your life as you let the stress of the day wash away in a single sip. Now imagine that happy feeling, but multiply it by about 5,000. That's the feeling I get whenever I sip on a really good warm cocktail, like mulled wine or warm boozy cider. It's like a warm hug for your belly that your entire body can sink into and enjoy. You all know we've been putting our crockpots to work already this month, but we can't forget about one of the most important kinds of recipes. Big batch cocktails... Whether you have a party coming up you need drinks for, or you are simply craving a perfectly balanced, warm cocktail, the cocktails we've rounded up below are the simplest ones around. They pack in the flavor and the warmth, without making you do any work. While it's brewing away in the slow cooker, you can simply sit back and enjoy the season. You'll find some classics in the list below - and even some fun new twists on your favorite nonalcoholic beverages! We absolutely can't stop, won't stop with any of these; and we're pretty dang sure you won't be able to either...
Slow Cooker Spiced Wine - Well Plated
Crock Pot Cranberry Cider - Kleinworth & Co. Slow Cooker Cranberry-Orange Mulled Wine - Kitchen Treaty
Slow Cooker Gingerbread Latte - The Cookie Rookie
Slow Cooker Peppermint Vanilla Lattes - Kitchen Treaty Slow Cooker Maple Pumpkin Spice Lattes - The Yummy Life
Slow Cooker Mulled Wine - The View From Great Island Slow Cooker Winter Rose Sangria - Hungry Girl Por Vida
Mulled Wine - Gimme Some Oven
Hot Caramel Apple Cocktail - Busy Mommy Cheers everyone!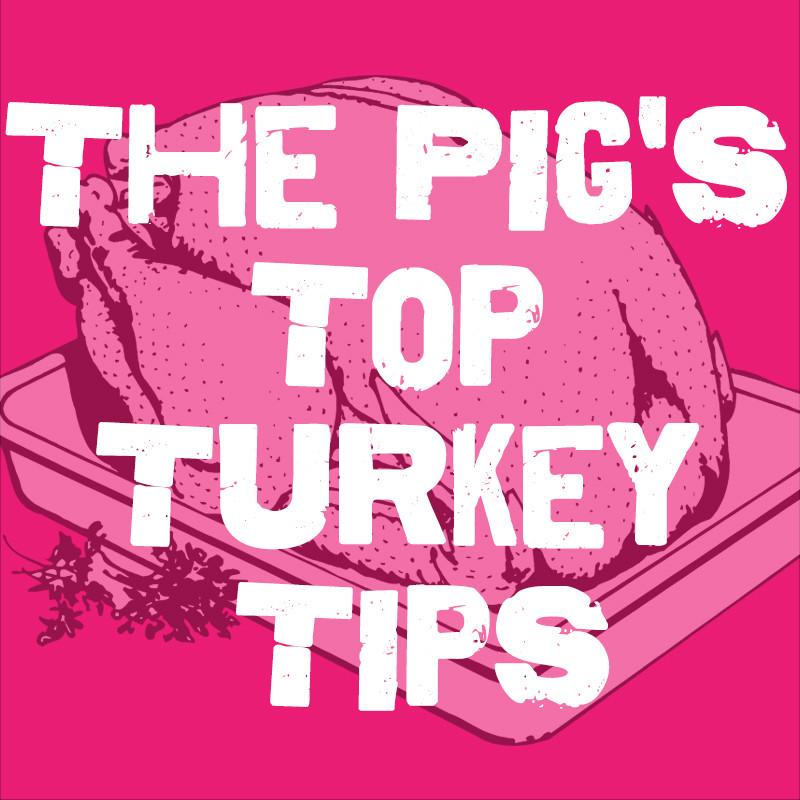 It's Thanksgiving once again! We are here to share another round of The Pig's Top Turkey Tips! This year, we're excited to share....
The Pig's Top Turkey Tips: How to Survive Without Going Insane Edition
Ready.... Set.... MASTER THANKSGIVING!
Make a schedule: For the day of (and the days leading up to Thanksgiving), make a schedule so it's not a giant cluster of craziness. Know what you can prep in advance. know how long everything needs to cook and at what temperature, etc. That way you don't end up in pure and utter chaos right when people start showing up, expecting to be fed. Stock up on booze - Family's in town, people are expecting a lot out of you... The pressure is on. Stock up on the booze, not only to make sure friends and family are tipsy enough to love your food no matter WHAT you do, but also so you can keep your sanity (and a sorta level head).
Check all your cookware and kitchen tools - Don't get stuck without a potato masher on the day of or too few serving dishes! Check all the tools, the cookware and the serving dishes in your kitchen to make sure you have everything's covered.
Get ready to thaw - For the love of everything that's holy, PLEASE know how long it will take to thaw your turkey. Also, make room in the fridge so the bird can actually fit in there (or load up a cooler and stock it with ice). Leave your turkey unwrapped in the fridge overnight - The result? Crispier skin. You're welcome.
Buy a meat thermometer - Yes, it's worth not having dried out turkey. Get the meat thermometer and know when to pull the turkey (at 160 degrees, it'll go up the other 5 degrees as it rests and stay moist). Make and freeze pie crust ahead of time - How much easier is it to just bake the crust and fill it the day of Thanksgiving instead of trying to make it all that day? You could even do this TONIGHT and be more prepared for relaxation on Thursday.
Make and freeze gravy - Again, another item you can make ahead and freeze. Just reheat on the stove when it's time to serve! Make and freeze mashed potatoes - Sorry, but we've got one more for ya! Mashed potatoes frozen and reheated will not lose their fluffiness, and you'll be grateful to not have to mash all those potatoes on the big day.
Make sure there are leftovers -  Remember YOURSELF. The day after Thanksgiving is the day for you, the cook. Have leftovers all stored up and ready as people are sitting down to eat on Thanksgiving. That way you can make a giant leftovers sandwich and kick back for a day of serious "you time".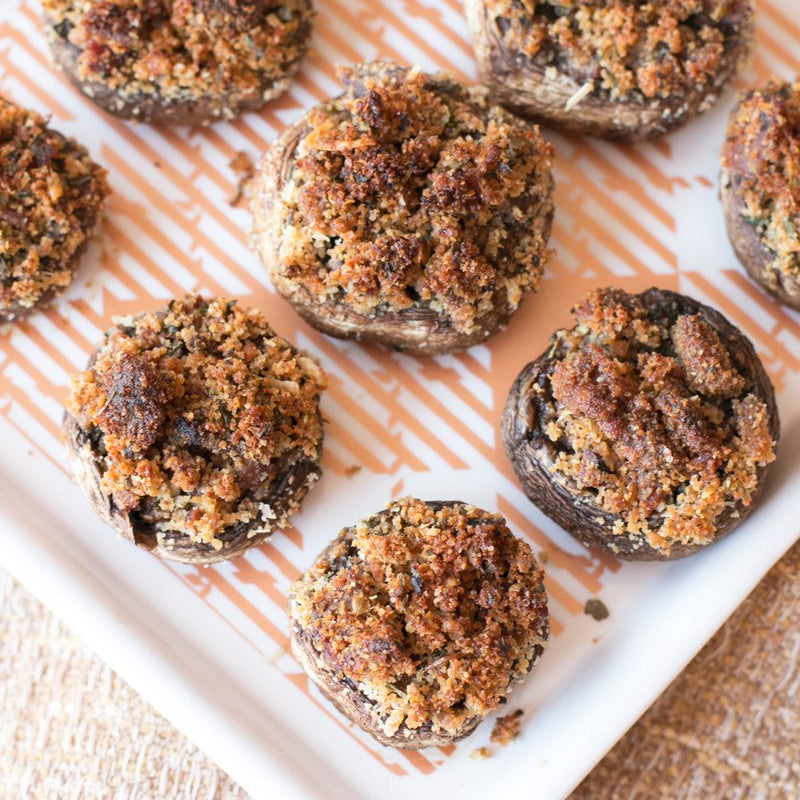 We are in prime holiday season and I don't know about you, but I need a ton of appetizer recipes on hand to get through to the end of the year.
From Thanksgiving to Christmas, Friendsgiving to New Year's Eve, there are about five million parties that are screaming for the perfect appetizer to stuff your face with. These little stuffed mushrooms are so easy to make and they are awesome for taking over to a party that you are attending. They are not too heavy so they won't spoil your appetite, but you might have trouble stopping at just one or too.
The earthy mushroom, the savory bacon and all the herbs blend together to make a delicious bite of crispy-topped perfection.
[vimeo 191819578 w=640 h=360]
Cheesy Bacon-Stuffed Mushrooms from Pig of the Month BBQ on Vimeo.
INSTRUCTIONS: Preheat oven to 400 degrees. In a medium bowl, stir together bread crumbs, cheese, garlic, bacon, oregano, parsley, pepper, salt and 2 Tbsp olive oil. Set aside. Drizzle a baking sheet with 1 1/2 Tbsp olive oil. Add 1 to 1 1/2 tsp of filling to each mushroom and place in an even layer on the baking sheet. Bake for 25 minutes, or until golden brown. Serve.
Shop This Post
Pig of the Month BBQ Applewood Smoked Maple Bacon
*Recipe, photos and video by Meghan Bassett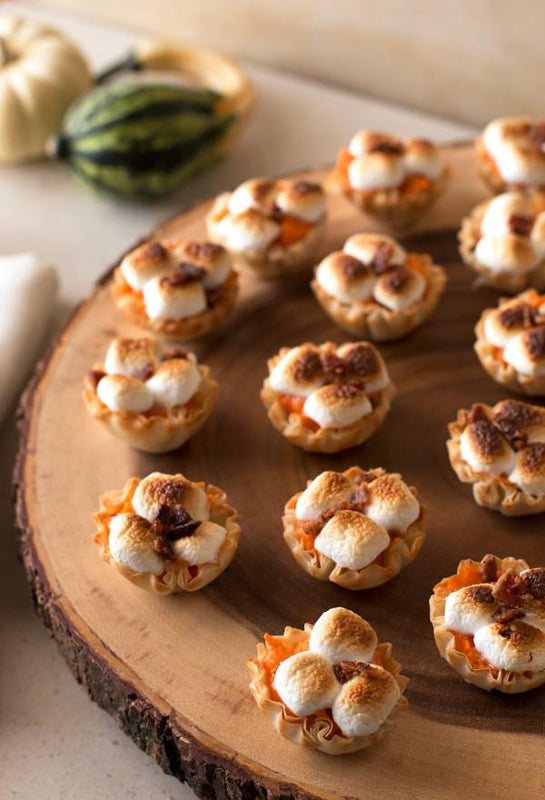 You've got about a week and a half until Thanksgiving rolls around... You might be cooking the whole meal and starting to wonder about what the heck you are going to serve while the meal is finishing up in the oven. Perhaps your mom tasked you with bringing a simple appetizer because she knows your aren't the most skilled cook in the world. The point is, you need an appetizer for turkey day that's both easy AND will still impress all your friends and family. We've got your back on this one! We rounded up our favorite appetizers that are the perfect opener for a huge Thanksgiving meal, but won't take you a ton of fancy ingredients or a ton of time to create. There's seriously no way to screw up any of these simple appetizers, but everyone will be ooo'ing and ahh'ing over the deliciousness. They'll never know just how simple they were for you to make! So grab a glass of wine and kick back on turkey day - you've got this whole appetizer thing covered.
Brie & Cranberry Phyllo Turnovers - Cookin Canuck Bacon-Wrapped Squash Bites - Chowhound
3-Ingredient Baked Ham and Cheese Rollups - The Comfort of Cooking 3-Ingredient Cream Cheese Wonton Dip - Creme de la Crumb
Sweet & Sour Crockpot Meatballs - Frugal Fanatic Gooey Baked Camembert - French Flakes
Rosemary-Lemon Monkey Bread - Flour Arrangements Baked Fontinella Cheese Dip - Easy Peazy Mealz
Best Baked Brie with Balsamic Cherries - Averie Cooks
Sausage & Stuffing Balls - I Should Be Mopping the Floor
Roasted Sweet Potato Pie Bites - Food Faith Fitness
Cheesy Sloppy Joes Puff Pastry Rolls - Curious Nut
Caramel Apple Bruschetta - My Suburban Kitchen
Baked Goat Cheese Roasted Cranberry Appetizer - Honey & Birch Bacon Jam Tartlets - Sauce + Style
Cornbread Tomato Tarts - Sauce + Style
Thanksgiving Sweet Potato Cups - Sauce + Style The whole fam is going to be so proud of your mad cooking skills!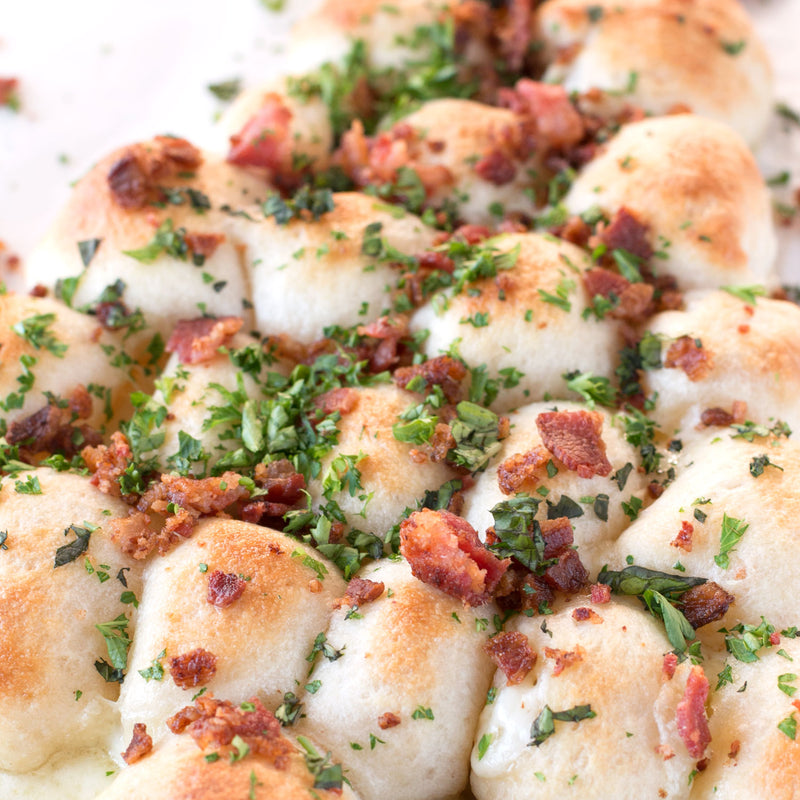 Nothing says Christmas like a Christmas tree, am I right? Even better than a Christmas tree? One made out of bread. Stuffed with cheese. Topped with fresh herbs and delicious, crispy bacon...
This treat of a tree is one of my favorite recipes to bust out around the holidays. It's bright and full of flavor, and being stuffed with gooey cheese in the perfect surprise for everyone attending your holiday meal.
The whole thing comes together in only 20 minutes, so there's no kneading. No waiting for bread to rise. And no sharing if you don't have the heart to... I'm just saying, I wouldn't blame ya if you don't share.
INSTRUCTIONS: Preheat oven to 400 degrees. Slightly roll out pizza dough and cut into 22 squares. Place one cube of cheese in the center of a square of dough. Wrap the dough up and around the cheese, pinching the edges together.
Place seam side down on a parchment paper lined baking sheet. Continue with the remaining cheese and dough, creating a Christmas tree shaped as shown in photos above.
Brush the tops of the dough balls with butter. Bake 15 minutes. Remove from oven and brush again with butter. Sprinkle with fresh herbs and bacon. Serve immediately.
Shop This Post
Pig of the Month BBQ Garden Herb Bacon
*Recipe and photos by Meghan Bassett
It's almost time to ring in a brand New Year! I don't know about you, but when the clock strikes midnight, I want to have something fun and festive in hand to toast a brand new start to a year. That's where these sparkling Raspberry Champagne Glitter Jell-O Shots come in!
Instead of regular ol' champagne Jell-O shots, these adorable homemade glitter shot glasses make the whole party so much more festive - not to mention switching things up with some raspberry-flavored Jell-O... You can make these guys well in advance of your party, from 3 hours before to the night before (ahem, like tonight!), so all you have to worry about is enjoying the party and ending 2016 in the best way possible - boozy and sparkly!
Happy New Year to all!
[vimeo 197411369 w=640 h=360]
Raspberry Champagne Glitter Jell-O Shots from Pig of the Month BBQ on Vimeo.
INSTRUCTIONS: Clear a clean work space and put down either newspaper or parchment paper. Spray the bottoms of the clear plastic shot glasses with a light coat of adhesive. Gently shake glitter over the glasses and tap to shake off excess glitter. Place upside down on clean newspaper or parchment paper to dry, approximately 5 minutes. In a large bowl, combine boiling water with Jell-O. Whisk for 3 minutes, until the powder is dissolved. Stir in champagne and water until well-combined. Carefully pour mixture into glitter shot glasses. Chill 3 to 4 hours before serving.  
*Recipe, photos and video by Meghan Bassett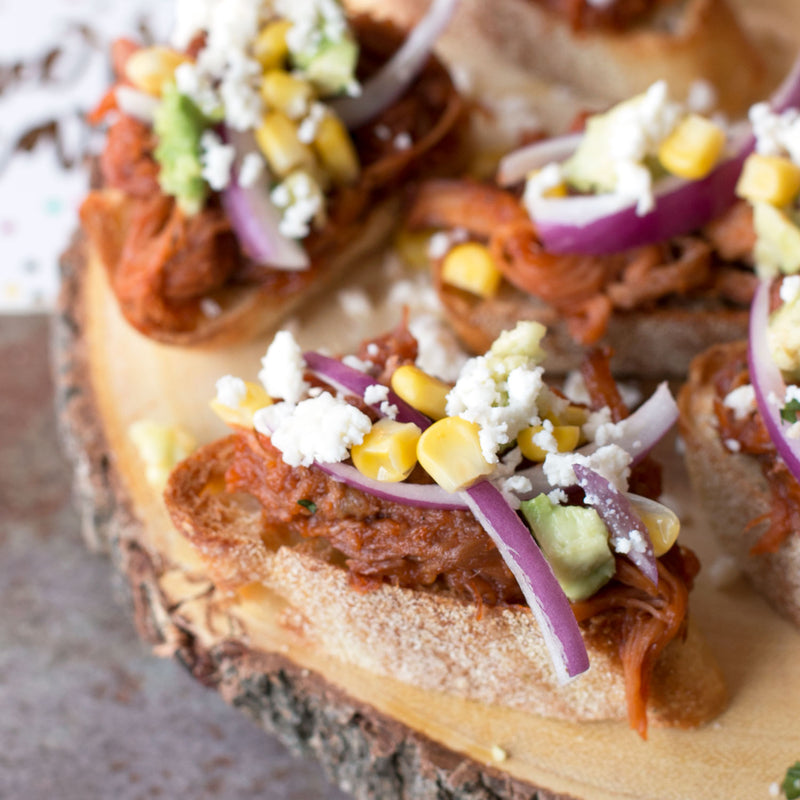 It's all about the festivities this week because the celebration season is far from over, piggy peeps! Did you all have a great Christmas? It's hard to believe that the New Year is just around the corner...
All I know is I'm kinda over 2016 and I'm ready to kick off a new and better year in 2017 already! This year I'm super excited to be ringing it in with some of these KILLER Southwestern Pulled Pork Crostini and a couple glasses of champagne deliciousness.
These little pulled pork crostini are full of different flavors and textures to keep the party rocking in your mouth! The bite of the red onion, the saucy and juicy Pig of the Month BBQ Pulled Pork, the sweet pop of corn and the salty burst of queso fresco - they all work together to make the ideal bite. These appetizers are small enough to not make everyone all bloated come the ball drop, but they are filling enough to fight off the dangerous empty stomach syndrome that can lead to a serious hangover on New Year's Day. Plus they are easy AF to pull together!
Just pop the champagne and prosecco, and let's ring in the New Year RIGHT.
INSTRUCTIONS: Set broiler to high. Place bread slices in an even layer on a baking sheet. Toast under broiler until golden brown. Top each toasted slice of bread with a layer of pulled pork. Add a couple slices of red onion, then top with corn and avocado. Sprinkle the crostini with a generous helping of queso fresco and chopped cilantro. Serve with champagne or prosecco!
Shop This Post
Pig of the Month BBQ Pulled Pork
*Recipe & photos by Meghan Bassett
« Previous
1
2
3
4
5
Next »