Posts tagged: onion rings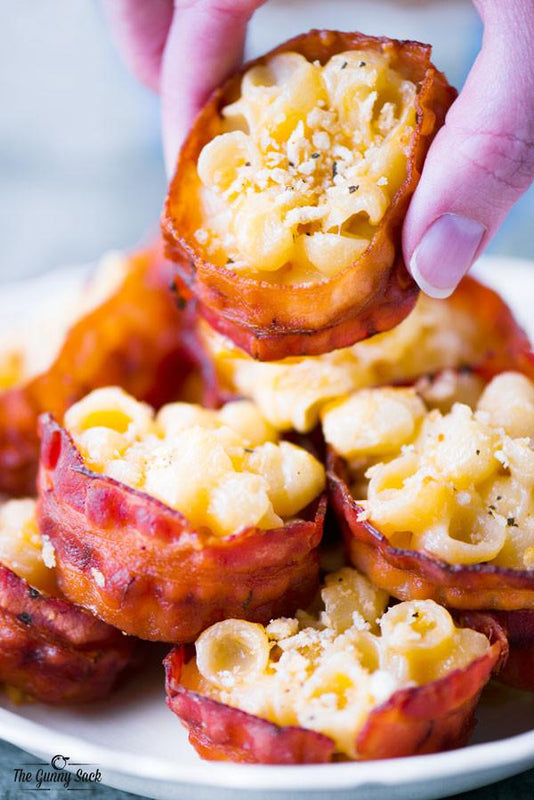 FOOTBALL IS FINALLY HERE! Who else out there is completely losing their minds? It feels like we've been waiting forever for the season to officially start - because we seriously have been - and now that it's here, we are going all out for every dang game. What does that mean for us Pig of the Month BBQ peeps? Wrap all the things in BACON. There's nothing much better than throwing bake some bacon deliciousness with those brews while taking in all that glorious pigskin action. You all know bacon is a part of daily life in our world, so having the excuse to whip it out yet again four days out of the week is our idea of hog heaven. Don't disappoint your favorite fans with some chips and dip and a couple beers this weekend. Bring out the bacon and make everyone lose their minds over all the goodness! Football was meant to be enjoyed with an extra side of bacon. Don't even try to argue with us. It's a FACT. Check out these KILLER bacon-wrapped recipes and head over to Pig of the Month BBQ's bacon section to get the good stuff. You can thank us later.
Teriyaki Chicken Skewers - Whitney Bond Parmesan Bacon Knots - A Spicy Perspective
Sweet Potato Fries Wrapped in Bacon - Spicy Southern Kitchen Tater Tot Bombs - Damn Delicious
Bacon Wrapped Pineapple Bites - Mama Loves Food
< Grilled Cheesy Potato Volcanoes - Tasty
Sriracha Bacon Wrapped Stuffed Jalapeños - Sauce + Style
Bacon-Wrapped Onion Rings - Sauce + Style
Bacon Wrapped Lil Smokies - Oh Sweet Basil Bacon-Wrapped Dates with Balsamic Reduction - Bright-Eyed Baker
Bacon-Wrapped Chicken Bites - Lovely Little Kitchen
Bacon Wrapped Avocados - Oh Sweet Basil
Bacon Mac and Cheese Bites - The Gunny Sack Bacon Cheeseburger Bombs - Pillsbury
Sweet and Spicy Bacon Wrapped Meatballs - The Gunny Sack Bacon Cream Cheese Bites - Garnish with Lemon
Bacon Wrapped Cheese Bombs - Crunchy Creamy Sweet
Shop This Post
Pig of the Month BBQ's INSANE bacon collection
Boring old fried onion rings are sooooooo yesterday. No one needs all that greasy breading. Instead, you need all that greasy, crispy BACON. These bacon-wrapped onion rings are the only way you should be eating your onion rings from now on. Everything is better with bacon, you all know that! These onion rings might look a little intimidating to make, but they are so much easier than dragging out the fryer and going through the batter process normal onion rings require. Instead just wrap these bad boys up and bake until they are crispy and delicious. No possible oil burns and no risk of a grease fire. Which for someone as clumsy as myself is a serious MUST.
The hint of BBQ sauce and smoky flavor of the bacon give new life to onion rings that is downright addictive. Trust me when I say you won't regret diving into a bowl of these savory rings of bacon-wrapped onion rings (aka serious deliciousness) for a second; and if you do, hand them over, I'll finish off the rest for you.
INSTRUCTIONS: Preheat oven to 400 degrees F. Line with foil and place rack on baking sheet.
Brush the onion rings with BBQ sauce, then carefully wrap in bacon. Start by wrapping one end of a bacon slice snuggly around the onion ring so it just slightly overlaps itself. You'll use about 1 1/2 to 2 slices of bacon per onion ring.
Place the wrapped onion rings bacon-end side down on the rack and bake for 20 minutes. Flip the onion rings and bake another 15 to 20 minutes. Finish the onion rings with a few minutes under the broil if you like crispier bacon. Remove from oven and rest at least 5 minutes. Serve with more BBQ sauce if desired.
Shop This Post Pig of the Month BBQ Applewood Smoked Maple Bacon Recipe & photos by Meghan Bassett