Posts tagged: nachos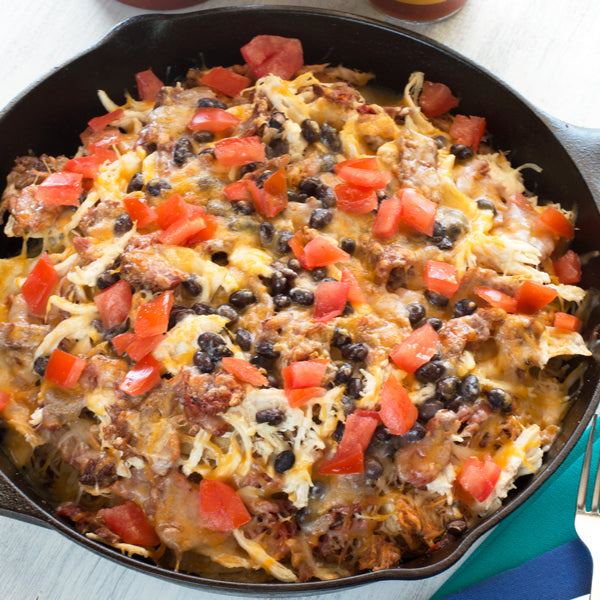 Imagine this… You're sitting around the campfire, drinking a couple beers and joking with your friends. Then someone says, "dinner's ready" and you all gather around a large cast iron skillet. The aluminum foil gets peeled off and you instantly smell the best campfire dinner smell ever – barbeque.
Now I'm turning that imagined experience into a reality for you with these campfire barbeque nachos! Featuring Pig of the Month meats, all you have to worry about is preparing shredded chicken prior to packing up and heading to your campsite. Then simply assemble all the ingredients, cover with foil and cook directly on the campfire until everything's warm and the cheese is melted.
You'll end up loving the three-meat combination on these campfire nachos so much, you'll be building fire pits in your backyard just for an excuse to eat them on a weeknight! DIG IN!
INSTRUCTIONS: Layer the tortilla chips on the bottom of the cast iron skillet, filling it approximately 1/3 of the way full. Add the pulled pork, brisket and pulled chicken in an even layer on top of the chips.
Top the meats with black beans, sliced jalapeños, and cheese. Cover the cast iron skillet with aluminum foil and place directly on the campfire. Cook until the dish is warmed through and the cheese is melted, approximately 5 to 10 minutes. You can also cook this under the broiler on low for approximately 5 minutes at home!
Remove from heat, peel off the foil and top with the fresh tomato chunks. Serve immediately with either barbeque sauce or salsa and hot sauce.
  Shop This Post
Pig of the Month Pulled Pork Pig of the Month Brisket
Recipe & Photos by Meghan Bassett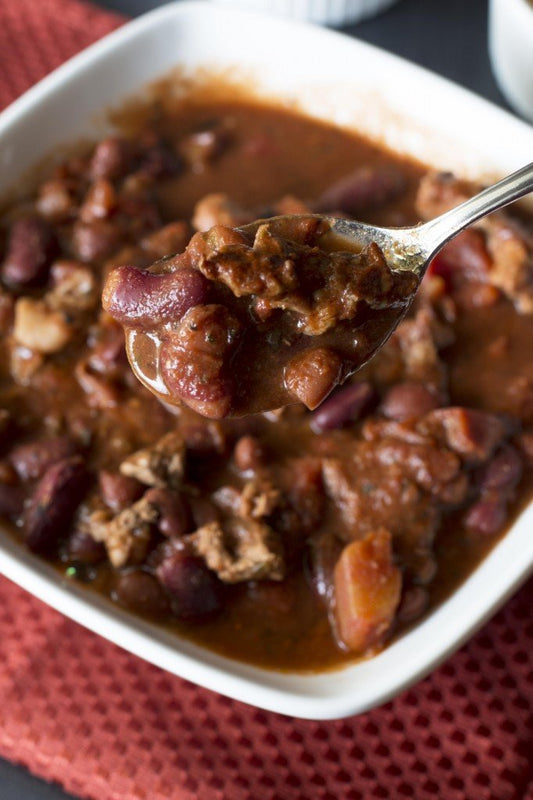 Some of you might pull out the slow cooker all year long, but if you're anything like us, you spend most of your time in the warmer months putting that grill to work. Now that the temperatures are starting to dip and the grills are getting their last hurrah, we're looking ahead to crockpot season. Is anyone else as excited as we are about this?!  There's nothing like coming home to a delicious meal all hot and ready, simply waiting for you to dish up, at the end of a long hard day. Those days seem to get even longer and harder as the cold temperatures set in and you get a bit of a chill walking from your car to your front door. We love putting our slow cookers to the test all fall and winter long, so we've rounded up the ultimate list of comfort crockpot foods to keep your belly and your heart happy! From classics like beef and bean chili, to new favorites like mozzarella stuffed meatballs, you'll be able to cure any weekday blues just a few minutes after you get home.
Slow Cooker Sriracha Bacon Mac N Cheese - Sauce + Style Slow Cooker Beef & Bean Chili - Sauce + Style
Slow Cooker Texas Smoked Beef Brisket - Sauce + Style Slow Cooker Lasagna - Sauce + Style
Crockpot Root Beer Pulled Pork - Sauce + Style Slow Cooker Melt-In-Your-Mouth Pot Roast - Joyously Domestic
Slow Cooker Mozzarella Stuffed Meatballs - Le Creme de la Crumb Slow Cooker Chicken Tortilla Soup - Rotel
Best Slow Cooker French Dip Sandwiches - Carlsbad Cravings Crockpot Hot Chocolate - Sauce + Style
Slow Cooker Broccoli Beef - Le Creme de la Crumb
Crockpot Sunday Sauce - Half Baked Harvest
Crockpot Beer Braised Chicken - Half Baked Harvest
Crockpot Carne Asada Nachos - How Sweet It Is Slow Cooker Pumpkin Pie - She Knows Be sure to keep up with our blog posts all month long because October is going to be ALL about the crockpots!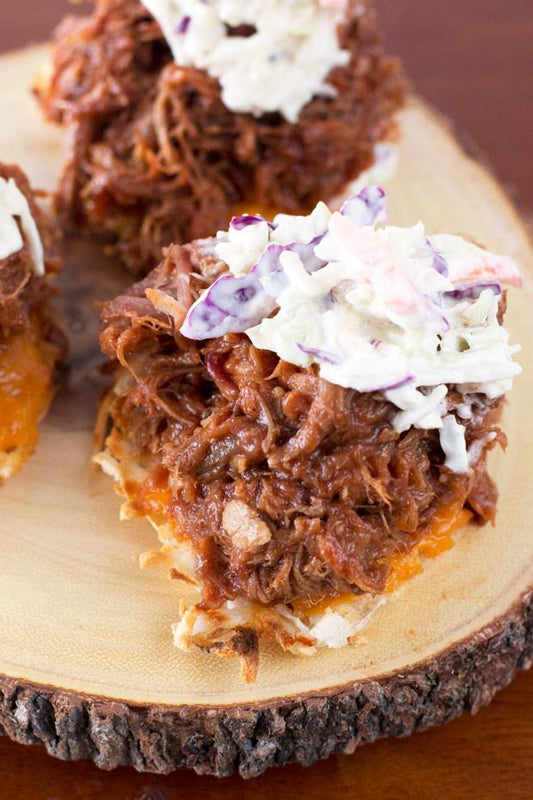 I can hardly believe that summer is almost over. Before you know it, Labor Day will have come and gone, the pumpkin spice lattes will be EVERYWHERE, and you'll be missing those long lazy summer afternoons of grilling so hard. I don't know about you, but I am packing in as much summer celebration as I can right about now. My weekends are all about party-hoppin' and backyard BBQ'ing. Of course, being the food-obsessed lady I am, I've got to bring the good stuff when I roll up to a party I'm not hosting. Now is the time to bust out those summer appetizers you have been meaning to make all summer long. You only live once right? Eat that extra slice of bacon. Stuff that sandwich with an extra slice of cheese. Get down on those summer flavors like there's no tomorrow, because soon tomorrow will be bringing that snowstorm that you've been dreading. I've rounded up some of my personal favorite summer appetizers below that are serious crowd-pleasers. These appetizer recipes are so bomb dot com, peeps! For real, I can promise you that you will never be heading home with leftovers.
Black Bean Jalapeño Poppers - Oh My Veggies Open-Faced Pulled Pork Sliders - Sauce + Style
Super-Size Bruschetta - Delish 5-Ingredient Garlic and Herb Cheese Bombs - Spoon University
Hawaiian BBQ Sliders - Nosh and Nourish Bacon-Wrapped Dates with Goat Cheese and Rosemary - Spoon University 
Lemon Pepper Bacon Wrapped Shrimp Skewers - Sauce + Style
Bacon Jalapeño Cream Cheese Poppers - Spoon University
Green Fries (AKA Crispy Baked Avocado Fries) - Sauce + Style
Tater Tot Nachos - Spoon University Hogs in a Blanket - Food & Wine Enjoy these last days of summer before it's too late!
With March Madness starting to set in, March is the month of snacks and munchies for us! It just so happens to be one of our favorite times of the year because it gives us the excuse to pull out all our favorite standby snacks as we stream the games all day, every day. Of course, sometimes we like to get a little classy up in here with our snacking. There's only so much beer you can drink in one month, right? It's about time we switched over to some wine for those grape-obsessed during our favorite time of the year. That's why we've put together the ULTIMATE snack and wine pairing guide so you can feel classy AF while you sit back, pig out on your favorite snacks and watch your favorite team demolish everyone else with each passing week. Love your white wines? Here's the snacks you'll want to bring to the table with your all-time fav wines while you root for the upsets:
More of a red aficionado? Get rich and deep with these tasty pairings as you discuss who will be in the final showdown:
Can't decide between red and white? Good news, we've got you covered with BOTH for these munchies. Who's got time and patience to choose when your team's championship is on the line, am I right?
You'll get that three-pointer you've been prepping for all season with this guide, trust me. Don't forget to check out our March Munchie Madness bracket challenge for the chance to win some serious tasty treats! We're about halfway through the brackets but there's plenty more knock-down drag out fights left in our tasty contest. One lucky winner will win each round, and the next winner could be YOU. Follow along on Facebook and Instagram for more ways to enter to win.
If you are planning on celebrating St. Patrick's Day in any way this year, do it with these Ultimate Loaded Irish Skillet Nachos made with Pig of the Month BBQ Corned Beef. Forget the corned beef and cabbage (no one really likes cabbage as a side, do they?), these nachos are the best way to honor the land of the leprechauns! Regardless of when St. Patrick's Day falls during the week, you'll always find me celebrating with some corned beef and Guinness. Perhaps it's an homage to my Irish heritage, or perhaps it's just that I'll take any excuse to celebrate life with beer and some seriously delicious meat.
No matter why or how you celebrate this year, you owe it to yourself to include these Ultimate Loaded Irish Skillet Nachos. They are loaded up with thick-cut potato slices, a heaping helping of corned beef, cheese, avocado, sour cream and pickled jalapeños. It's the tastiest St. Patrick's Day recipe you'll come across, just trust us on this one.
And while you're digging in, remember to read what to eat before and after drinking so you can save yourself from a hangover tomorrow (bonus: this recipe covers those for you... Just saying - miracle recipe).
INSTRUCTIONS: Preheat oven to 400 degrees. Grease a baking sheet with cooking spray and set aside. In a large bowl, toss the sliced potatoes with olive oil, salt and pepper to coat. Place the potato slices on the greased baking sheet in one even layer. Bake for 15 minutes, flip the slices over and bake for another 15 minutes.
To assemble the nachos, add the potato slices to the bottom of a large cast iron skillet or other ovenproof skillet. Add the corned beef on top, followed by the pepper jack cheese and cheddar cheese. Place under the broiler set to high for 1 to 2 minutes, or until the cheese has melted.
Top with mashed avocado, pickled jalapeños, cherry tomatoes, cilantro, green onion and sour cream. Serve immediately.
Recipe & Photos by Meghan Bassett