Posts tagged: mini marshmallows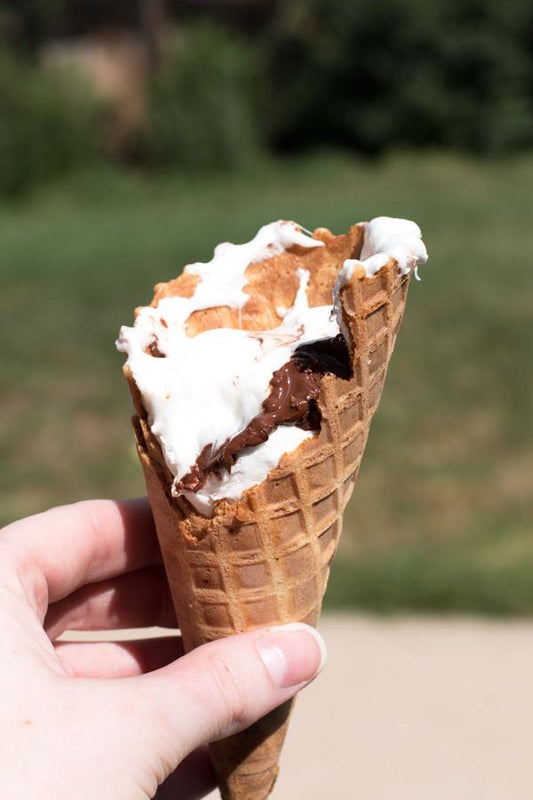 Boy, do I love s'mores… Nothing screams campfire and summer quite like melted, gooey s'mores! Of course, regular ol' s'mores can get a little boring. That's why I am currently loving these campfire s'mores cones! Instead of being limited to the chocolate bar for your s'mores, you can experiment with all the different flavors of chocolate chips (and even non-chocolate chips such as Reese's and butterscotch!).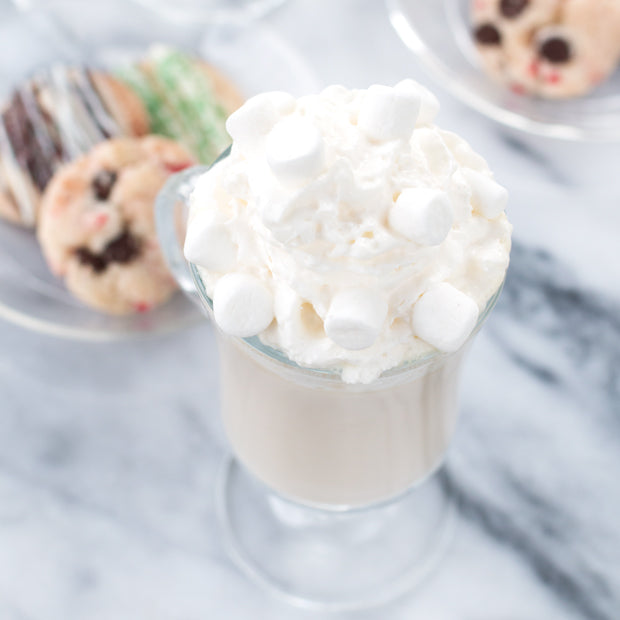 It's beginning to look a lot like winter! The temperatures are dropping, the snow is starting to fall, and it's about time to start snuggling up under blankets next to a roaring fire every night. Nothing goes better with a snuggly night in than a giant mug of warm hot chocolate, spiked with a little booze of course. :)
This Boozy White Hot Chocolate is a fun way to shake up your usual hot chocolate routine, featuring indulgent white chocolate and spiced rum for just the right touch of much-needed extra warmth.
Holiday movie marathon? Oh yea, this'll do the trick better than that tired ol' egg nog.
INSTRUCTIONS In a medium saucepan over medium heat, combine milk, chocolate chips and vanilla. Stirring constantly, heat the mixture until the chocolate is melted and the mixture begins to simmer, approximately 10 to 15 minutes. Remove from heat and stir in rum. Divide evenly between two large mugs and serve with marshmallows and whipped cream.
Recipe & Photos by Meghan Bassett
I've got the big wowza side dish for your Thanksgiving feast this year. I LOVE sweet potato casserole topped with mini marshmallows. However I always feel like there's never enough sweet potato to go around. It gets overwhelmed by the mini marshmallows and you miss out on that delish sweet potato taste.
So I decided, why not make things easier and individually portioned this year? You get more sweet potato deliciousness AND it's so much easier than putting together a casserole. All you have to do is bake up some sweet potatoes and top them with an AMAZING sauce filled with butter and sugar and spices. Not to mention mini marshmallows and BACON.
The savory sweet combo in these potatoes will have everyone going crazy at your Thanksgiving table. Everyone from the kiddos to the adults will swoon for it, and it makes the easiest and best side for all that turkey that you plan to inhale. Not to mention the leftovers are completely bomb diggity and you are going to want to set one (or two) aside to indulge in the weekend after Thanksgiving.
Happy turkey day folks!
[vimeo 191064381 w=640 h=360]
Fully Loaded Bacon Sweet Potatoes from Pig of the Month BBQ on Vimeo.
INSTRUCTIONS: Preheat oven to 425 degrees. Bake potatoes on a foil-lined rimmed baking sheet for 45 minutes to one hour, until tender. Remove from oven and make a slice in the center, leaving approximately a 1/2-inch on either end. In a small bowl, whisk together unsalted butter, brown sugar, ground cinnamon, ground cloves, ground nutmeg and vanilla. Spoon in the melted butter mixture into each sweet potato, distributing evenly. Add bacon evenly between the four potatoes. Top each with mini marshmallows. Broil for 1 to 2 minutes, until the marshmallows are toasted on top. Remove from oven and serve.
Shop This Post:
Pig of the Month BBQ Applewood Smoked Bacon  
*Recipe, photos and video by Meghan Bassett