Posts tagged: Mexican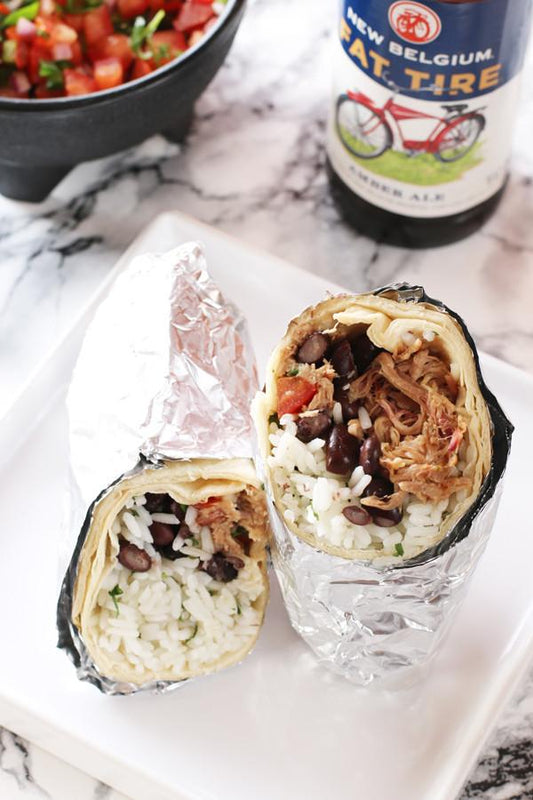 Chipotle happens to be one of my favorite places to eat in the entire world. I could live off their carnitas and guacamole for the rest of my life and be in bliss with every single bite. So when Chipotle announced a shortage of my beloved carnitas in January, I was going out of my mind. How in the world would I get my carnitas burrito fix?!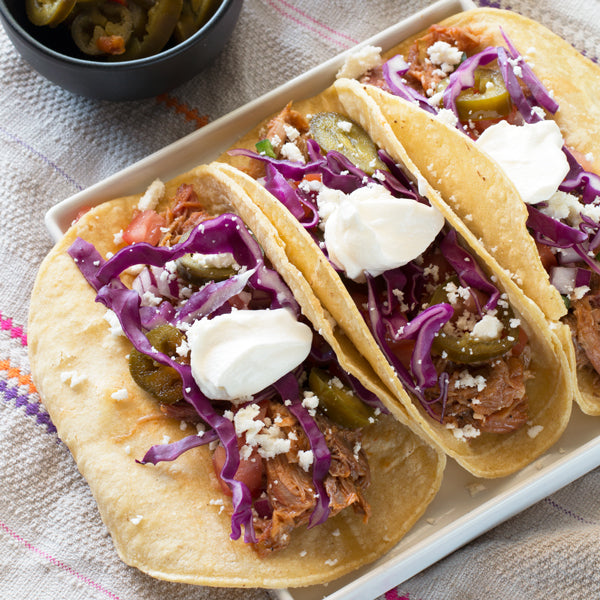 These pulled pork tacos are going to rock. your. world. I have to admit, I have a bit of an obsession with tacos. It's the one meal I can't seem to live without for more than a week. These pulled pork tacos are my new favorite in my taco rotation.
They are packed with pulled pork, pico de gallo, pickled jalapenos, cabbage, cheese and sour cream – everything you could every want from a taco! They are so flavorful that every bite practically explodes in your mouth. You'll find it extremely difficult to stop yourself from eating more than 3… or 4… or 5…
INSTRUCTIONS: Warm the corn tortillas for 15 to 30 seconds in the microwave to make them easier to work with. In a small bowl, stir together the ingredients for the quick pico de gallo. To assemble the tacos, pile on the pulled pork, pickled jalapeños and red onions, and pico de gallo. Top with queso fresco and sour cream. Serve immediately.
Shop This Post
Recipe & photos by Meghan Bassett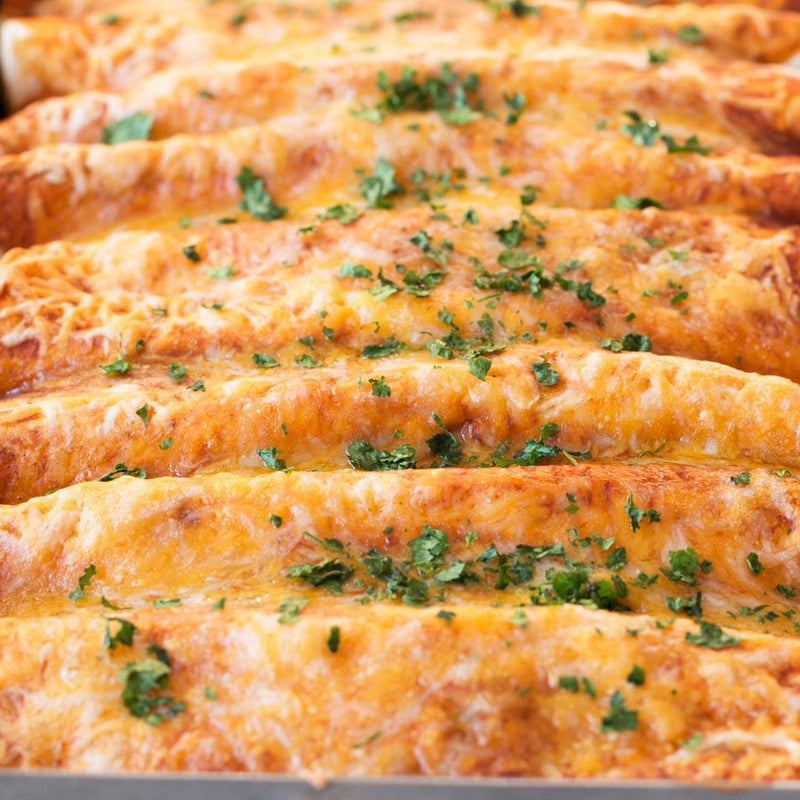 You know when you discover one of the best combinations ever? Because I just did. It's called the happy little crossing place between Mexican and BBQ....
I can't lie; it's freaking magical!
The cheesy, ooey gooey normal enchiladas recipe is made oh-so much better with the addition of BBQ sauce and the best ever Pig of the Month BBQ pulled chicken. It's a little spicy, a little sweet and totally tangy, making every bite the most dreamy thing to hit your taste buds since a slice o' crispy bacon.  If your tummy isn't rumbling at the sound of that, there's honestly something wrong with you...
Get down to Chow Town!
Serves 4 to 6 INSTRUCTIONS Preheat oven to 350 degrees. Grease a 9x13-inch baking dish. Add vegetable oil to a medium skillet and heat over medium-high heat. Add onion and cook until tender, approximately 3 minutes. Add chicken and chiles. Season with salt and pepper and cook until warm. Keep warm over low heat. Whisk together enchilada sauce and BBQ sauce in a small bowl. Set aside. Assemble the enchiladas by laying out the tortillas one at a time on a clean work surface. Spoon on 2 Tbsp of the enchilada BBQ sauce, spreading it out to coat the entire tortilla. Add 2 Tbsp of the chicken mixture down the center of the tortilla, then sprinkle with cheese. Roll up tightly and place in baking dish. Repeat with remaining tortillas. Spread remaining sauce over the top of the enchiladas. Top with remaining cheese. Bake for 20 minutes. Garnish with chopped cilantro and serve immediately.
Shop This Post
Pig of the Month BBQ Pulled Chicken  
*Recipe & photos by Meghan Bassett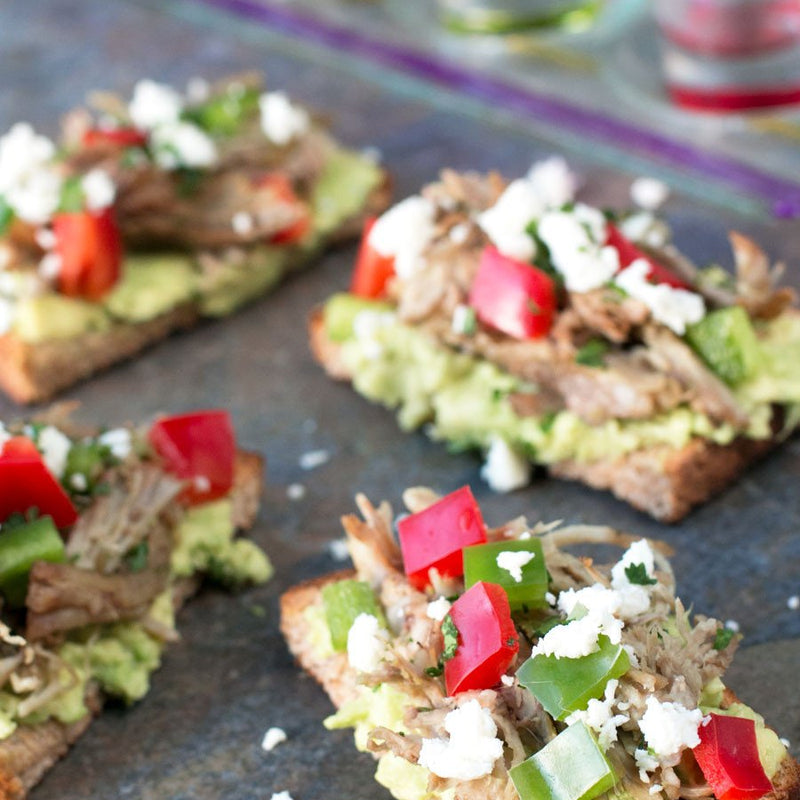 Avocado toast might be all the rage for all those health nuts out there wanting to eat something good for breakfast or lunch, and while we appreciate the healthy attempt, I kind of like to trash my healthy plans up... With a whole heaping helping of meat in these killer Pulled Pork Veggie Avocado Toasts!
I can honestly admit that my attempts at getting healthy this year are pretty dang lame... I am not the biggest fan of sticking to a strict diet. For obvious reasons I'm sure. I mean when I have Pig of the Month BBQ Pulled Pork in my fridge, why the heck would I ever want to just eat my fruits and veggies?! Nope, instead I want to load up on my pork and I GUESS I can load up on some veggies at the same time.
With the pulled pork, these veggie avocado toasts burst with tons of flavor. It's like eating a pulled pork taco but on toast! I love making this for breakfast or lunch, or a mid-afternoon snack, because it's super easy AND it's easy to throw together in even the smallest of kitchens (like that dinky one at your office...). So load up and get healthy (well healthy-ISH)!
INSTRUCTIONS: Spread toast with a layer of mashed avocado. Top with pulled pork, chopped bell peppers, queso fresco and chopped cilantro. Serve!
Shop This Post: Pig of the Month BBQ Pulled Pork *Recipe and photos by Meghan Bassett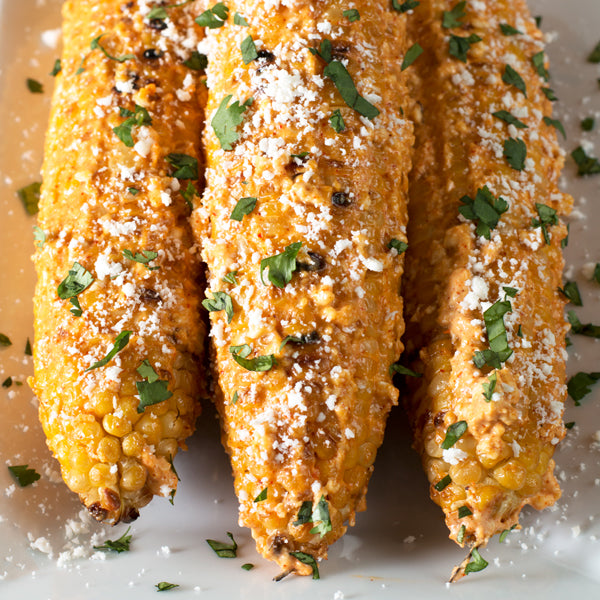 Need a new, spicy twist on traditional grilled corn on the cob this summer? This Mexican street corn is a simple way to spice up plain ol' corn. The spread is tangy with just the right amount of spice to brighten up the smoky grilled corn. You won't be able to stop with just once cob!
Sprinkle on extra cheese, lime juice, fresh cilantro and chili powder for even more of a flavor punch in the mouth. You'll be surprised how such a simple recipe can completely transform one of your favorite summer grilled veggies.
Heat up your grill and oil the racks. Set corn cobs on the grills, rotating throughout the cooking until done, approximately 8 to 10 minutes.
In a small bowl combine the mayonnaise, sour cream, spices, lime juice and cheese.
When the corn is cooked, remove from the grill and slather each corn cob generously with the spread you created. Serve immediately with extra cheese, cilantro, chili powder and lime wedges.