Posts tagged: melted cheese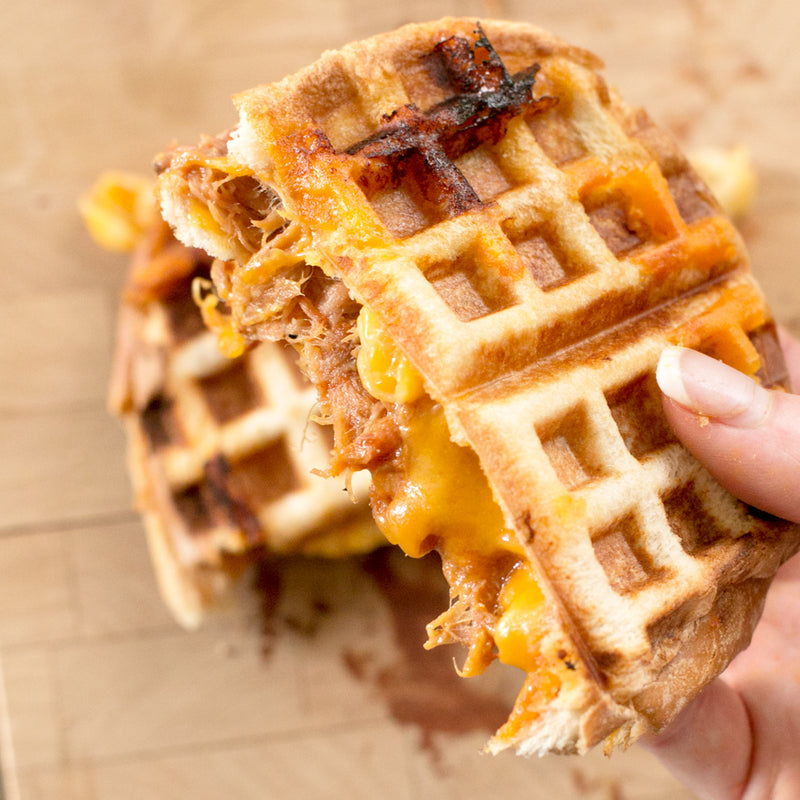 Hey food porn fans... I've got something extra special for you today... It's hot and crispy straight out of the waffle iron, stuffed with saucy pulled pork and so cheesy your head might explode. It's basically a giant mess of a sandwich, carefully contained in a pocket of waffle ironed bread.
This is seriously going to become your new favorite way to make grilled cheese sandwiches, period. The waffle iron crisps up the bread in a way that cooking it over the stove just doesn't do. It's like your own personal panini press, with more than one function in the kitchen! You just pinch down those edges and it forms a pocket of deliciousness.
When you open up this bad boy, all that pork, mac n cheese and cheddar comes oozing out in the most luscious way. You might have to stop and just stare at it before shoveling it in your mouth in one giant bite. Might have to stop. But we know you definitely won't delay the goodness, right?
Get those cameras ready folks, this is food worthy of that 'foodporn' hashtag on Instagram.
INSTRUCTIONS Grease waffle iron with cooking spray and turn on.
To assemble the sandwich, begin with adding one slice of cheese to a slice of bread.
Top with half of the pulled pork, then half of the mac and cheese.
Finish with the other slice of bread. Repeat with the second sandwich. When the waffle iron is hot, cook one sandwich at a time. Place the sandwich in the center and press down firmly. You may have to hold the waffle iron down as it will not close completely.
When the cheese is melted, approximately 1 to 2 minutes, remove sandwich from the waffle iron. Repeat with the other sandwich. Serve immediately.
Shop This Post
Pig of the Month BBQ Pulled Pork
*Recipe & photos by Meghan Bassett