Posts tagged: lime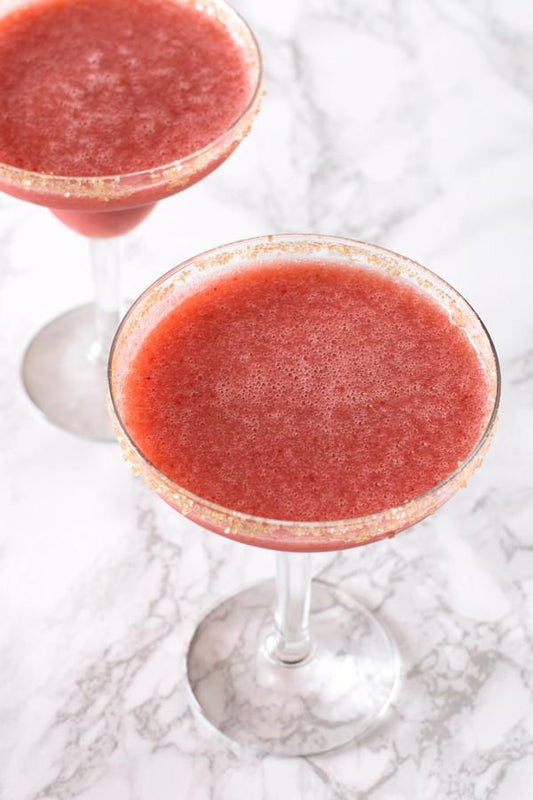 This strawberry rhubarb margarita has the classic flavors of strawberry and rhubarb, but by roasting the rhubarb before incorporating it into the drink brings out a whole new level of flavor that you have to taste to believe. It's rich and fruity, the perfect accompaniment for a frozen margarita! Though I am typically an "on the rocks" margarita gal, this fruity frozen margarita has convinced me to be a frozen margarita fan for life!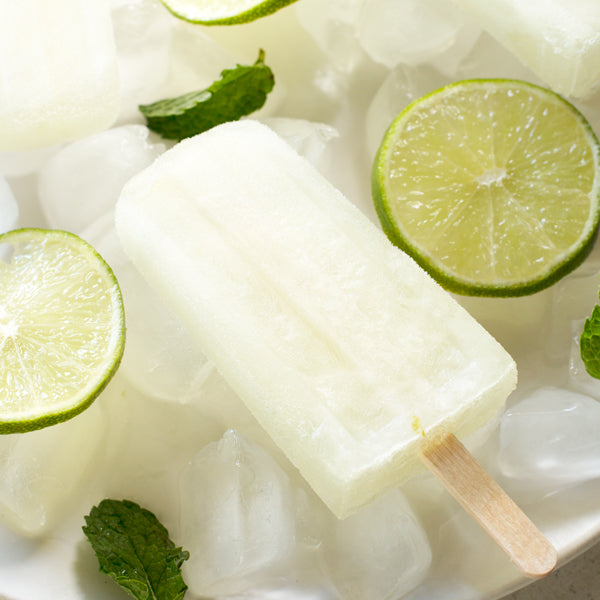 Mojitos are a timeless summer cocktail in my book. The fresh minty flavor with a burst of lime juice makes mojitos a refreshing way to celebrate the end of a long day at the office. As we get further into August, the temperatures start to spike to all-time highs before the relief of the fall season sets in. With these high temperatures, the best solution for a cold cocktail is not to pack in the ice. It's to turn it into a popsicle - mojito popsicles to be precise!
I'm sure you've caught our other cocktail popsicles this summer (piña colada and strawberry daiquiri!), and the mojito popsicles are yet another stroke of pure thirst-quenching genius. The mint simple syrup preserves that minty flavor you need to pair with the fresh lime juice and zest. You'll find yourself saying "ahhhhhh" after every bite!
INSTRUCTIONS:
In a small saucepan, combine sugar, water and mint leaves. Heat the mixture over high heat, stirring constantly until the sugar is dissolved. Once the syrup reaches a boil, remove from heat and steep for 10 minutes.
In a medium bowl that is easy to pour out of, combine lime juice, lime zest and rum. Strain the mint simple syrup into the bowl through a fine mesh strainer. Cool completely before pouring into the popsicle molds. Freeze for 1 hour. Add the popsicle sticks and continue to freeze until solid, approximately 6 to 8 hours.
Recipe & Photos by Meghan Bassett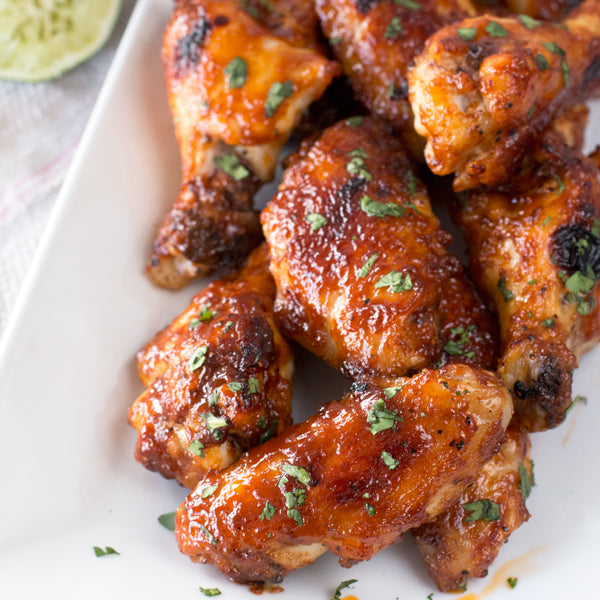 It's March and that means one thing in my foodie-obsessed brain - March Madness parties for days. That's right, that means chips and dip, guacamole, sliders, jalapeño poppers and, most importantly, crispy sticky chicken wings. Sriracha Lime Baked Chicken Wings, to be exact.
If you ever have a snack attack, March Madness-related or not, your next go-to recipe absolutely has to be these wings. They are baked to crispy perfection in the oven, and the sticky spicy and tangy glaze makes them positively finger-licking good. You'll need the wet wipes for these, folks.
The Sriracha and lime juice make this super simple glaze full of flavor that you simply can't find anywhere else. No need to go out for chicken wing perfection - time to stay in with your friends and family watching the next March madness game, or just enjoying a leisurely spring afternoon with a couple of hearty beers.
INSTRUCTIONS: Preheat oven to 400 degrees F. Line a large baking sheet with parchment paper. Set aside. In a medium saucepan over medium heat, melt 5 Tbsp unsalted butter. Once melted, whisk in 1 Tbsp flour and brown for approximately 1 minutes. Add in the hoisin sauce, Sriracha, soy sauce and lime juice, stirring to combine. The mixture should become nice and thick pretty quickly, in less than a minute. In a large bowl, combine the chicken wings, 2 Tbsp melted butter, vegetable oil, salt and pepper. Toss to coat the wings evenly.
Add the wings in an even layer to the lined baking sheet.
Brush the wings with a layer of glaze. Bake the wings for 25 minutes, turning them over halfway through and adding another coat of glaze. After 25 minutes are up, brush the wings with a final layer of glaze and broil for 4 to 5 minutes until crispy. Garnish with chopped fresh cilantro and serve immediately.
Recipe & photos by Meghan Bassett
Grilled Chili Rubbed Flank Steak is a super simple way to take your grilled steak to the next level of flavor. The wet rub infuses so much tastiness into the flank steak - you can't go wrong with this one!
Are you ready for Memorial Day?? I am tweaking my menu daily for the annual massive BBQ I host, and I was feeling a little stumped earlier this week. That is, until now. This grilled chili rubbed flank steak changed ev-er-y-thang for me once I made it. It's one of the simplest recipes I've ever created, but in terms of flavor, it's ridiculously complex. All of the flavors in the rub perfectly compliment the meat and that really good charred taste you get from the grill.
You can easily serve this bad boy as is or there are about a million other ideas you could try out. Throw it on a salad. Chop it up and add it to a grilled pizza. Serve it with tons of grilled veggies. You can even make some killer tacos or a Tex Mex inspired sandwich with this meat. The options are limitless and it'll take you less than 15 minutes of active cooking time to make it happen.
So obviously, you should be adding this recipe to your Memorial Day menu right NOW.
INSTRUCTIONS: In a small bowl, combine garlic, lime juice, chili powder, salt, cumin, paprika and cayenne.
Stir until all ingredients are incorporated.
Rub the paste all over the steak. Let rest in the refrigerator for 15 to 20 minutes.
Grill the steak on a hot grill or grill pan over medium-high heat until it reaches your desired doneness (approximately 6 to 8 minutes for medium). Remove from grill and rest for at least 10 minutes before slicing and serving.
Serve alone over rice, with salad or even in tacos! Give it an extra squeeze of lime for a touch of extra brightness too. Recipe & photos by Meghan Bassett