Posts tagged: Hawaiian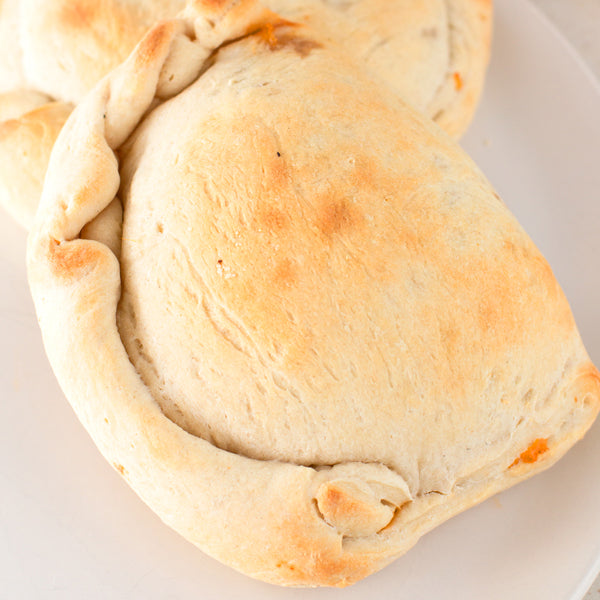 My love for Hawaiian pizza runs pretty deep. Almost as deep as my love for truly amazing pulled pork and BBQ. As I sat down to come up with my Super Bowl menu, I couldn't stop thinking about Hawaiian pizza. I didn't want to do the same ol' pizza I've been doing for years though. Nope, it was time to change things up.
So why not stuff pork, pineapple, cheese and barbecue sauce into warm, gooey pockets of deliciousness? These Hawaiian BBQ Pulled Pork Calzones are the perfect game day meal for your upcoming Super Bowl celebration (or any excuse for a celebration, let's face it, they are THAT good). They take little to no effort and are ready in less than 20 minutes. Plus you get that oh-so good Pig of the Month pulled pork...
When you're cheering your team for that touchdown, just try not to get BBQ sauce everywhere, ok?
INSTRUCTIONS: Preheat oven to 425 degrees. Line a large baking sheet with a silicone baking mat or aluminum foil (be sure to grease it!). In a medium bowl, stir together pulled pork, BBQ sauce and diced pineapple until combined. Set aside.
Roll out pizza dough into a large rectangle, approximately 1/4" thick. Cut the rectangle in half crosswise and then again lengthwise to form 4 small rectangles. In the center of each, add approximately 1/4 cup of the pork mixture.
Top with 1/4 cup of cheddar cheese. Fold the dough over to form the calzone, pinching the edges together before rolling them up and in. Place all four calzones on the lined baking sheet.
Bake for 15 to 17 minutes, or until just starting to brown on top. Remove from oven and wait 5 minutes before cutting and serving with extra sauce.
Shop This Post
Recipe & Photos by Meghan Bassett
A little sweet, a little savory, a little spicy and a whole lotta meat... That's how I sum up this easy peasy chicken wrap! It has all the flavors you want to tickle your taste buds, but it won't take you more than 5 minutes to throw the thing together before you head off to work. In my opinion, this is the best lunch possible. It's full of meat to keep you full all day, but just because it's a little lighter than say, a double-cheeseburger with extra bacon, it doesn't mean that it won't keep ya going strong throughout the rest of your work day.
I seriously LIVE off things like these Spicy Hawaiian BBQ Chicken Wraps in January because I am so busy trying to stick to work resolutions and start the year off with a serious BANG. I need quick, easy and delicious in the middle of my day - because if it takes a long time to make and eat, I'll end up napping under my desk and I'm pretty sure the boss would frown on that whole idea... So get your grab-and-go from your own kitchen instead of hitting that pathetic little sandwich cart, and being disappointed with your lunch yet again. This meaty feast of goodness wrapped up inside this tortilla is all your heart (and tummy) needs!
INSTRUCTIONS: Warm each tortilla in the microwave for 10 to 15 seconds each. Spread each tortilla with half of the BBQ sauce. Divide the chicken, pineapple, bacon, and cheese evenly between the two. Sprinkle with red pepper flakes. Wrap one side over the center and then the other side over the center. Serve.
Shop This Post
Pig of the Month BBQ Pulled Chicken
Pig of the Month BBQ Love Me Tender BBQ Sauce
*Recipe and photos by Meghan Bassett