Posts tagged: Gift Guides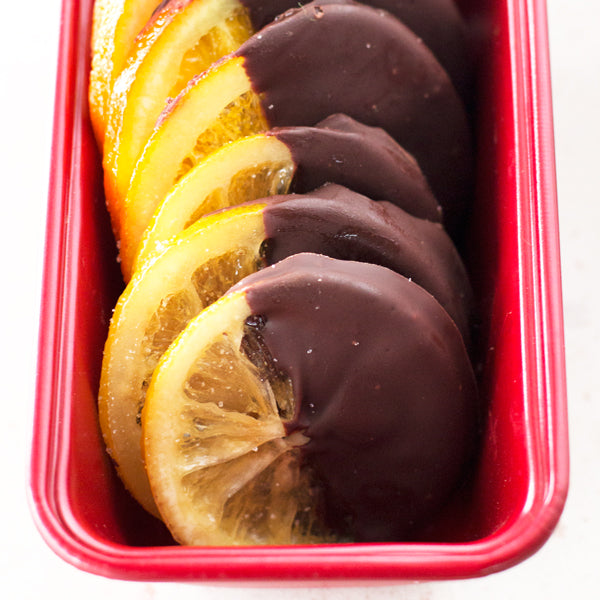 Still wondering what in the world you're going to get that special someone for Christmas this year? Don't worry, because I've got you covered with these chocolate dipped candied citrus slices!
After a while, buying presents gets a bit tough because everyone seems to have everything they need or want. When you want to show you care, I always say go for the tastebuds. Nothing says I love you like a plate full of beautifully candied citrus slices, dipped in chocolate and served with a bow, am I right?
These elegant slices of sugary citrus are dipped in dark chocolate and look so fancy, no one will know that it took you very little time and effort to create them.
INSTRUCTIONS: In a large skillet, heat water and sugar over medium-high heat and bring to a boil. Add the orange and lemon slices and continue to cook over medium heat, turning from time to time. Once the liquid is reduced to a thick syrup and the slices are translucent, approximately 20 minutes, reduce heat to low and simmer until the syrup is thick. Turn the slices occasionally as then cook, approximately 10 minutes.
Transfer the slices to a cooling rack and you can save the syrup to use as a citrus simple syrup in cocktails! Cool the slices for at least 12 hours before dipping.
Dip the citrus slices halfway into the melted chocolate and set on parchment paper to harden, approximately 1 hour. Package in cute little mini loaf pans and wrap as desired.
Recipe & Photos by Meghan Bassett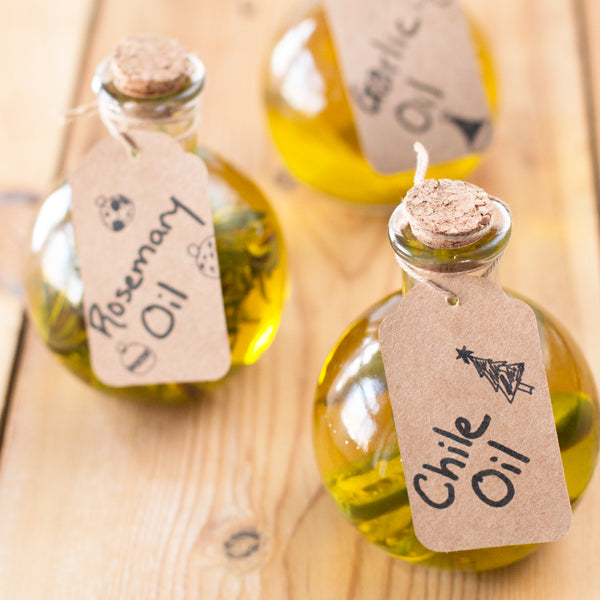 Christmas is only a couple days away and if you're anything like me, you're panicking about those last couple of presents you still have yet to buy. Instead of a Starbucks gift card or some flowers, why not make a gift that is memorable, hand-crafted and really useful?!
These three infused oils are the perfect trio to gift to anyone on your Christmas gift list. The garlic, rosemary and chili oils will infuse a hefty dose of flavor into whatever anyone cooks with them.
The best part is it'll only take you a quick trip to the craft and grocery stores to get what you need to make these oils. They come together in minutes and don't even require gift wrap because they already look so stunning.
Whether you have a pro chef in your life or someone who's just starting to learn to cook, they'll love these handcrafted oils!
INSTRUCTIONS: Add cloves, rosemary and peppers to their own individual jars. If you don't want the chile oil to be as spicy, remove the seeds from the peppers before adding to the jar. Pour 6 oz of oil into each and seal. Add cute labels and you're done!
Recipe & Photos by Meghan Bassett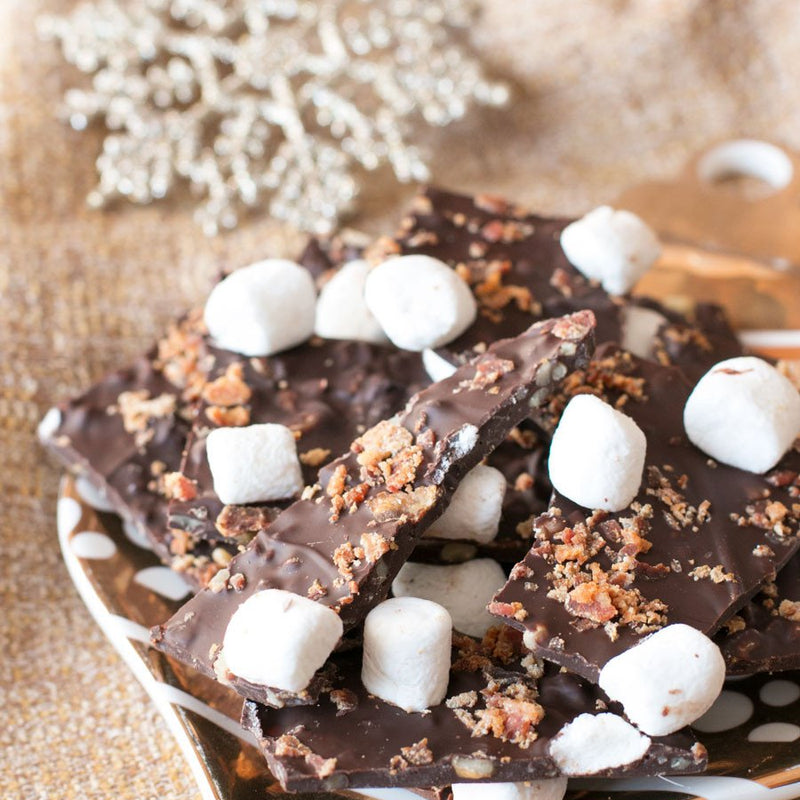 Can you believe it's almost December?! My mind is still reeling from Thanksgiving and holiday parties are already filling up each and every weekend from now until Christmas. I'm trying to think ahead and all I can think to give people is something food-related for Christmas presents...
Big surprise considering my entire life revolves around food. Well, more specifically bacon... This maple bacon marshmallow bark is a fun sweet and savory treat that no one will be able to get anywhere else! Forget candy canes or caramels, this chocolate bark can only be found in one place... your kitchen!
A treat like this one is SUPER easy to make and barely takes any time. You just need a microwave and a freezer to get this little pile of treats whipped up. Then box it up and give it out as Christmas presents, hostess gifts for all those parties you'll be attending, or just load up on massive amounts of this bark for yourself. The sweet and savory combination makes this bark the ultimate snack to indulge in on any chilly afternoon this December!
INSTRUCTIONS: Add the dark chocolate chips to a microwavable bowl. Microwave the chocolate for 45 seconds to 1 minute. Remove the bowl and stir. Place back in the microwave for 15-second intervals, stirring in between each, until the chocolate is melted and smooth. Stir in walnuts. Line a baking sheet with wax paper. Spread the melted semi-sweet chocolate in an even layer on the wax paper. It should be approximately 1/4″ thick. Sprinkle with bacon and mini marshmallows. Allow it set for 30 minutes in the freezer. Shop This Post Pig of the Month BBQ Applewood Smoked Maple Bacon 
*Recipe & photos by Meghan Bassett
'Tis the season to shower your friends and family with gifts, so what's better than the gift of food. Not much. I'm sure it's no big surprise that we here at Pig of the Month BBQ are alllllll about the foodie gifts. From bacon to ribs to brisket, we love to give the gift of tasty BBQ meat whenever we can. To go alongside all that finger-licking goodness, we like to dole out a few special gifts that range from chocolate to oils to even more bacon. Check out our holiday foodie gift roundup below and give the gifts everyone REALLY wants to get underneath the tree this year!
Chocolate Dipped Candied Citrus Slices - Sauce + Style
Maple Bacon Marshmallow Bark - Sauce + Style
Infused Olive Oils - Sauce + Style
Easy Peppermint Bark - Sauce + Style
Homemade Bacon Bits - Sauce + Style Trio of Chocolate Truffles - Sauce + Style
Homemade S'mores Kit - Twig and Thistle
Homemade Bacon Salt - Not Quite Nigella
Set of Flavored Sugars - Country Living
Homemade Dark Chocolate Nutella Chips - Desserts with Benefits
Homemade Tonic Syrup - Pinch and Swirl
Roasted Pumpkin Seeds - Inspiration Kitchen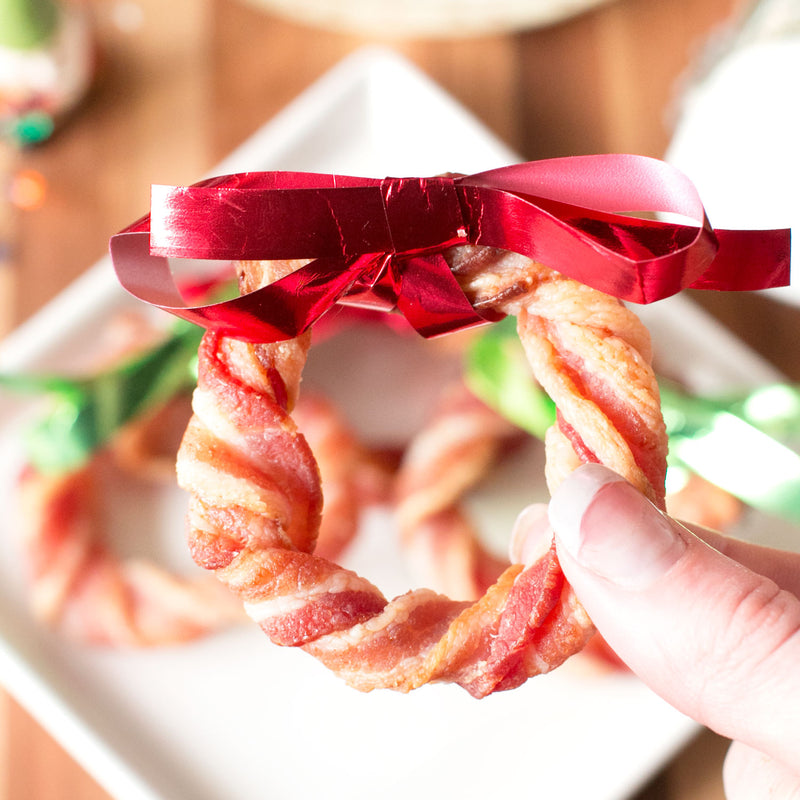 'Tis the season for all things BACON! Right?
I mean, everything's better with bacon, so really Christmas decorations should also be much improved with some crispy slices of delicious tasty bacon. These little bacon wreaths are the most adorable bacon surprise for all of you bacon-loving friends and family. You can hang them up on the tree (assuming you have no dogs of course...) or simply make them for Christmas morning breakfast to get extra festive!
They are super easy to make and everyone will think they are just the cutest darn things they've ever seen!
INSTRUCTIONS: Preheat oven to 425 degrees. Lay two pieces of bacon on a clean work surface, stacking the ends furthest away from you on top of each other.
Twist the bacon slices around each other to create a twisted rope of bacon.
Form the rope of bacon into a circle and attach all four ends of bacon together with a toothpick. Place on a rack on a lined baking sheet. Repeat with remaining bacon slices.
Bake for 15 minutes, until cooked through. Let cool. Once cool enough to handle. remove toothpicks and wrap ribbon around where the ends connect. Make a pretty bow and then give them out as presents to all your bacon-lovin' pals!
Shop This Post
Pig of the Month Applewood Smoked Maple Bacon (or any one of these flavors!)  
*Recipe and photos by Meghan Bassett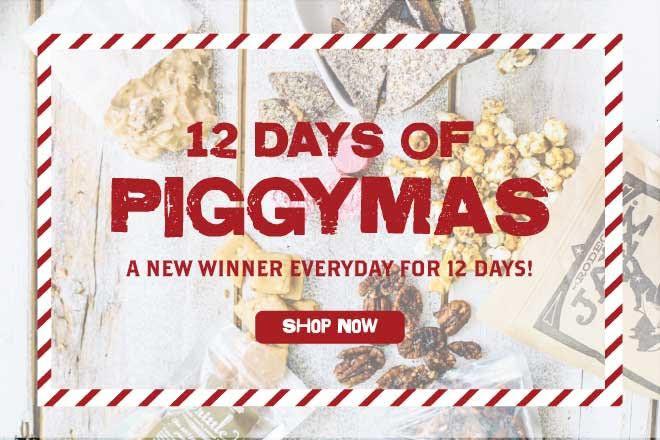 We're back once again to spread that finger-lickin' good holiday cheer…and BBQ sauce from ear to ear 🙂
We'll be giving away a little something tasty everyday for the next 12 days, so stay tuned on our Facebook page each day for how to enter (and earn bonus entries!)! For our 12 days of Piggymas, we're sending you: Day 1: A BBQ sauce sampler Day 2: A trio of sweets; Chocolate covered bacon, bacon jam, and bacon salted caramels. Day 3: One snacking sampler full of bacon popcorn, dark chocolate toffee, and jerky. Day 4: 3 pounds of pulled meats; a little pork and a little chicken Day 5: A bacon lovers dream with 3 specialty flavors of bacon Day 6: All the sausage your heart could desire – sent to your door Day 7: A heaping amount of BBQ brisket and baby back ribs…mmm mmm mmmm Day 8: 6lbs of our best selling bacon and sausages Day 9: A holiday ham to enjoy – we'll do all the cooking Day 10: Ribs!! 6 slabs of the good stuff, delivered just in time for your holiday dinner. Day 11: A mix of all of our best sellers; baby back ribs, pulled pork, BBQ sauce, brisket and bacon! Day 12: One lucky family in need will win a complete holiday meal to make their Christmas wish come true! Look for instructions on how to enter each day on Facebook!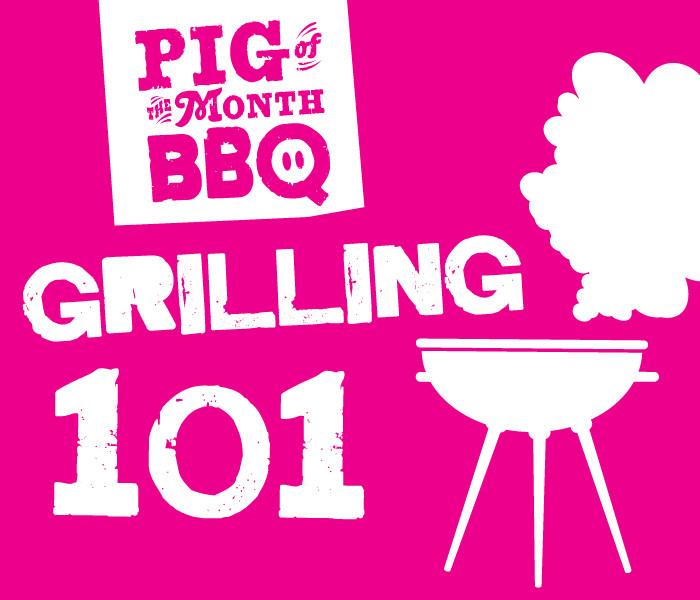 The ultimate question from anyone hoping to become a grill master this summer is... what kind of tools and grill should I be using? With all the tools and grills out there, both good and bad, it can be tough to know which ones you should be investing your money in. As grilling pros (not that we are trying to brag or anything), we want to make your grilling lives easier. So we're rounding up the top tools and grills on the market right now to make your decision-making process a bit easier. All the essentials are here! It doesn't matter if you are a seasoned grilling pro or just starting out, this roundup of tools and grills is the one guide you should be reading this summer. It's about time you finally invested in some good tongs isn't it...? The answer is yes. It's always yes. Who's ready to spend a little cash? It's all for a worthy cause... Delicious, juicy BBQ.
Best Grilling Tools
You can't start off a roundup of grilling tools without some reliable tongs. These OXO Good Grips Tongs are sturdy and will stand the test of time, without breaking the bank.
Yes, you need to actually clean that grill. We know it's a pain, but no one wants to eat meat that tastes like the shrimp you grilled last night. Grab this Weber brush and thank us later.
Brushing those ribs with sauce? Use this bomb extra long OXO Silicone Basting Brush for maximum coverage.
In our top grilling questions roundup, we told you the benefits of using a chimney starter versus lighter fluid. This Weber Rapidfire Chimney Starter will get things heating up fast.
If you are never sure when those steaks hit medium rare, skip the fuss and use this handy ThermoPro Wireless Remote Meat Thermometer. Yep, you read that right - it's wireless.
Know a wannabe grill master or simply want to have them all to yourself? Snag this Cuisinart Stainless-Steel Grill Set or this BBQ Grill Tools Stainless Steel Set and you'll be set for life.
A grill master would never be caught without his/her skewers. These X-Chef Stainless Steel Skewers are the BOMB.
Have all the essentials now? Great! Top it all off with some Cedar Grilling Planks to hit some next level grilling this summer.
Best Grills
All of these grills are seriously killer when it comes to getting the most bang for your buck. You've got top of the line down to more moderate options here, for both gas and charcoal. Take a look at each and decide which one is right for you! All we know is, if you don't have a grill or want an upgrade, there's no better convincing that a pile of tasty barbecued meats.... Can you see it? We sure can.
Char-Broil Classic 4-Burner Gas Grill
Weber Original Kettle Premium Charcoal Grill
Napoleon Rodeo Charcoal Kettle Grill
Weber Performer Deluxe Charcoal Grill
Lodge Pre-Seasoned Sportsman's Charcoal Grill
Disclosure: This posts contains affiliate links. If you purchase a product through an affiliate link, your cost will be the same but Pig of the Month BBQ will automatically receive a small commission. As always, we love your support!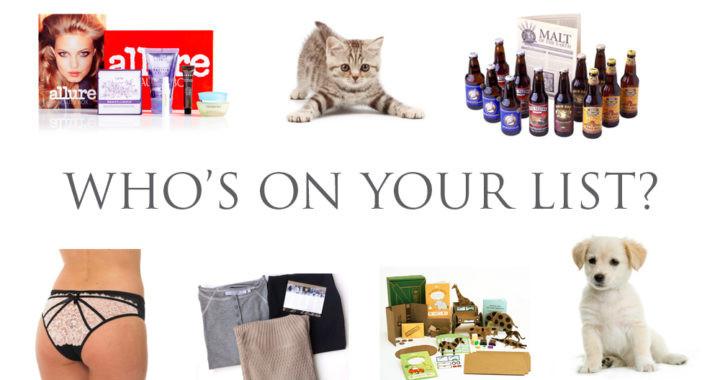 Do you ever wish you were a better gift giver? There are only so many fruit baskets and gift cards you can give before you start to see the disappointment in people's eyes when they open yet another tie from you. Instead of giving the same gifts you always give this year, why not give them (or even show yourself a little love with) a subscription gift box they'll love. We know, subscription boxes sound expensive. Funny enough, there are some seriously cheap ones out there that start at $6/month that'll still impress the heck out of whoever you send them to. From food to beer, pets to pampering, you can find a gift box for pretty much anyone now. Enclosed has narrowed down the list to 17 blow-your-mind subscription gift boxes that you gotta see...
You can get your boozy best friend a subscription to a Microbrewed Beer of the Month Club so they can always get their drink on (prices start at $28/month).
If your mom is way into cooking, get her a Raw Spice Bar monthly subscription so she can start experimenting with new and exciting flavors. It's only a measly $6 a month!
You might just want to show your best furry friend some serious love with a BarkBox or MeowBox subscription (prices range from $23 to $35/month). If you don't spoil them rotten, who will? Enclosed included these killer boxes, plus a little something special from yours truly in their roundup. We're already throwing our hands up and screaming "just take our money already!" With this many options, you'll never be accused of giving out a lame gift ever again. Read the entire list and get details on how to get them yourself right here on Enclosed!