Posts tagged: garden herb bacon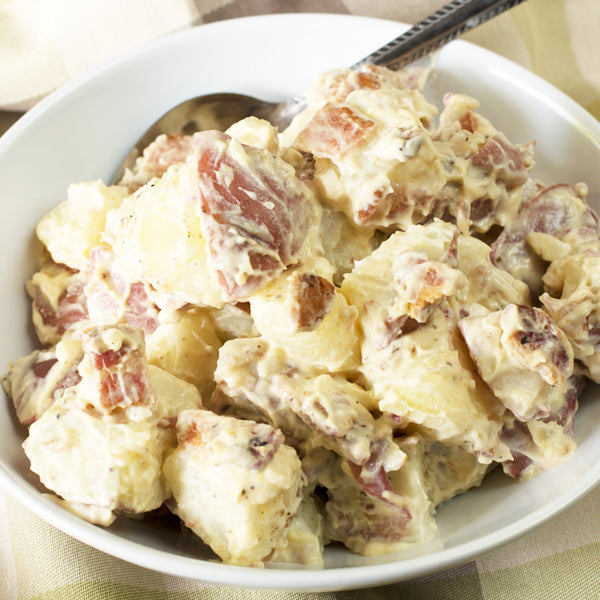 I've got a creamy, dreamy pile of bacon-packed potato salad for you today!
Before I go any further, tell me you've tasted the Pig of the Month Garden Herb bacon. If you haven't, I demand that you immediately order some RIGHT NOW. This just so happens to be one of my favorite flavors of bacon for summer cooking. It's the perfect balance of herbs and savory bacon in every bite.
And it just so happens to be the star ingredient of this garden herb bacon potato salad! The fresh herbs and bacon really come through in this super simple potato salad, making it a perfect side dish for your picnics and barbeques. The flavors are fresh and savory with a slight tang from the mustard and vinegar, making it a cooling salad to pair against a massive deli sandwich or a good ol' burger.
Happy picnicking!
INSTRUCTIONS Fill a large pot with water and season with 1 Tbsp salt. Bring to a boil over high heat and add the cubed potatoes. Cook potatoes until fork tender (approximately 10-15 minutes). Drain potatoes and add to a large serving bowl. Allow to cool completely. Add mayonnaise, onion, white wine vinegar, mustard, garlic, salt and pepper. Stir until all the potatoes have been evenly coated with the mayonnaise and spices. Cover and refrigerate for at least 2-3 hours before serving.
Shop This Post
Pig of the Month Garden Herb Bacon
Recipe & Photos by Meghan Bassett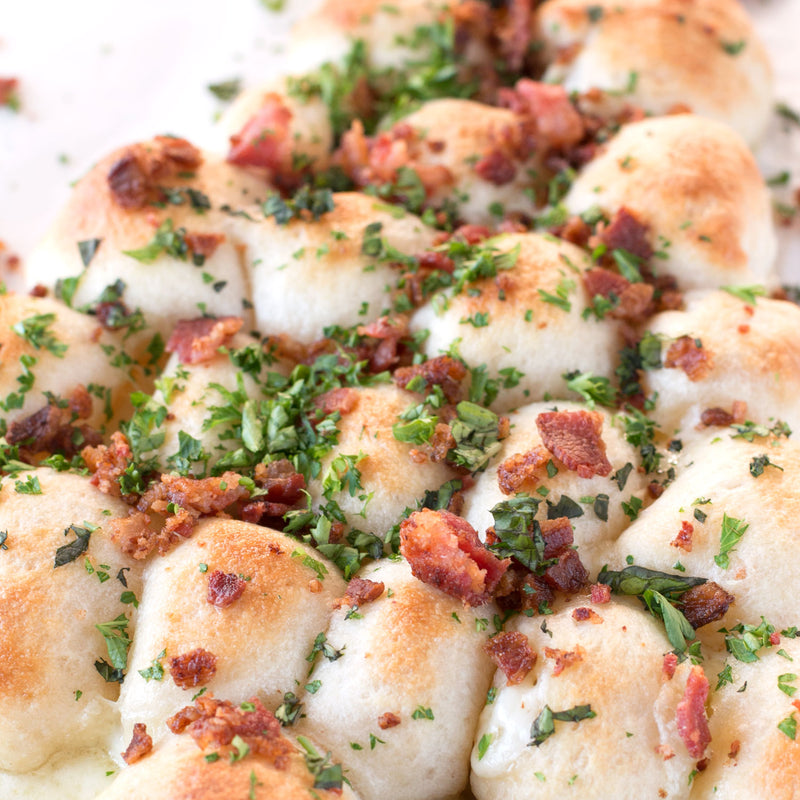 Nothing says Christmas like a Christmas tree, am I right? Even better than a Christmas tree? One made out of bread. Stuffed with cheese. Topped with fresh herbs and delicious, crispy bacon...
This treat of a tree is one of my favorite recipes to bust out around the holidays. It's bright and full of flavor, and being stuffed with gooey cheese in the perfect surprise for everyone attending your holiday meal.
The whole thing comes together in only 20 minutes, so there's no kneading. No waiting for bread to rise. And no sharing if you don't have the heart to... I'm just saying, I wouldn't blame ya if you don't share.
INSTRUCTIONS: Preheat oven to 400 degrees. Slightly roll out pizza dough and cut into 22 squares. Place one cube of cheese in the center of a square of dough. Wrap the dough up and around the cheese, pinching the edges together.
Place seam side down on a parchment paper lined baking sheet. Continue with the remaining cheese and dough, creating a Christmas tree shaped as shown in photos above.
Brush the tops of the dough balls with butter. Bake 15 minutes. Remove from oven and brush again with butter. Sprinkle with fresh herbs and bacon. Serve immediately.
Shop This Post
Pig of the Month BBQ Garden Herb Bacon
*Recipe and photos by Meghan Bassett