Posts tagged: football chicken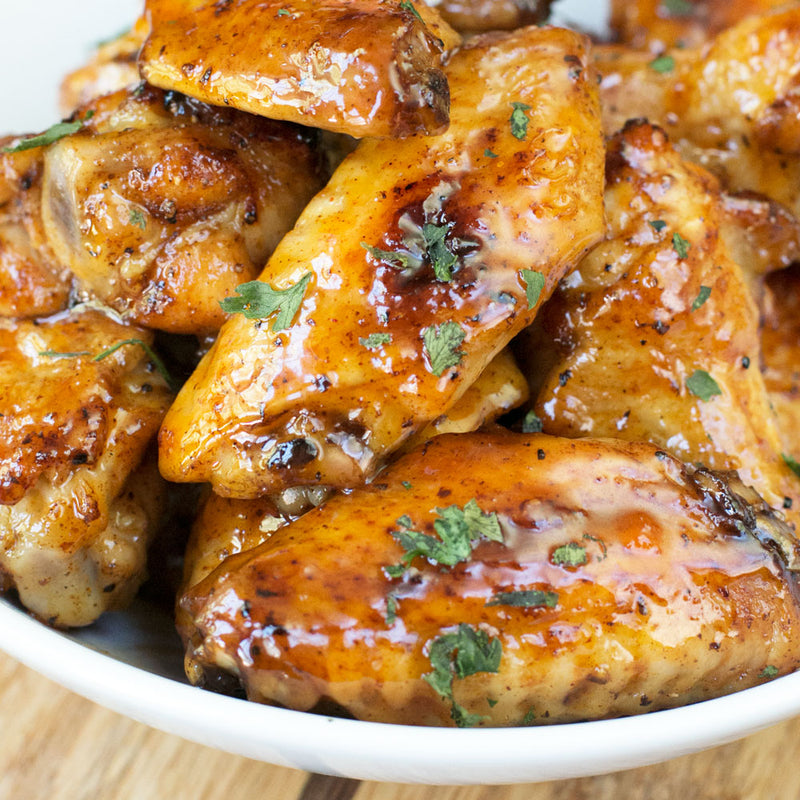 Tailgating season is back and better than ever, piggy peeps! I don't know about you but I also ready to bring football back into my life. I just drafted my fantasy team and I have big hopes that my home team is going to be putting up some major points throughout the season.
Let's be honest though, as much as we love that ol' game we call football, the tailgating food is where it's AT. It's the thing that gets you through between the end of summer recipes and the official start of the holiday season once November rolls around. That means we have two months to stuff our faces with all the cheese, bacon and meats we can get our hands on.
And I'm starting with wings. Sticky, sweet and spicy wings that make you bust out the wet wipes and get extra messy. This is just the recipe to start off with people! Just look at that sticky sauce covering those baked wings.... ALL. THE. YES. Are you ready to dig in??
INSTRUCTIONS: Preheat oven to 400 degrees. Line a baking sheet with parchment paper.
In a large bowl, whisk together vegetable oil, 2 Tbsp melted butter, salt, pepper, garlic powder and smoked paprika. Add the wings and toss. Lay wings on lined baking sheet in a single layer. Bake for 45 to 50 minutes. Turn the oven to broil on high. Move chicken wings to the top rack and broil for 3 to 4 minutes, until crispy. Flip and broil again on the other side.
In a medium saucepan over medium heat, stir together hot sauce and cornstarch. Add butter, molasses and honey, stirring to combine. Bring to a boil, then reduce to a simmer for 4 to 5 minutes until the sauce is thickened. Toss wings in a large bowl with the honey buffalo sauce. Serve with ranch or blue cheese dressing.
*Recipe and photos by Meghan Bassett