Posts tagged: easy weeknight meal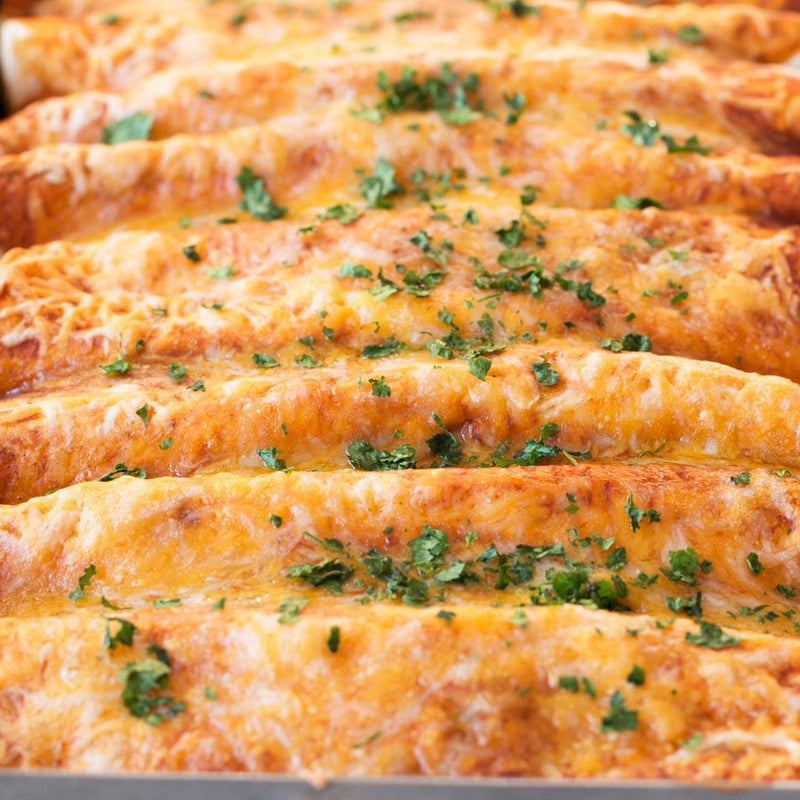 You know when you discover one of the best combinations ever? Because I just did. It's called the happy little crossing place between Mexican and BBQ....
I can't lie; it's freaking magical!
The cheesy, ooey gooey normal enchiladas recipe is made oh-so much better with the addition of BBQ sauce and the best ever Pig of the Month BBQ pulled chicken. It's a little spicy, a little sweet and totally tangy, making every bite the most dreamy thing to hit your taste buds since a slice o' crispy bacon.  If your tummy isn't rumbling at the sound of that, there's honestly something wrong with you...
Get down to Chow Town!
Serves 4 to 6 INSTRUCTIONS Preheat oven to 350 degrees. Grease a 9x13-inch baking dish. Add vegetable oil to a medium skillet and heat over medium-high heat. Add onion and cook until tender, approximately 3 minutes. Add chicken and chiles. Season with salt and pepper and cook until warm. Keep warm over low heat. Whisk together enchilada sauce and BBQ sauce in a small bowl. Set aside. Assemble the enchiladas by laying out the tortillas one at a time on a clean work surface. Spoon on 2 Tbsp of the enchilada BBQ sauce, spreading it out to coat the entire tortilla. Add 2 Tbsp of the chicken mixture down the center of the tortilla, then sprinkle with cheese. Roll up tightly and place in baking dish. Repeat with remaining tortillas. Spread remaining sauce over the top of the enchiladas. Top with remaining cheese. Bake for 20 minutes. Garnish with chopped cilantro and serve immediately.
Shop This Post
Pig of the Month BBQ Pulled Chicken  
*Recipe & photos by Meghan Bassett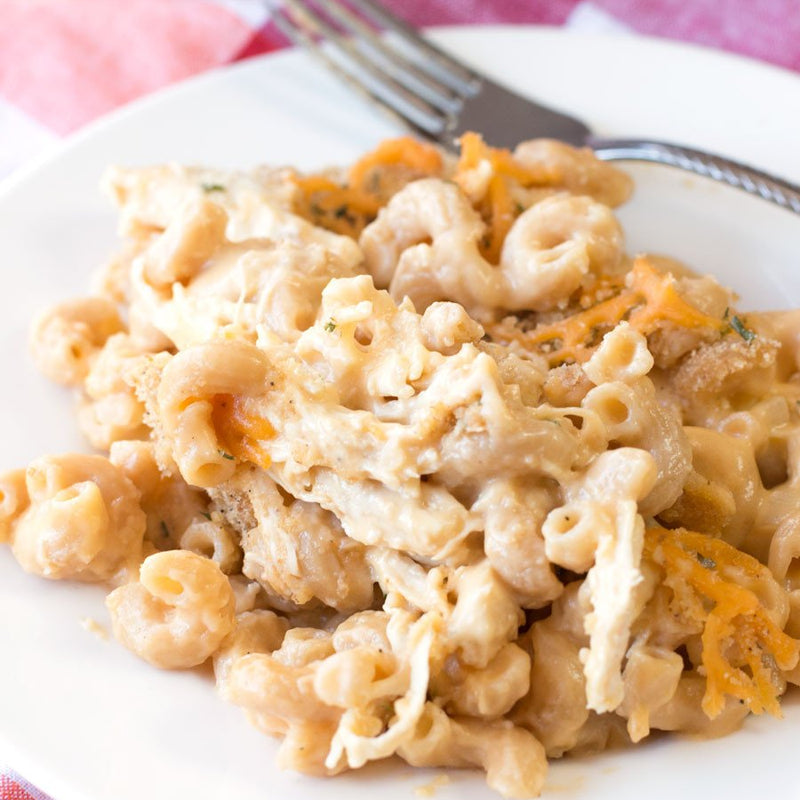 My ultimate comfort meal? A heaping bowl full of macaroni and cheese. No, not the stuff from the box people. I mean the real, down-home heart stuff that fills you up and warms you from the inside out.
Of course, eating bowl after bowl of that cheesy deliciousness is a little bad for the waistline... On the other hand, I don't believe in compromising flavor in favor of just eating the healthy stuff. That's why this Lightened Up Chicken Mac N Cheese is the one dinner you have to add to your winter weeknight rotation! It's creamy and dreamy and oh-so cheesy, but the lightened up cheese sauce and whole wheat noodles keep you from adding too much to your hips.
Without sacrificing any flavor! The Pig of the Month BBQ Pulled Chicken sure takes care of THAT. BOOM baby. Let's get cooking!
[vimeo 200244639 w=640 h=360]
Lightened Up Chicken Mac and Cheese from Pig of the Month BBQ on Vimeo.
INSTRUCTIONS: Preheat oven to 375 degrees. Spray a baking dish with cooking spray. In a large saucepan, melt butter over medium-high heat. Add onion and cook until tender, approximately 3 minutes. Add flour, stirring to combine, and cook until golden, approximately 30 seconds to 1 minute. Whisk in milk and broth. Bring the mixture to a boil and cook for 5 minutes, until thickened. Remove from heat and stir in cheese until melted. Season with salt and pepper to taste. Stir in macaroni and chicken into the saucepan. Pour into the prepared baking dish. Top with an extra sprinkled of cheese and the bread crumbs. Bake for 15 to 20 minutes, until bubbly and the top is golden.
Shop This Post Pig of the Month BBQ Pulled Chicken *Recipe, video and photos by Meghan Bassett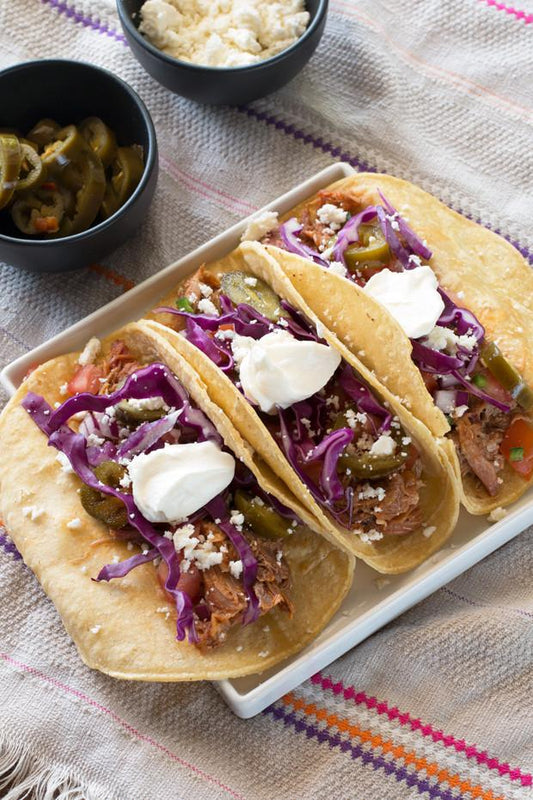 You know when you end up with too much shredded meat? You might have made one too many chicken breasts or that pork shoulder you bought is just a couple pounds too heavy. You might have a few containers of our very own tasty shredded chicken or pulled pork sitting in your freezer that you're wondering how you can use. I mean, making a tasty shredded meat sandwich is delicious don't get me wrong. After a while though, you start dreaming of new possibilities for that shredded chicken or pulled pork. There are SO many ways to use it up, from tacos to pasta, pizza to incredible casseroles! We've rounded up our top Sauce + Style recipes, along with some of our other blog favs so you'll never run out of ways to use up those meats again. Who loves ya baby? You know we do.
Shredded Chicken Chili - Ketogasm Chicken Tamale Casserole - Jo Cooks
Chicken Stuffed French Bread - Life in the Lofthouse Chicken Fajita Pasta - Kevin & Amanda
Skinny Buffalo Chicken Stuffed Sweet Potatoes - Not Enough Cinnamon BBQ Chicken Rollups - Life in the Lofthouse
Campfire Nachos - Sauce + Style "Cracked Out" Chicken Tater Tot Casserole - Plain Chicken
Pulled Pork Flatbread with Mango Chutney - Sauce + Style Pulled Pork Tacos - Sauce + Style
Loaded BBQ Pork Potato Casserole - Mom on Timeout Hawaiian BBQ Pulled Pork Calzones - Sauce + Style
BBQ Spaghetti Casserole - Spicy Southern Kitchen Chipotle Pulled Pork Lettuce Wraps with Avocado Aioli - Fashionable Foods
Pulled Pork Burrito Bowls - My Natural Family Chipotle Lime Carnitas Salad - Cafe Delites
Pulled Pork Enchiladas - Better Homes & Gardens Are you ready to get down on some meats on meats on meats? If you ran out of your fav shredded meat, just head over to our site to order more. Our shredded chicken and pulled pork is SO bomb.