Posts tagged: easy recipe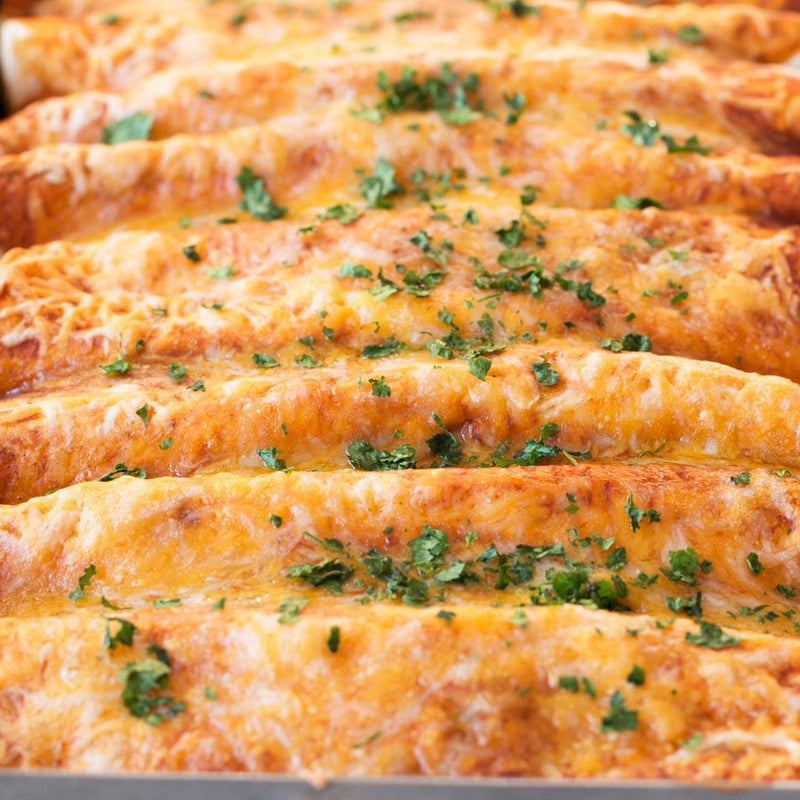 You know when you discover one of the best combinations ever? Because I just did. It's called the happy little crossing place between Mexican and BBQ....
I can't lie; it's freaking magical!
The cheesy, ooey gooey normal enchiladas recipe is made oh-so much better with the addition of BBQ sauce and the best ever Pig of the Month BBQ pulled chicken. It's a little spicy, a little sweet and totally tangy, making every bite the most dreamy thing to hit your taste buds since a slice o' crispy bacon.  If your tummy isn't rumbling at the sound of that, there's honestly something wrong with you...
Get down to Chow Town!
Serves 4 to 6 INSTRUCTIONS Preheat oven to 350 degrees. Grease a 9x13-inch baking dish. Add vegetable oil to a medium skillet and heat over medium-high heat. Add onion and cook until tender, approximately 3 minutes. Add chicken and chiles. Season with salt and pepper and cook until warm. Keep warm over low heat. Whisk together enchilada sauce and BBQ sauce in a small bowl. Set aside. Assemble the enchiladas by laying out the tortillas one at a time on a clean work surface. Spoon on 2 Tbsp of the enchilada BBQ sauce, spreading it out to coat the entire tortilla. Add 2 Tbsp of the chicken mixture down the center of the tortilla, then sprinkle with cheese. Roll up tightly and place in baking dish. Repeat with remaining tortillas. Spread remaining sauce over the top of the enchiladas. Top with remaining cheese. Bake for 20 minutes. Garnish with chopped cilantro and serve immediately.
Shop This Post
Pig of the Month BBQ Pulled Chicken  
*Recipe & photos by Meghan Bassett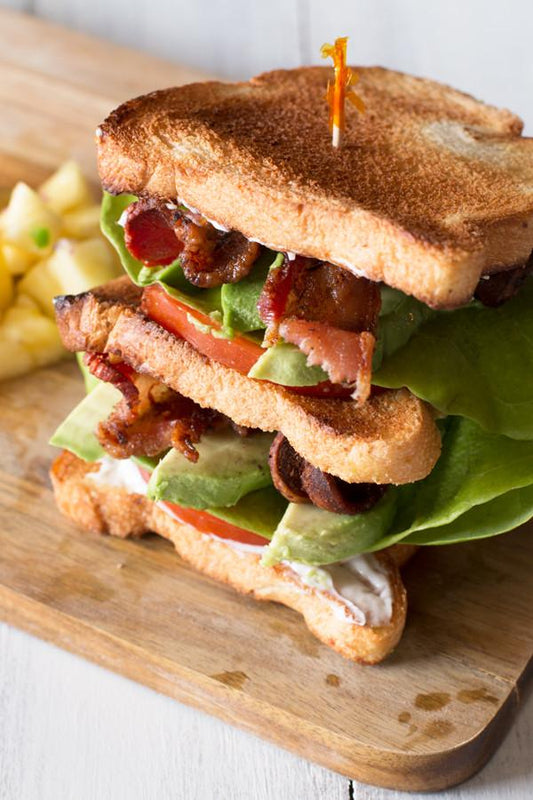 Another work week, another boring lunch packed away in the office refrigerator that you are dreading eating... We've all been there, haven't we? You get sucked into the monotony of easy "healthy" lunches and before you know it, your work lunches are no longer a blissful break. They are a sad way to attempt to fuel up and survive the rest of a crazy work day. Honestly, I believe you deserve a better lunch. Lunch breaks should be about stuffing your face with delicious homemade food and temporarily forgetting all the to-dos on your list for the rest of the day. There's no work, no kids, no distractions - just time for you to eat and enjoy the company of co-workers, or even just yourself (hey, we all need that breathing room some days!). Even if you can only spare 30 minutes, those 30 minutes should be special, right? What makes anything more special than bacon? Nothing. Bacon is the ingredient you need to not only get through the work day, but also to actually enjoy your lunch. With back-to-school craziness coming up, you need some easy lunch ideas in your back pocket to get your bacon fix with at work.
Bacon Cheeseburger Wraps - Lift in the Lofthouse Cobb Salad Wrap - POPSUGAR
Bacon Kale Salad with Lemon Vinaigrette - Sauce + Style BLT Salad - POPSUGAR
Meat Lovers Pizza Roll Ups - Sauce + Style BLT Panzanella - Annie's Eats
Bacon and Egg Salad Sandwich - Food52 Jamaican Jerk Double Decker BLAT - Sauce + Style
Alice Walters' Warm Spinach Salad - Alexandra Cooks Spicy Bacon Wrapped Cheese Stuffed Chicken - Handle the Heat
Avocado BLT's with Spicy Mayo and Fried Eggs - How Sweet It Is Bacon Cheeseburger Buns - Taste of Home
Turkey BLT - Martha Stewart Now no more excuses. Take back your lunch break and make it great again! I believe you can do it; you just need a little bacon-y help. *Post by Meghan Bassett