Posts tagged: drink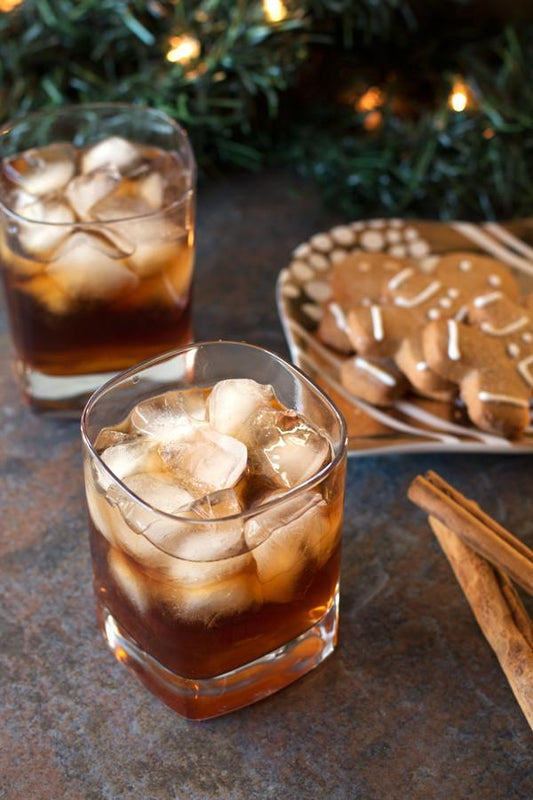 December is the one month every year that I feel like I can truly celebrate gingerbread. I will devour anything gingerbread-related, whether it's cookies, cakes, or candy. This year, in anticipation of the holiday parties I knew I would be hosting, I decided the ultimate way to enjoy gingerbread would be a cocktail. Genius, right?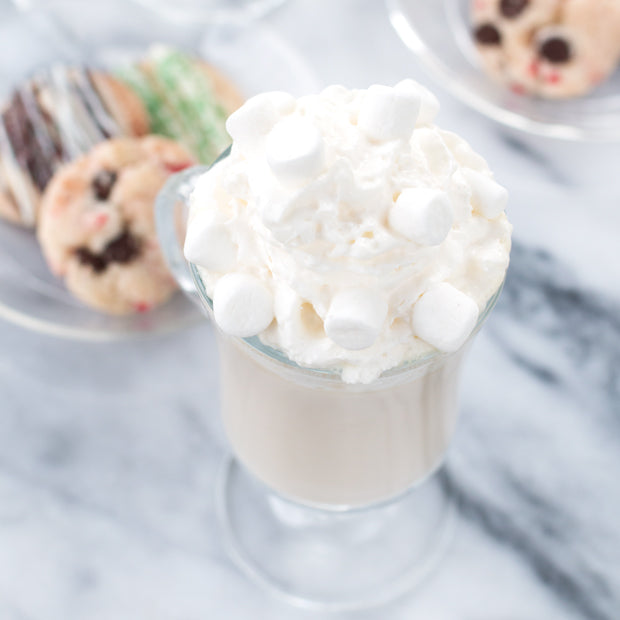 It's beginning to look a lot like winter! The temperatures are dropping, the snow is starting to fall, and it's about time to start snuggling up under blankets next to a roaring fire every night. Nothing goes better with a snuggly night in than a giant mug of warm hot chocolate, spiked with a little booze of course. :)
This Boozy White Hot Chocolate is a fun way to shake up your usual hot chocolate routine, featuring indulgent white chocolate and spiced rum for just the right touch of much-needed extra warmth.
Holiday movie marathon? Oh yea, this'll do the trick better than that tired ol' egg nog.
INSTRUCTIONS In a medium saucepan over medium heat, combine milk, chocolate chips and vanilla. Stirring constantly, heat the mixture until the chocolate is melted and the mixture begins to simmer, approximately 10 to 15 minutes. Remove from heat and stir in rum. Divide evenly between two large mugs and serve with marshmallows and whipped cream.
Recipe & Photos by Meghan Bassett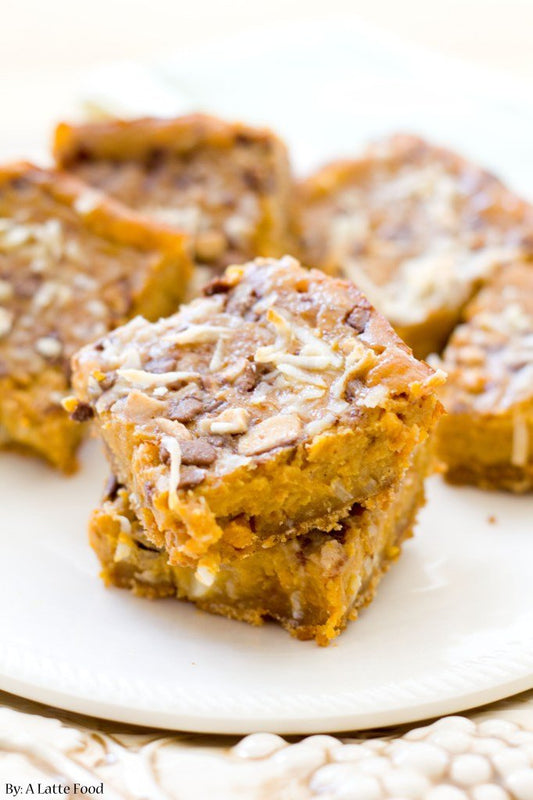 When Starbucks announced that the Pumpkin Spice Latte was back, I'm pretty sure the entire world lost its freaking mind. Have you already downed fifty pumpkin spice lattes at this point? Are you in the pumpkin spice ZONE? Are you ending every tweet with #PSL?? We sure are! September is already wrapping up (how did THAT happen??) and we can't stop, won't stop with all things pumpkin spice. Pumpkin spice latte runs have become somewhat regular during the mid-afternoon lull and we're oh-so ready for those extra large sweaters and boots. But those pumpkin spice lattes at Starbucks sure can get expensive, can't they...? It's about time we stopped losing all our money and starting getting that pumpkin spice fix a home! Today we're rounding up our favorite ways to get a little kick of pumpkin spice right in your own kitchen. From milkshakes to desserts, breakfasts to cocktails, the list below has everything you need for the rest of pumpkin spice season. Even if you aren't absolutely obsessed with pumpkin spice lattes, we bet you will find it hard to resist whipping up any one of these insanely addictive recipes.
Dark Chocolate-Espresso Pumpkin Bread Pudding with Salted Caramel Sauce - Portuguese Girl Cooks
Grown Up Pumpkin Pie Milkshakes - How Sweet It Is Pumpkin Spice Latte Brownies -
Pumpkin Bread Pudding with Dulce de Leche - Martha Stewart Pumpkin Coffee Cake Donuts - Delightful E Made
Nutella Swirled Pumpkin Bread - Broma Bakery Pumpkin Pie Dream Bars - A Latte Food
Pumpkin Dulce de Leche Baked Doughnuts - Bakerita.com
PSL Cake with Spiced Buttercream - Bethcakes
Triple-Chocolate Pumpkin Pie - Martha Stewart Pumpkin Spice Fudge - Aunt Peg's Recipe Box
Pumpkin Spice Syrup - Popsugar Pumpkin Margarita - Sweet Life Cheers to the pumpkin spice season! Take advantage now before it's too late... Before you know it, it'll be Christmas. WHAT.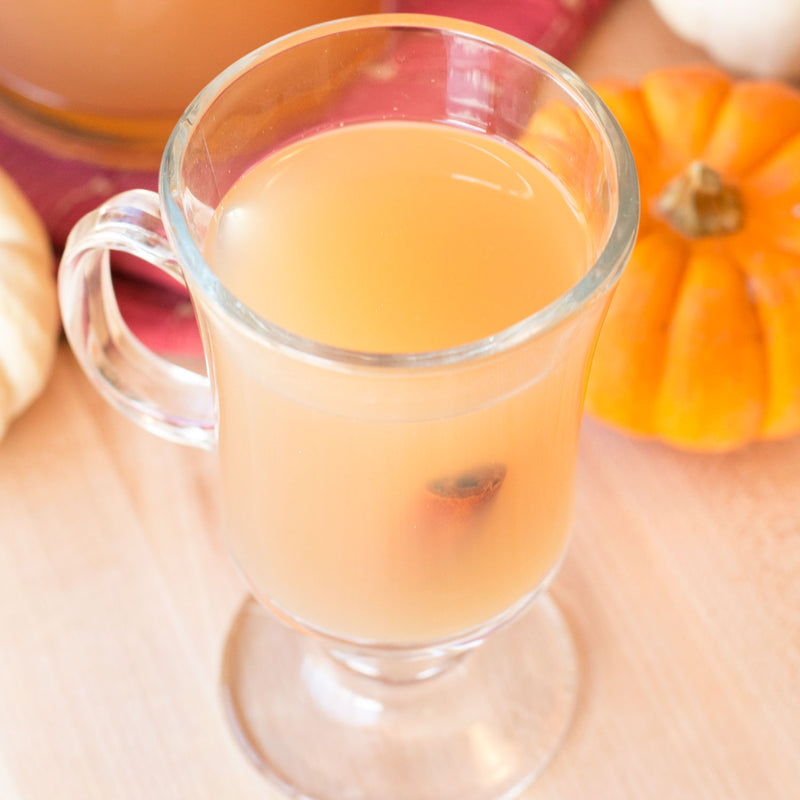 Who's thirsty?! Instead of hitting the wine this Wine Wednesday, I'm breaking out my slow cooker for some serious boozy deliciousness...
Nothing says fall and winter quite like a warm mug full of mulled apple cider. Cuddling up in a warm blanket, next to a wood burning fire, with some Netflix binging lined up for the remainder of the evening is how I like to take it easy.
This recipe is great to make and keep on hand in your refrigerator for the week so you can enjoy it each night, but it also works great as a holiday cocktail for your next party! Serve it up in some mugs with cinnamon sticks and everyone will go absolutely nuts over this stuff. It's highly addictive because it's so dang comforting. No matter how cold it gets outside, a glass of this cider will always warm ya right back up in moments.
The ingredients are super simple and the effort is basically NOTHING. Just dump it all in and let it simmer for the day. When you're ready to serve, stir in the vodka! We wouldn't want any of that booze burning off in the cooking process, now would we? ;)
I know what I am going to be whipping up all weekend long... And now you do too!
[vimeo 187844299 w=640 h=360]
Boozy Crockpot Apple Cider from Pig of the Month BBQ on Vimeo.
INSTRUCTIONS: Serves 12 Add apple cider, cinnamon sticks orange zest, cloves, star anise and allspice berries to the insert of a crockpot. Cook on low heat for 6 to 7 hours. When ready to serve, add vodka and stir to combine. Remove cinnamon sticks and spices with a fine mesh sieve. Serve immediately. If you are preparing this for a party, keep the slow cooker on it's lowest heat setting throughout the evening. Serve with cinnamon sticks for an added touch of deliciousness, and class.
*Recipe, photos and video by Meghan Bassett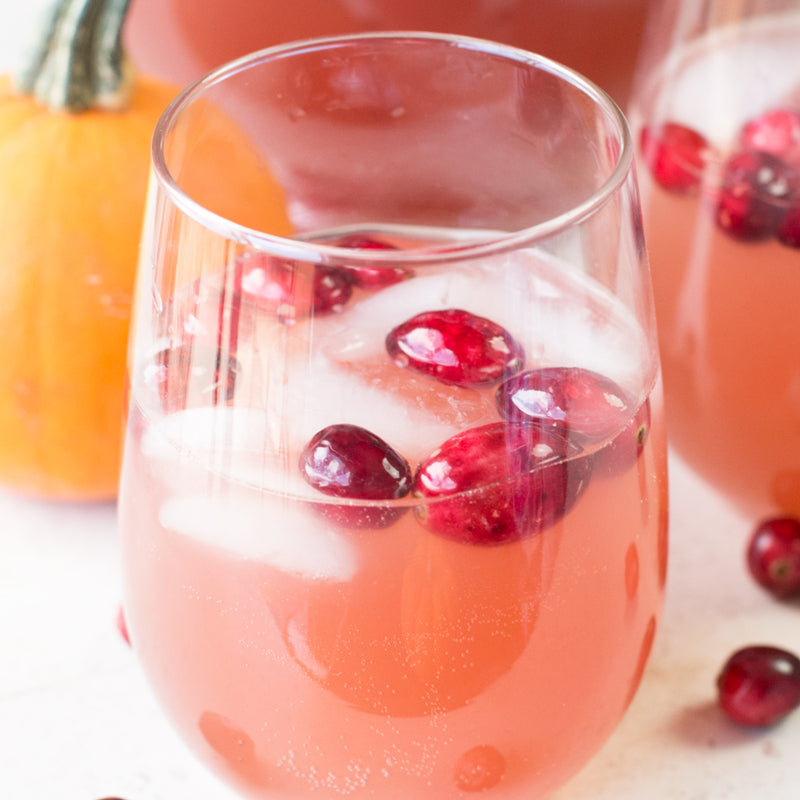 It's time to get some Bubbly Thanksgiving Sangria up in this holiday week! With all the family and friends coming to town, the recipes being created and the nuttiness that is Thanksgiving, this sangria recipe is the magical recipe to make sure you survive.
This sangria pair perfectly with turkey day and all the fixings that go along with that tasty meat. It's bubbly, light, and festive so it's a great opener for the whole dinner. It pairs with practically anything and boosts the holiday mood like crazy!
So pour a couple of bottles into a pitcher, whip up the deliciousness, and kick back to enjoy everything that is Thanksgiving.
[vimeo 192481552 w=640 h=360]
Bubbly Thanksgiving Sangria from Pig of the Month BBQ on Vimeo.
INSTRUCTIONS: Combine all ingredients in a large pitcher, stirring until the sugar is dissolved. Chill for at least two hours before serving.
*Recipe, photos, and video by Meghan Bassett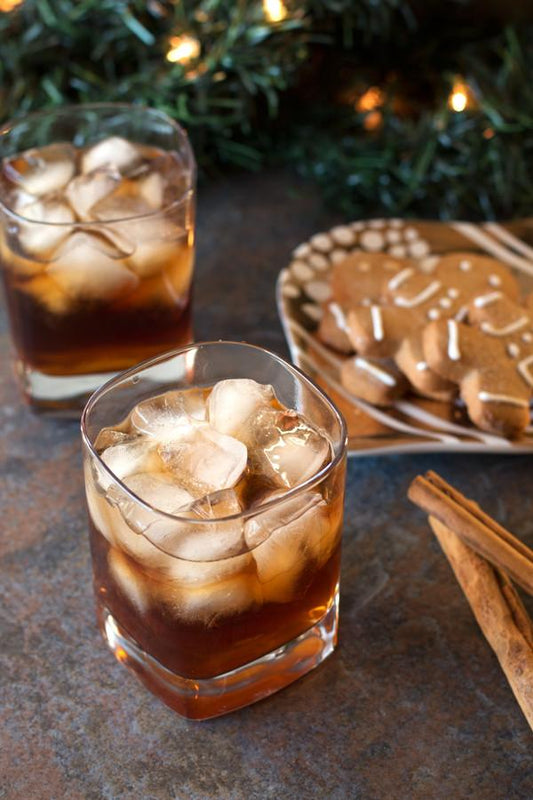 The holidays are all about making things merry and bright for everyone and anyone in your world, aren't they? It could be a little token of affection, a box of freshly baked cookies, or turning your next holiday cocktail hour/party into a true celebration with the best holiday cocktails. We know how important it is to bring extra cheer to the season, and we really know how important it is to have the perfect cocktail on hand. We're rounding up these 11 Cocktail Recipes to Make Your Christmas Merry & Bright to make sure you can celebrate in style all season long! From egg nog to cider, sangria to carefully handcrafted cocktails, this round up has everything you are looking for (and more!). Break out the bar cart, get those fancy cocktail glasses down from the shelves and let's toast to the merriest season of all!
Gingerbread Spice Cocktail - Sauce + Style
Cranberry Sangria - Sauce + Style
Boozy White Hot Chocolate - Sauce + Style
Candy Cane Cocktail - Mix That Drink
Sugar Cookie Martini - Crazy for Crust
Apple Pie on the Rocks - Gal on a Mission
Cranberry Apple Old Fashioned - Lipgloss and Crayons
Bourbon Eggnog - The Kitchen
Hot Cider Nog - Swanky Recipes
Winter WonderJam Whiskey Smash - She Eats
Candy Cane Shooters - Hairspray and Higheels Cheers to a very merry holiday season, piggy peeps!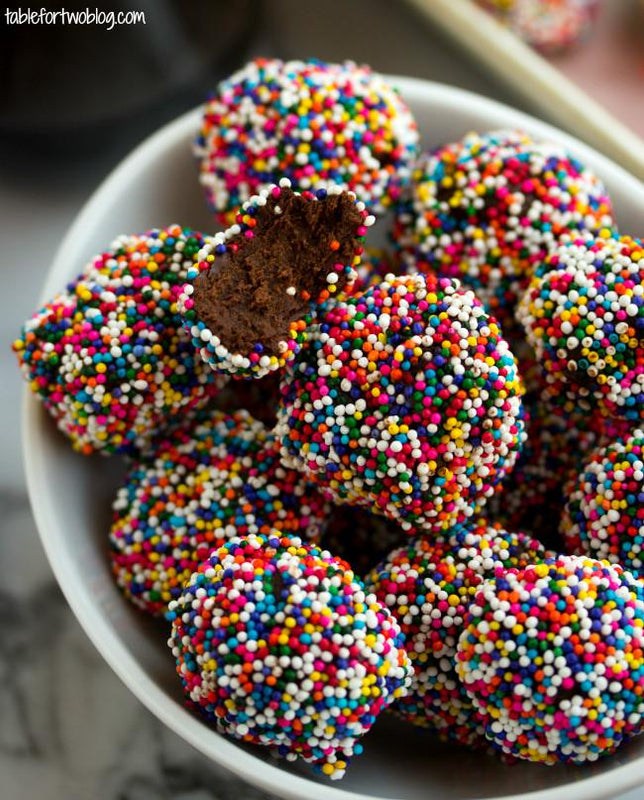 Now that the Christmas season is officially over, it's time to focus on all that New Year, New Me stuff. While other peeps are thinking about diets and how they can improve themselves in the coming year, we've got our eyes on the REAL prize... How to ring in the new year like a freakin' BOSS. There's no sense in making big plans for the new year if you are properly celebrating it's arrival, right? For us, it's all about DECADENCE. All the food, drink and more food that we want to double-down on before we feel the need to cleanse the holiday weight gain in January (you know, that diet that generally only lasts one week?). Check out our ultimate list of indulgent recipes from drinks to apps to desserts and even a burger made with beer cheese sauce and whiskey... Because why the F not? You can only say goodbye to 2016 once, so let's send that year out the right way.
Gingerbread Spice Cocktail - Sauce + Style
Cheesy Bacon-Stuffed Mushrooms - Sauce + Style Ultimate Hot Chocolate Bar - Sauce + Style
The Perfect Antipasti Platter - Sauce + Style
Peach and Vanilla Champagne Jello Shots - That's So Michelle
Sugar Cone Party Horns - Hungry Happenings
Glitter Champagne Bottles - Camp Makery
Double-Stuffed Oreo Jello Shots - A Beautiful Mess
Jameson Whiskey Blue Cheeseburger with Guinness Cheese Sauce + Crispy Onions - Half Baked Harvest
Chipotle Beer Shrimp Quesadillas with Spicy Guac - How Sweet It Is
One-Pan Baked Champagne Cream Sauce Fettucine with Truffle Oil - Half Baked Harvest
Crispy Beer Chicken with a Creamy Beer Mushroom Gravy - Cafe Delites
Drunken Cherry Galettes - The Brewer and the Baker
Boozy Truffles - Table for Two
Boozy Gummy Bear Cupcakes - Sweet Tooth Happy New Year, piggy peeps! We'll catch y'all on the flip side.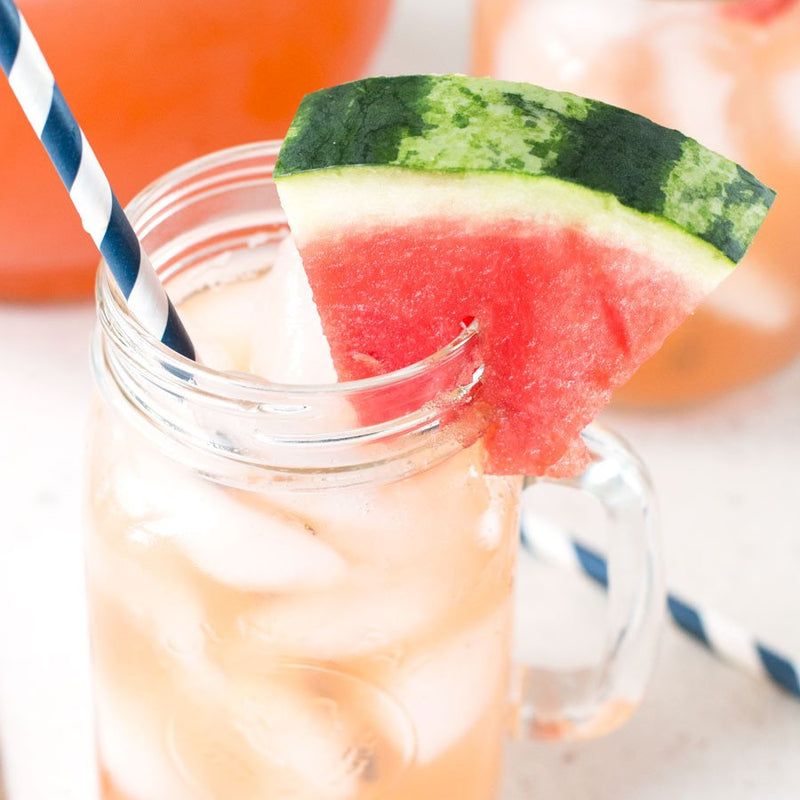 Y'all know we can't roll into a New Year without a whole set of cocktails to survive these first super intense weeks. Now that everyone's resolutions have been made, people are extra pumped and motivated to stick to them, making it a pretty busy season for us the moment we get back to the office. We aren't REALLY encouraging that whole "diet" thing, because it's all about balance. What's more balanced than a healthy cocktail? The booze evens ya out and the healthy fruit juices and other goodies in there will diminish the calorie count so you don't feel quite as guilty. Here's a roundup of our top fav classy and healthy cocktails that'll keep you fresh in the New Year. There are some old favorites and some new classics serving up just about every libation out there (aka there's something for everyone on this killer list). Cheers, piggy peeps!
Grilled Pineapple Bourbon Smash - Sauce + Style
Mango Mojito - Sauce + Style
Strawberry Rhubarb Margarita - Sauce + Style
Blueberry Mint Fizz - Waiting on Martha
Refreshing Watermelon Margarita - Sugar and Charm
Chamomile Honey and Whiskey Cocktail - A Cozy Kitchen
Blood Orange Margarita - With Salt & Wit
Cherry Blueberry Apple Sangria - The Roasted Root
Grapefruit Salty Dog - The Cookie Rookie
Blueberry Maple Mojito - Healthy Recipe Ecstasy So the only question is, which one of these delicious cocktails are you going to bust out at your next happy hour first??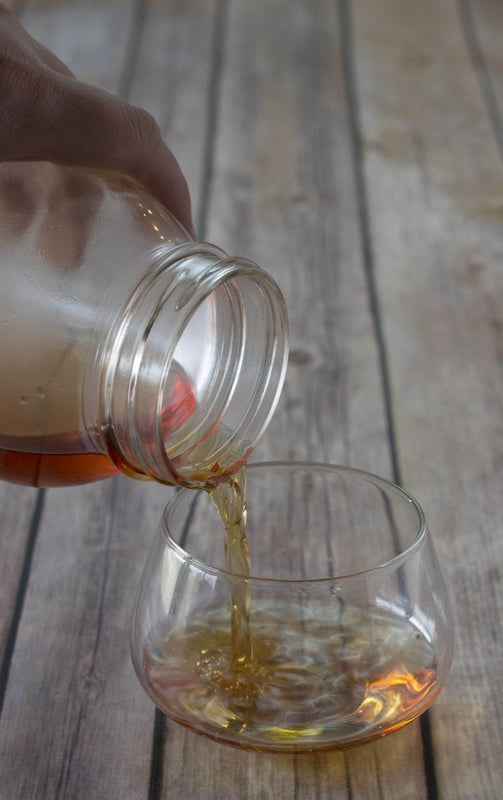 The first week of football is wrapping up and we couldn't be more excited. We are sad to see the end of summer so clearly, but all that football and tailgating amazingness in front of us is comforting our souls hardcore right about now. You know we are allllll about that tailgating food, but we also want to make sure we have the drinks part covered for y'all too. What's a tailgate party without some booze anyway? So we're bringing you these 15 fall cocktails to keep your tailgating spirits high (and extra boozy). These cocktails have all that apple and pumpkin goodness you start craving the moment September 1st rolls around, plus some extra odds and ends cocktails to give you a break once you start wearing yourself on everything apple and pumpkin. One of our favorite manly drinks below (pictured above) is Smoked Bourbon with Candied Bacon. Our smokers are running well into fall, low and slow, so we take advantage of that smoke by bottling it up with some bourbon. Top it with a slice of candied bacon and all the dudes out there basically melt as soon as they see it. It's also the perfect consolation prize if someone's team loses. As long as you give them one of these, you can mock them all you want.
DIY Brunch Bloody Mary Bar - Sauce + Style Apple Cider Margaritas - How Sweet It Is
Mulled Apple Cider Sangria - A Night Owl Bourbon Caramel Milkshake - Sauce + Style
Pumpkin and Apple Cider Fizz - Kitchen Konfidence Fresh Cranberry Margaritas - Cookie + Kate
Bourbon Apple Cider - Set the Table Cranberry Apple Cider Cocktail - Jelly Toast
Pumpkin Spice Whisky Cocktail - Dishing Up The Dirt Mexican Pumpkin Punch - We Are Not Martha But Can't We Try?
Apple Pie Bourbon Shots - Delish
Apple, Pumpkin Beer Cocktails - Cooking and Beer Pumpkin Old Fashioned - Saveur
Punch A La Taylor - Saveur Smoked Bourbon with Candied Bacon - Sauce + Style Cheers, y'all!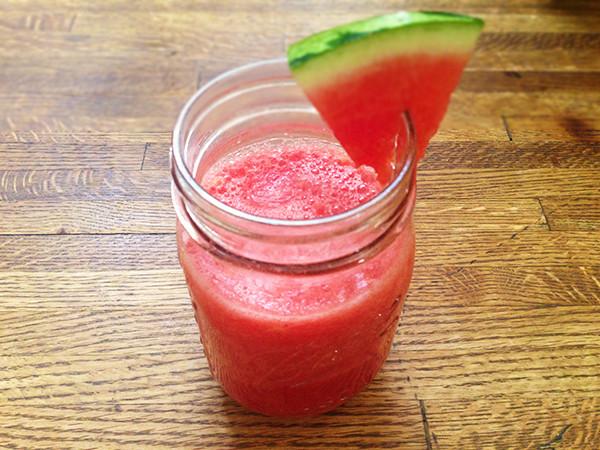 Heyyyyyy there friends! Here at Pig of the Month BBQ, you know we love our boozy breaks, especially when we're tending to those tasty meats on the grill. Those flames get HOT so we need a constant blur of cocktails to keep us cool and refreshed while we are hard at work during those backyard BBQ's. Every summer we look forward to packing our giant cocktail glasses with as much fresh fruit as we possibly can. There's no better time to take advantage of what's in season, and considering how much easier it is to make a cocktail versus baking or cooking with fresh fruit, we're alllllll over it. This week's roundup features the fruitiest cocktails around, perfect for adding to your happy hour lineup or even to just kick back with on a lazy Sunday afternoon. From mango to berries, watermelon to peaches, you get the best of all your fav summer fruits with this giant list of 15 killer cocktails. You might as well try them on so you can become a grill master AND master mixologist this summer. You've got big dreams, and we totally respect that. Stock up on the booze, because you know your friends and family will be knocking down your door the moment you start Snapchatting your mad cocktail skills.
Berry-licious Ice Tea Red Sangria - Culinary Hill Mango Mojito - Sauce + Style
Strawberry Rhubarb Margarita - Sauce + Style Rose Sangria - How Sweet It Is Fresh Fruit Ice Cubes - Sauce + Style
Blueberry Margaritas - Gimme Some Oven Strawberry Mojito Punch - Sauce + Style
Mango Margaritas - Minimalist Baker Watermelon Crush - Sauce + Style
Strawberry Bottomed Pineapple Margaritas - How Sweet It Is Bourbon Peach Basil Smash - Girl in the Little Red Kitchen
Blackberry Pineapple Smash - What's Gaby Cooking Cardamom Berry Smash - Today's Nest
OLYMPUS DIGITAL CAMERA[/caption] Kiwi Caipirinha - Evil Chef Mom Blackberry-Mint Julep - Food & Wine Time to raise that glass, friends. Cheers!
1
2
Next »