Posts tagged: crispy bacon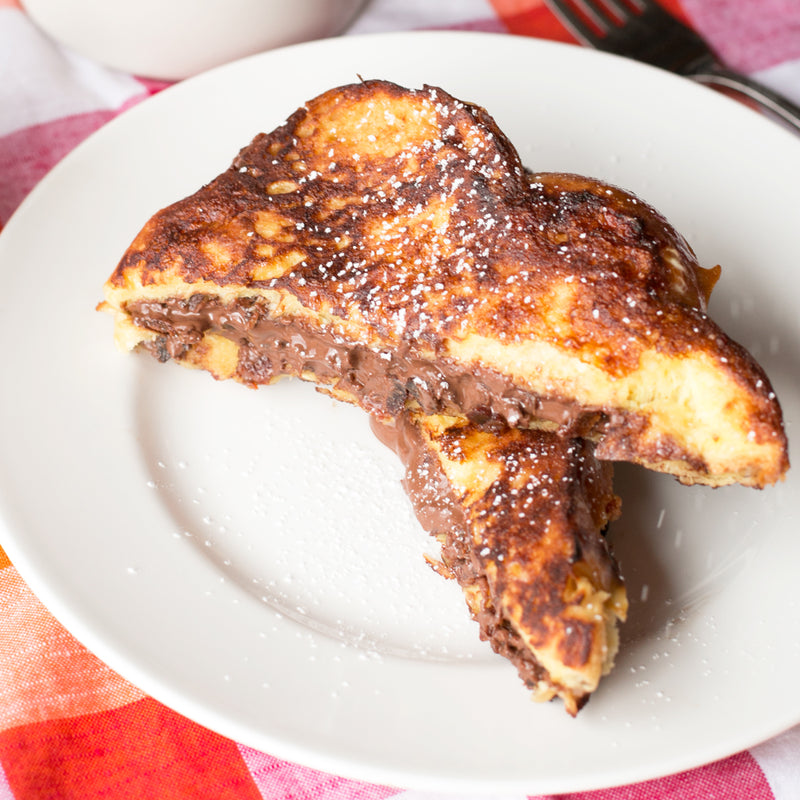 You guys.... It's time to find out what the BEST breakfast is EVER. Bacon-Stuffed Nutella French Toast... You will never believe the lusciousness that awaits you with every bite of this over-the-top French toast. The combination of bacon and Nutella is just about the best combination I've ever tasted. Just like chocolate-covered bacon, Nutella is an even better pairing for bacon.
This is the kind of breakfast that you serve when you are having a rough week or, especially, when you are trying to impress all those friends and family members. People will be swooning, they will be sighing, they will be melting in their seats when they take that first bite.
Or you can just hoard all of it to yourself and you don't have to worry at all about sharing. I totally support this decision, by the way. Just in case you were wondering.
INSTRUCTIONS: In a shallow bowl, whisk together eggs and milk. Spread four slices of the bread equally with Nutella. Sprinkle each with bacon. Top with the other slices of bread to form a Nutella sandwich. In a medium skillet, melt 1 Tbsp of butter. Dip both sides of one sandwich into the egg and milk mixture and place in the hot skillet. Cook for about 4 minutes per side, until golden brown on both sides. Repeat with remaining sandwiches. Cut each in half and serve. Shop This Post Pig of the Month BBQ Applewood Smoked Bacon
*Recipe & photos by Meghan Bassett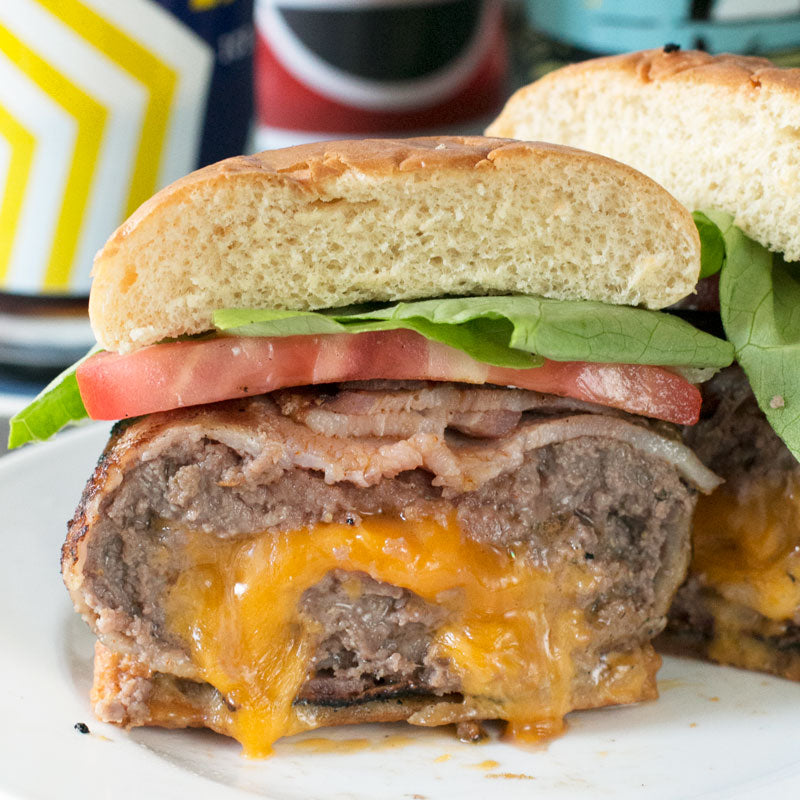 Chipotle Bacon-Wrapped Juicy Lucy Burgers... Yep you read that right. We took the classic Juicy Lucy burger and took it to the next level by wrapping it in our famous Chipotle rubbed bacon.
  This is the kind of epic burger we can't resist making. I mean, bacon makes everything better right? Wrapping a cheese-stuffed burger in bacon just makes sense. After crisping up that bacon on a hot grill pan, it adds just the right amount of savory crispiness that you crave when you bite into a burger.
If you want your summer to be epic, this is the quickest way to make that happy. We'll be grilling up these bad boys, all day erry day. Because that's what summer is all about. Happy eating!
INSTRUCTIONS: In a large bowl, mix together beef, flour, salt, pepper and garlic powder with your hands. Divide the mixture in half, and then in half once more. Form 4 round patties, making sure to pat them out thin.
On a large sheet pan, lay 5 bacon strips out in the shape of a star.
Place one of the small patties in the middle and add half of the cheddar cheese to the center.
Top the patty with another patty, firmly pinching the edges to seal it well.
Fold up the strips of bacon over the burger, trimming the ends of the slices as necessary so they lay in a flat layer. Repeat this process to form the second burger. Place the burgers seam-side down on a grill pan over high heat. Cook for 5 minutes per side, or until desired doneness is reached, making sure to flip the burger on it's sides to crisp up the bacon on all sides.
Serve immediately and garnish as desired.
Shop This Post
Pig of the Month Chipotle Rubbed Bacon
Recipe & photos by Meghan Bassett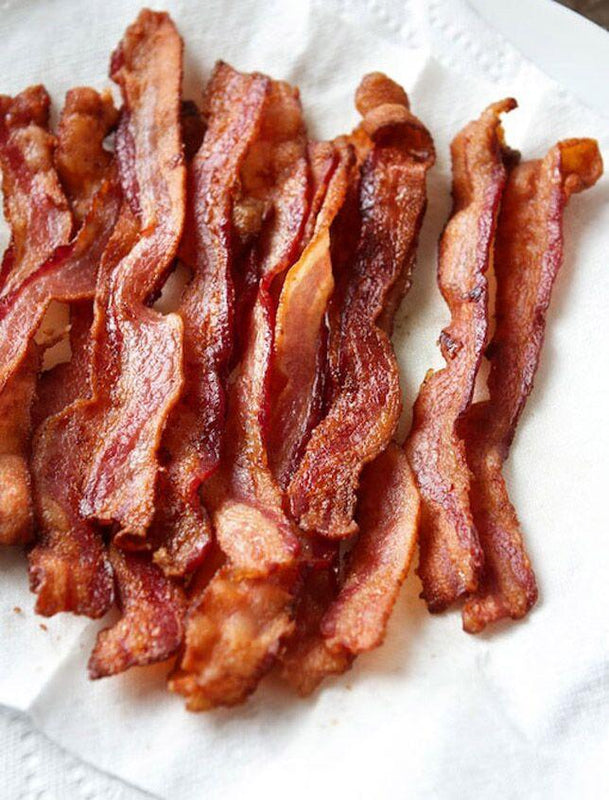 We've all been there in a pinch. The oven is taken, you've got 5 things working on the stove and you still need to cook up some bacon. This is the moment that knowing the one trick to microwave perfect bacon really comes in handy! There may be some naysayers out there that don't believe that microwaving bacon really works. Well, we're here to prove you wrong. If you do it right, you'll get that oh-so crispy, swoon-worthy bacon every time.
So what's the one trick you need to know? It's simple - paper towels. You might be scratching your head right about now - I mean, we don't blame you. What's so special about paper towels? We swear, paper towels really are the key here. They soak up all that extra grease as the bacon cooks in the microwave so you end up with bacon that is anything but soggy. No globs of gross, pathetic bacon here. We respect our bacon WAY too much to let that happen on our watch. Are you ready to know the secret of the paper towel power when it comes to microwaving bacon?
Here's how to do it right, every single time: Step 1: Line a baking dish (one that'll fit in your microwave, of course) with not one, not two, but THREE layers of papers towels. Step 2: Add bacon in a single layer and cover with another two layers of paper towels. Step 3: Microwave the bacon for 1 minute per slice of bacon. Check on it and cook in 30-second additional increments as needed. The price time will depend on the thickness of the cut and how much you are cooking at one time. Step 4: Once cooked through, transfer the bacon to a clean plate (NOT lined with paper towels) so the bacon slices don't stick to the paper towels as it crisps up. Step 5: Enjoy deliciously cooked bacon, right from your microwave! Did we just blow your mind?
Boring old fried onion rings are sooooooo yesterday. No one needs all that greasy breading. Instead, you need all that greasy, crispy BACON. These bacon-wrapped onion rings are the only way you should be eating your onion rings from now on. Everything is better with bacon, you all know that! These onion rings might look a little intimidating to make, but they are so much easier than dragging out the fryer and going through the batter process normal onion rings require. Instead just wrap these bad boys up and bake until they are crispy and delicious. No possible oil burns and no risk of a grease fire. Which for someone as clumsy as myself is a serious MUST.
The hint of BBQ sauce and smoky flavor of the bacon give new life to onion rings that is downright addictive. Trust me when I say you won't regret diving into a bowl of these savory rings of bacon-wrapped onion rings (aka serious deliciousness) for a second; and if you do, hand them over, I'll finish off the rest for you.
INSTRUCTIONS: Preheat oven to 400 degrees F. Line with foil and place rack on baking sheet.
Brush the onion rings with BBQ sauce, then carefully wrap in bacon. Start by wrapping one end of a bacon slice snuggly around the onion ring so it just slightly overlaps itself. You'll use about 1 1/2 to 2 slices of bacon per onion ring.
Place the wrapped onion rings bacon-end side down on the rack and bake for 20 minutes. Flip the onion rings and bake another 15 to 20 minutes. Finish the onion rings with a few minutes under the broil if you like crispier bacon. Remove from oven and rest at least 5 minutes. Serve with more BBQ sauce if desired.
Shop This Post Pig of the Month BBQ Applewood Smoked Maple Bacon Recipe & photos by Meghan Bassett