Posts tagged: Christmas gift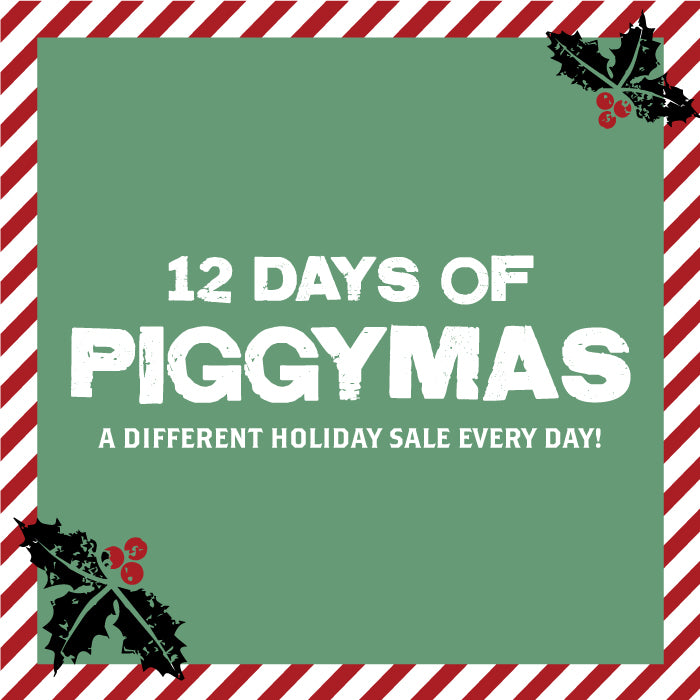 We're back with our favorite holiday giveaway and we're looking to spread a little holiday cheer...with BBQ sauce from ear to ear! :) We'll be giving away a little something tasty everyday for the next 12 days, so stay tuned on our Facebook page and find out more details below!
For our 12 days of Piggymas, we're sending you:
Day 1: A BBQ sauce sampler
Day 2: A trio of sweet and salty snacks - chocolate covered bacon, bacon jam and caramel cheddar bacon studded popcorn
Day 3: A bloody mary themed package with bloody mary mix, 1lb of peppered bacon, AND 1lb applewood smoked bacon
Day 4: 3 pounds of pulled meats; a little pork and a little chicken
Day 5: A bacon lovers dream with 3 specialty flavors of bacon
Day 6: Ribs!! 3 slabs of the good stuff, delivered
Day 7: All the sausage your heart could desire – sent to your door
Day 8: A heaping amount of BBQ brisket and baby back ribs…mmm mmm mmmm
Day 9: 6lbs of our best selling bacon and sausages
Day 10: A holiday ham to enjoy – we'll do all the cooking
Day 11: 6 slabs of ribs to enjoy for Christmas Dinner
Day 12: A mix of all of our best sellers; baby back ribs, pulled pork, BBQ sauce, brisket and bacon!
Look for instructions on how to enter each day on Facebook!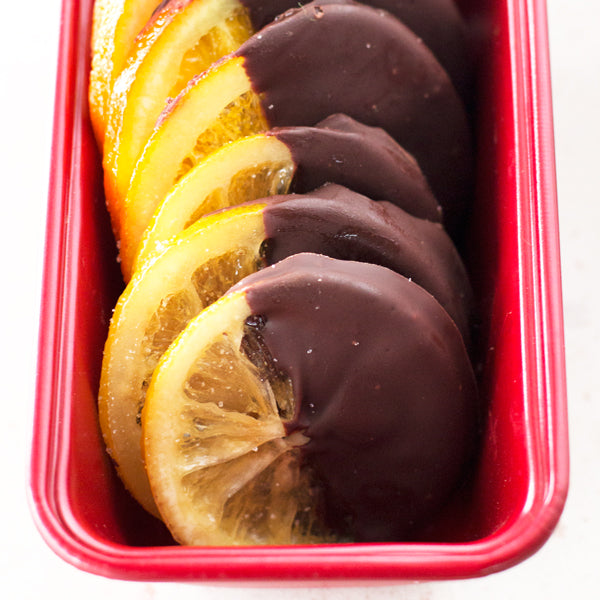 Still wondering what in the world you're going to get that special someone for Christmas this year? Don't worry, because I've got you covered with these chocolate dipped candied citrus slices!
After a while, buying presents gets a bit tough because everyone seems to have everything they need or want. When you want to show you care, I always say go for the tastebuds. Nothing says I love you like a plate full of beautifully candied citrus slices, dipped in chocolate and served with a bow, am I right?
These elegant slices of sugary citrus are dipped in dark chocolate and look so fancy, no one will know that it took you very little time and effort to create them.
INSTRUCTIONS: In a large skillet, heat water and sugar over medium-high heat and bring to a boil. Add the orange and lemon slices and continue to cook over medium heat, turning from time to time. Once the liquid is reduced to a thick syrup and the slices are translucent, approximately 20 minutes, reduce heat to low and simmer until the syrup is thick. Turn the slices occasionally as then cook, approximately 10 minutes.
Transfer the slices to a cooling rack and you can save the syrup to use as a citrus simple syrup in cocktails! Cool the slices for at least 12 hours before dipping.
Dip the citrus slices halfway into the melted chocolate and set on parchment paper to harden, approximately 1 hour. Package in cute little mini loaf pans and wrap as desired.
Recipe & Photos by Meghan Bassett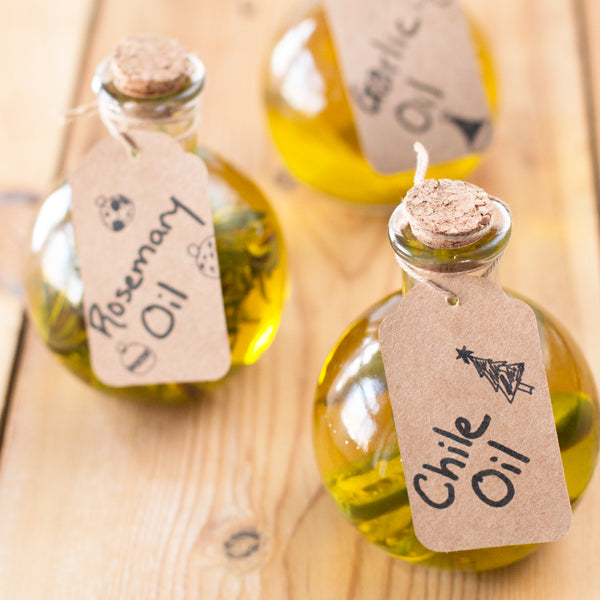 Christmas is only a couple days away and if you're anything like me, you're panicking about those last couple of presents you still have yet to buy. Instead of a Starbucks gift card or some flowers, why not make a gift that is memorable, hand-crafted and really useful?!
These three infused oils are the perfect trio to gift to anyone on your Christmas gift list. The garlic, rosemary and chili oils will infuse a hefty dose of flavor into whatever anyone cooks with them.
The best part is it'll only take you a quick trip to the craft and grocery stores to get what you need to make these oils. They come together in minutes and don't even require gift wrap because they already look so stunning.
Whether you have a pro chef in your life or someone who's just starting to learn to cook, they'll love these handcrafted oils!
INSTRUCTIONS: Add cloves, rosemary and peppers to their own individual jars. If you don't want the chile oil to be as spicy, remove the seeds from the peppers before adding to the jar. Pour 6 oz of oil into each and seal. Add cute labels and you're done!
Recipe & Photos by Meghan Bassett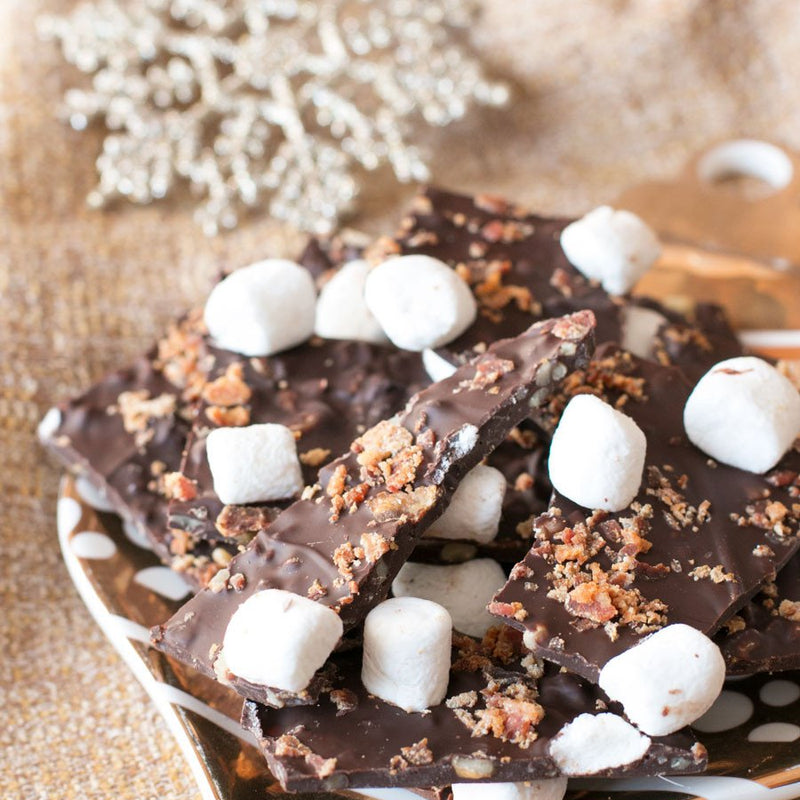 Can you believe it's almost December?! My mind is still reeling from Thanksgiving and holiday parties are already filling up each and every weekend from now until Christmas. I'm trying to think ahead and all I can think to give people is something food-related for Christmas presents...
Big surprise considering my entire life revolves around food. Well, more specifically bacon... This maple bacon marshmallow bark is a fun sweet and savory treat that no one will be able to get anywhere else! Forget candy canes or caramels, this chocolate bark can only be found in one place... your kitchen!
A treat like this one is SUPER easy to make and barely takes any time. You just need a microwave and a freezer to get this little pile of treats whipped up. Then box it up and give it out as Christmas presents, hostess gifts for all those parties you'll be attending, or just load up on massive amounts of this bark for yourself. The sweet and savory combination makes this bark the ultimate snack to indulge in on any chilly afternoon this December!
INSTRUCTIONS: Add the dark chocolate chips to a microwavable bowl. Microwave the chocolate for 45 seconds to 1 minute. Remove the bowl and stir. Place back in the microwave for 15-second intervals, stirring in between each, until the chocolate is melted and smooth. Stir in walnuts. Line a baking sheet with wax paper. Spread the melted semi-sweet chocolate in an even layer on the wax paper. It should be approximately 1/4″ thick. Sprinkle with bacon and mini marshmallows. Allow it set for 30 minutes in the freezer. Shop This Post Pig of the Month BBQ Applewood Smoked Maple Bacon 
*Recipe & photos by Meghan Bassett
'Tis the season to shower your friends and family with gifts, so what's better than the gift of food. Not much. I'm sure it's no big surprise that we here at Pig of the Month BBQ are alllllll about the foodie gifts. From bacon to ribs to brisket, we love to give the gift of tasty BBQ meat whenever we can. To go alongside all that finger-licking goodness, we like to dole out a few special gifts that range from chocolate to oils to even more bacon. Check out our holiday foodie gift roundup below and give the gifts everyone REALLY wants to get underneath the tree this year!
Chocolate Dipped Candied Citrus Slices - Sauce + Style
Maple Bacon Marshmallow Bark - Sauce + Style
Infused Olive Oils - Sauce + Style
Easy Peppermint Bark - Sauce + Style
Homemade Bacon Bits - Sauce + Style Trio of Chocolate Truffles - Sauce + Style
Homemade S'mores Kit - Twig and Thistle
Homemade Bacon Salt - Not Quite Nigella
Set of Flavored Sugars - Country Living
Homemade Dark Chocolate Nutella Chips - Desserts with Benefits
Homemade Tonic Syrup - Pinch and Swirl
Roasted Pumpkin Seeds - Inspiration Kitchen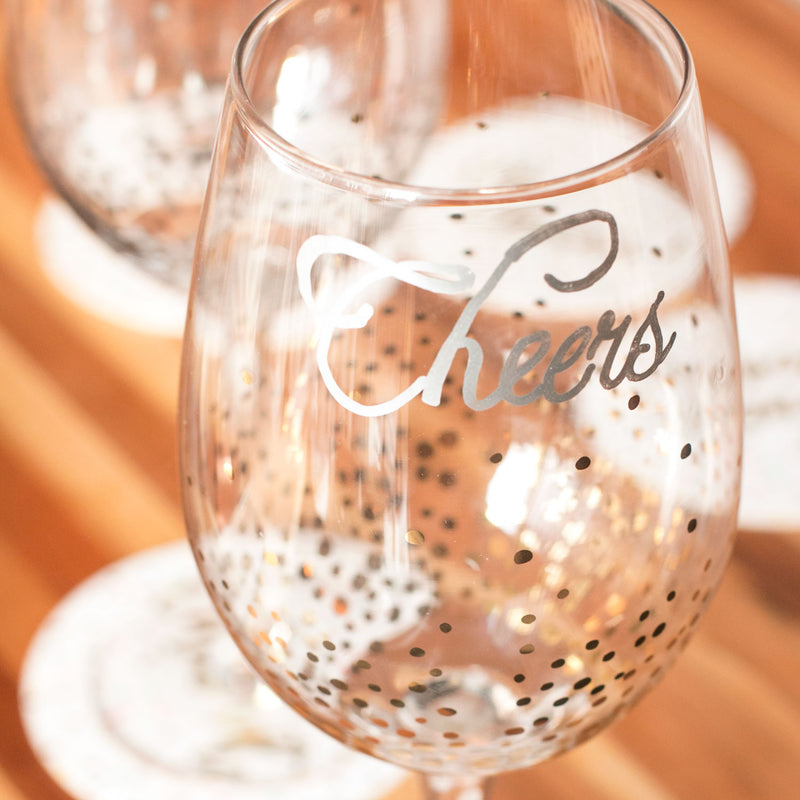 Can you believe we are only a couple weeks away from Christmas?! I don't know about you, but December is flying by. I am deep into the holiday celebrations and with tons of friends and family to give gifts to, I'm starting to get a little overwhelmed.
This year, I decided that all my boozy friends and family need a little homemade touch (and my wallet could honestly use the break too). Instead of buying a ton of gifts, I'm making everyone these adorable DIY Holiday Wine Glasses! I know they might look a little intimidating to make, but they are SO easy. You can just pick up some wine glasses on the cheap (this is where those dollar stores come in handy!), then decorate them any way you like. I love the simple "Cheers" on these glasses, but you can also decorate them with an artistic flair, or even use a longer quote. You can make them personal for everyone you plan to give them to!
INSTRUCTIONS: Decorate the glasses with random dots, lines or whatever pattern you desire (or no pattern at all!).
Print out desired quote or saying on a piece of paper. Using tape, attached the quote to the inside of the wine glass with the text facing out and in the position you desire.
Use a paint pen (one that works on glass!) to trace the quote in your desired color. Let dry completely.
Gift to any of your friends and family - or just keep these darling glasses to yourself to celebrate the holidays with!  
*DIY and Photos by Meghan Bassett