Posts tagged: chips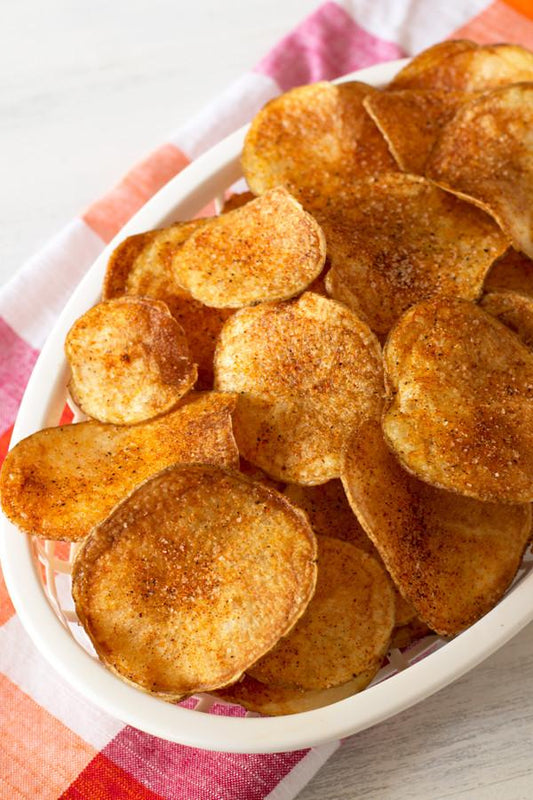 Summer is here and that means it is picnic season! No picnic would be complete without a crunchy handful of potato chips. For your next picnic, ditch those boring ol' bagged potato chips and fry up some of your own spicy homemade potato chips!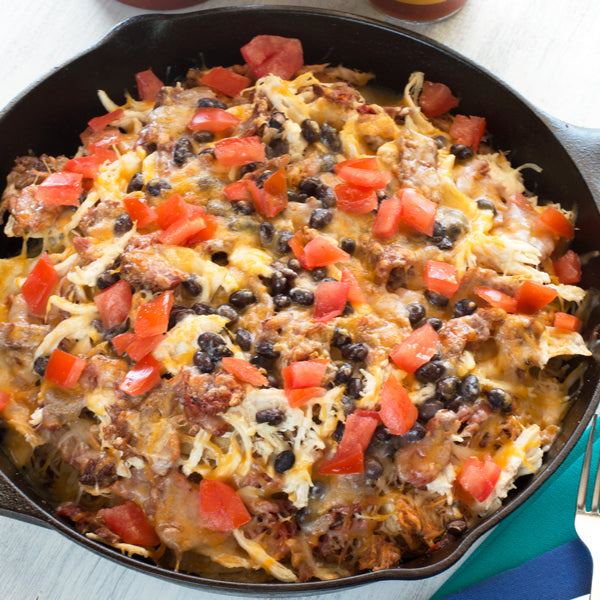 Imagine this… You're sitting around the campfire, drinking a couple beers and joking with your friends. Then someone says, "dinner's ready" and you all gather around a large cast iron skillet. The aluminum foil gets peeled off and you instantly smell the best campfire dinner smell ever – barbeque.
Now I'm turning that imagined experience into a reality for you with these campfire barbeque nachos! Featuring Pig of the Month meats, all you have to worry about is preparing shredded chicken prior to packing up and heading to your campsite. Then simply assemble all the ingredients, cover with foil and cook directly on the campfire until everything's warm and the cheese is melted.
You'll end up loving the three-meat combination on these campfire nachos so much, you'll be building fire pits in your backyard just for an excuse to eat them on a weeknight! DIG IN!
INSTRUCTIONS: Layer the tortilla chips on the bottom of the cast iron skillet, filling it approximately 1/3 of the way full. Add the pulled pork, brisket and pulled chicken in an even layer on top of the chips.
Top the meats with black beans, sliced jalapeños, and cheese. Cover the cast iron skillet with aluminum foil and place directly on the campfire. Cook until the dish is warmed through and the cheese is melted, approximately 5 to 10 minutes. You can also cook this under the broiler on low for approximately 5 minutes at home!
Remove from heat, peel off the foil and top with the fresh tomato chunks. Serve immediately with either barbeque sauce or salsa and hot sauce.
  Shop This Post
Pig of the Month Pulled Pork Pig of the Month Brisket
Recipe & Photos by Meghan Bassett
With March Madness starting to set in, March is the month of snacks and munchies for us! It just so happens to be one of our favorite times of the year because it gives us the excuse to pull out all our favorite standby snacks as we stream the games all day, every day. Of course, sometimes we like to get a little classy up in here with our snacking. There's only so much beer you can drink in one month, right? It's about time we switched over to some wine for those grape-obsessed during our favorite time of the year. That's why we've put together the ULTIMATE snack and wine pairing guide so you can feel classy AF while you sit back, pig out on your favorite snacks and watch your favorite team demolish everyone else with each passing week. Love your white wines? Here's the snacks you'll want to bring to the table with your all-time fav wines while you root for the upsets:
More of a red aficionado? Get rich and deep with these tasty pairings as you discuss who will be in the final showdown:
Can't decide between red and white? Good news, we've got you covered with BOTH for these munchies. Who's got time and patience to choose when your team's championship is on the line, am I right?
You'll get that three-pointer you've been prepping for all season with this guide, trust me. Don't forget to check out our March Munchie Madness bracket challenge for the chance to win some serious tasty treats! We're about halfway through the brackets but there's plenty more knock-down drag out fights left in our tasty contest. One lucky winner will win each round, and the next winner could be YOU. Follow along on Facebook and Instagram for more ways to enter to win.