Posts tagged: cheesy bread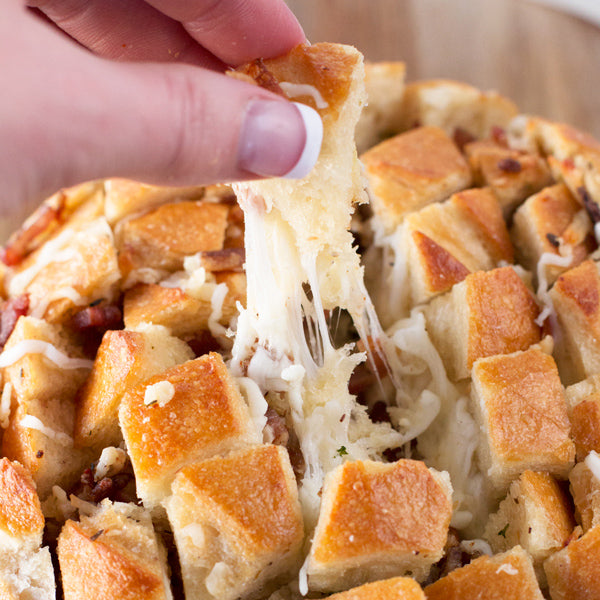 I'm about to blow your minds with some serious bacon and cheese action. You may think that it couldn't get any better than the fried mac n cheese we busted out earlier this week, but we just outdid ourselves. Yet again.
Pull apart breads are my new favorite recipe to whip out for a party, especially a huge spread like the one I'm hosting on Super Bowl Sunday in a couple weeks. This bread is so ridiculously simple, there's really no excuse for you to NOT make it. In about 5 minutes of prep time, you'll be a hot 15 minutes away from a cheesy, bacon-packed mess of a bread that everyone will gladly get messy for. Just take a gander at that cheese....
Ok one more... All that cheese and bacon stuffed into the cracks of that warm, crusty bread...
Enough torture, I promise. But seriously, can't you just taste the deliciousness that this cheesy, bacon bite must pack? Are you hungry yet?
INSTRUCTIONS: Preheat oven to 350 degrees F. In a small bowl, stir together melted butter, garlic, salt, pepper, parsley, thyme and oregano. In another small bowl, combine the two cheeses and bacon. Gently toss to combine.
Using a serrated knife, cut the bread on a diagonal angle into 1-inch diamond shapes, making sure you don't slice all the way through the loaf of bread.
Gently open up the cracks with your fingers. Drizzle each with a tsp of the butter mixture and a pinch of the cheese and bacon mix.
Wrap the loaf of bread in aluminum foil and bake for 15 minutes, until the cheese has mostly melted. Remove from the foil and bake for an additional 5 minutes, directly on the rack. Serve immediately.
Shop This Post 
Pig of the Month Applewood Smoked Maple Bacon
Recipe & Photos by Meghan Bassett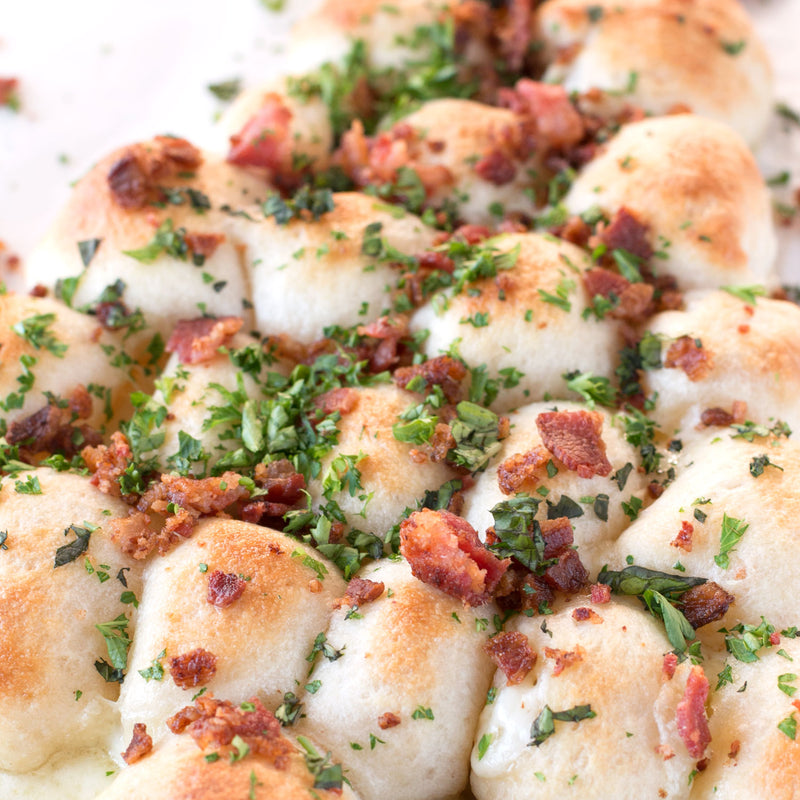 Nothing says Christmas like a Christmas tree, am I right? Even better than a Christmas tree? One made out of bread. Stuffed with cheese. Topped with fresh herbs and delicious, crispy bacon...
This treat of a tree is one of my favorite recipes to bust out around the holidays. It's bright and full of flavor, and being stuffed with gooey cheese in the perfect surprise for everyone attending your holiday meal.
The whole thing comes together in only 20 minutes, so there's no kneading. No waiting for bread to rise. And no sharing if you don't have the heart to... I'm just saying, I wouldn't blame ya if you don't share.
INSTRUCTIONS: Preheat oven to 400 degrees. Slightly roll out pizza dough and cut into 22 squares. Place one cube of cheese in the center of a square of dough. Wrap the dough up and around the cheese, pinching the edges together.
Place seam side down on a parchment paper lined baking sheet. Continue with the remaining cheese and dough, creating a Christmas tree shaped as shown in photos above.
Brush the tops of the dough balls with butter. Bake 15 minutes. Remove from oven and brush again with butter. Sprinkle with fresh herbs and bacon. Serve immediately.
Shop This Post
Pig of the Month BBQ Garden Herb Bacon
*Recipe and photos by Meghan Bassett