Posts tagged: cheese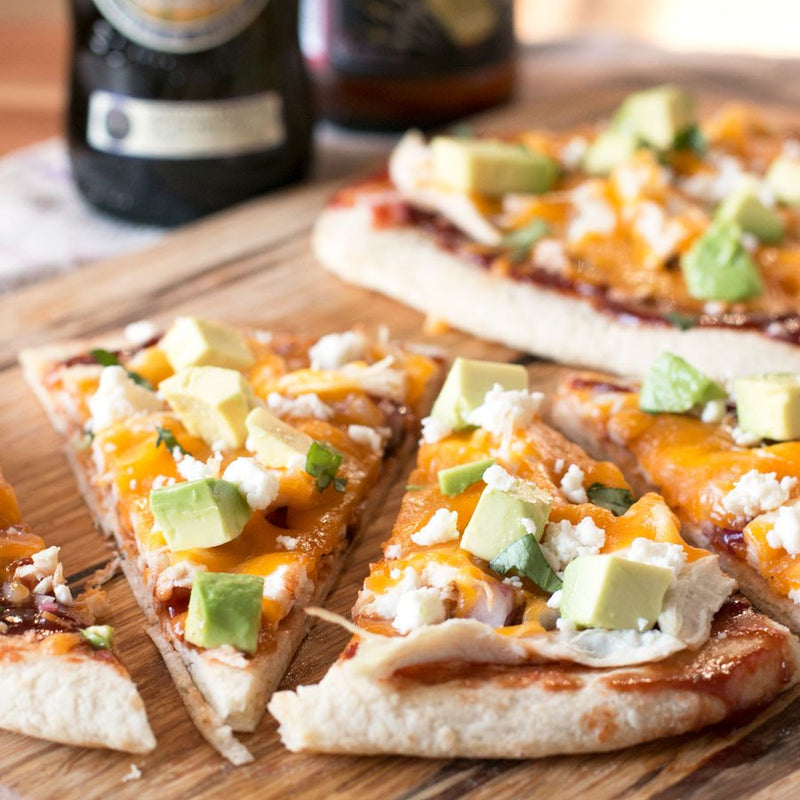 Welcome to 2017 piggy peeps! I don't know about you but I am not ready to get back into the swing of things to kick off the New Year. It feels like there are 5 million to-do's on my list and I am barely making a dent in them a few days into the new year... One thing that's falling off my radar? Dinner. I am struggling with pumping out tasty meals without spending wayyyyy too much time on them. Since I have too much to do at work, I am starting to rely on meals of popcorn and soda - NOT how I wanted to start the year.
Instead, I'm pulling out my Pig of the Month BBQ Shredded Chicken and I'm making something more than just a sandwich with it. These flatbreads are one of the easiest meals EVER and there's no one that can resist them, I don't care how picky of an eater they are. The fluffy naan with BBQ sauce, chicken and avocado is the best base for any pizza. Throw in the bite of some red onion and salty cheese and holy wow, this pizza is one the entire family will be begging you to make on a regular basis. Not to mention it's pretty dang healthy in terms of pizza, so you can feel ok about sticking to those New Year resolutions ;)
INSTRUCTIONS: Place naan on a lined baking sheet.
Spread each with half of the BBQ sauce.
Top with chicken, red onion and cheese.
Place under broiler set to high for approximately 2 to 3 minutes, or until the cheese melts.
Remove from oven, top with avocado, cilantro and a sprinkle of queso fresco. Serve.
Shop This Post
Pig of the Month BBQ Shredded Chicken
Pig of the Month BBQ Love Me Tender Sauce
*Recipe and photos by Meghan Bassett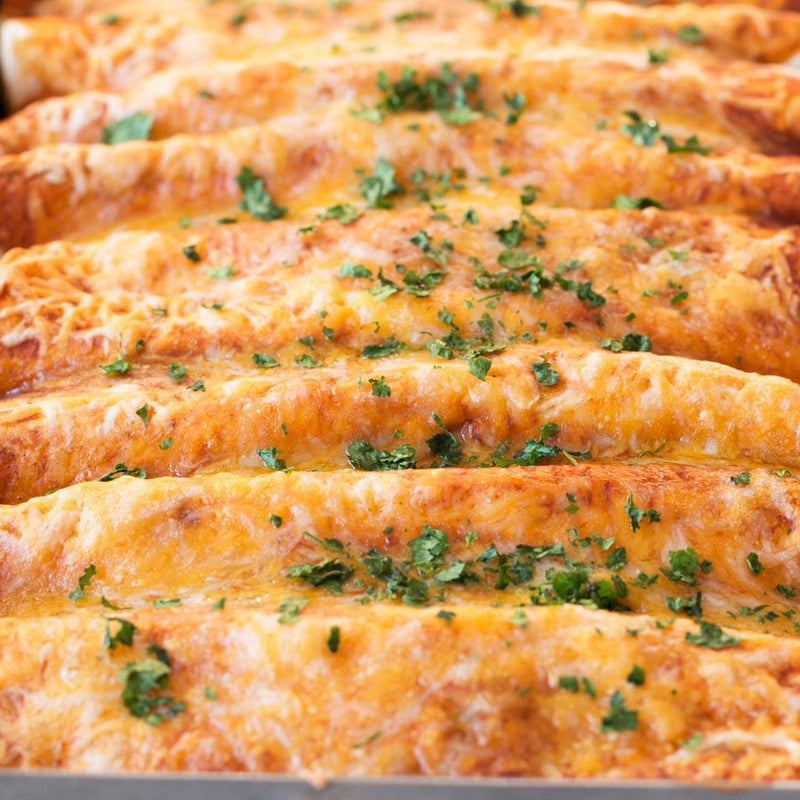 You know when you discover one of the best combinations ever? Because I just did. It's called the happy little crossing place between Mexican and BBQ....
I can't lie; it's freaking magical!
The cheesy, ooey gooey normal enchiladas recipe is made oh-so much better with the addition of BBQ sauce and the best ever Pig of the Month BBQ pulled chicken. It's a little spicy, a little sweet and totally tangy, making every bite the most dreamy thing to hit your taste buds since a slice o' crispy bacon.  If your tummy isn't rumbling at the sound of that, there's honestly something wrong with you...
Get down to Chow Town!
Serves 4 to 6 INSTRUCTIONS Preheat oven to 350 degrees. Grease a 9x13-inch baking dish. Add vegetable oil to a medium skillet and heat over medium-high heat. Add onion and cook until tender, approximately 3 minutes. Add chicken and chiles. Season with salt and pepper and cook until warm. Keep warm over low heat. Whisk together enchilada sauce and BBQ sauce in a small bowl. Set aside. Assemble the enchiladas by laying out the tortillas one at a time on a clean work surface. Spoon on 2 Tbsp of the enchilada BBQ sauce, spreading it out to coat the entire tortilla. Add 2 Tbsp of the chicken mixture down the center of the tortilla, then sprinkle with cheese. Roll up tightly and place in baking dish. Repeat with remaining tortillas. Spread remaining sauce over the top of the enchiladas. Top with remaining cheese. Bake for 20 minutes. Garnish with chopped cilantro and serve immediately.
Shop This Post
Pig of the Month BBQ Pulled Chicken  
*Recipe & photos by Meghan Bassett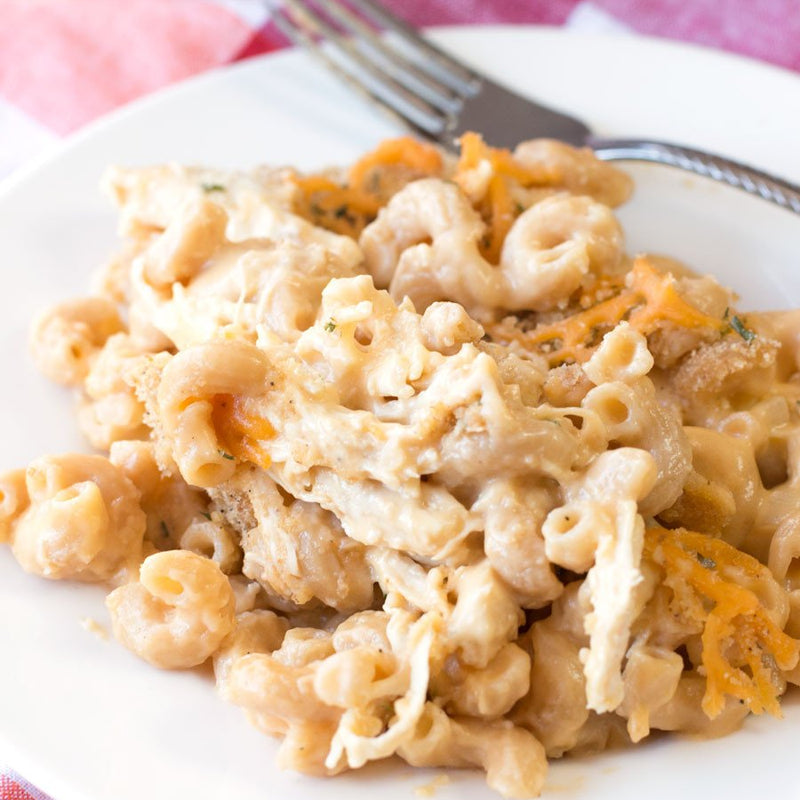 My ultimate comfort meal? A heaping bowl full of macaroni and cheese. No, not the stuff from the box people. I mean the real, down-home heart stuff that fills you up and warms you from the inside out.
Of course, eating bowl after bowl of that cheesy deliciousness is a little bad for the waistline... On the other hand, I don't believe in compromising flavor in favor of just eating the healthy stuff. That's why this Lightened Up Chicken Mac N Cheese is the one dinner you have to add to your winter weeknight rotation! It's creamy and dreamy and oh-so cheesy, but the lightened up cheese sauce and whole wheat noodles keep you from adding too much to your hips.
Without sacrificing any flavor! The Pig of the Month BBQ Pulled Chicken sure takes care of THAT. BOOM baby. Let's get cooking!
[vimeo 200244639 w=640 h=360]
Lightened Up Chicken Mac and Cheese from Pig of the Month BBQ on Vimeo.
INSTRUCTIONS: Preheat oven to 375 degrees. Spray a baking dish with cooking spray. In a large saucepan, melt butter over medium-high heat. Add onion and cook until tender, approximately 3 minutes. Add flour, stirring to combine, and cook until golden, approximately 30 seconds to 1 minute. Whisk in milk and broth. Bring the mixture to a boil and cook for 5 minutes, until thickened. Remove from heat and stir in cheese until melted. Season with salt and pepper to taste. Stir in macaroni and chicken into the saucepan. Pour into the prepared baking dish. Top with an extra sprinkled of cheese and the bread crumbs. Bake for 15 to 20 minutes, until bubbly and the top is golden.
Shop This Post Pig of the Month BBQ Pulled Chicken *Recipe, video and photos by Meghan Bassett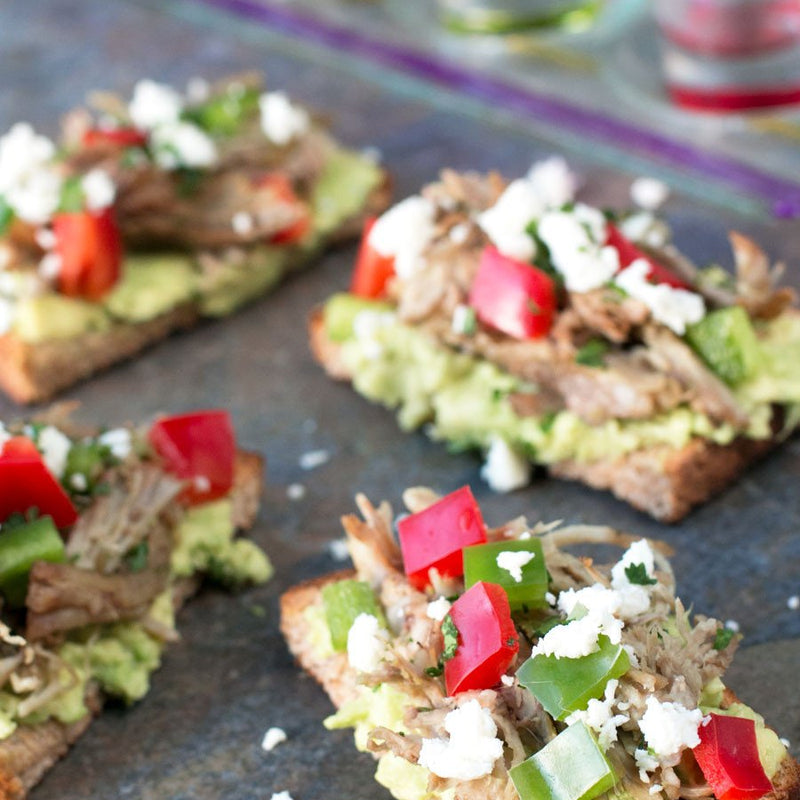 Avocado toast might be all the rage for all those health nuts out there wanting to eat something good for breakfast or lunch, and while we appreciate the healthy attempt, I kind of like to trash my healthy plans up... With a whole heaping helping of meat in these killer Pulled Pork Veggie Avocado Toasts!
I can honestly admit that my attempts at getting healthy this year are pretty dang lame... I am not the biggest fan of sticking to a strict diet. For obvious reasons I'm sure. I mean when I have Pig of the Month BBQ Pulled Pork in my fridge, why the heck would I ever want to just eat my fruits and veggies?! Nope, instead I want to load up on my pork and I GUESS I can load up on some veggies at the same time.
With the pulled pork, these veggie avocado toasts burst with tons of flavor. It's like eating a pulled pork taco but on toast! I love making this for breakfast or lunch, or a mid-afternoon snack, because it's super easy AND it's easy to throw together in even the smallest of kitchens (like that dinky one at your office...). So load up and get healthy (well healthy-ISH)!
INSTRUCTIONS: Spread toast with a layer of mashed avocado. Top with pulled pork, chopped bell peppers, queso fresco and chopped cilantro. Serve!
Shop This Post: Pig of the Month BBQ Pulled Pork *Recipe and photos by Meghan Bassett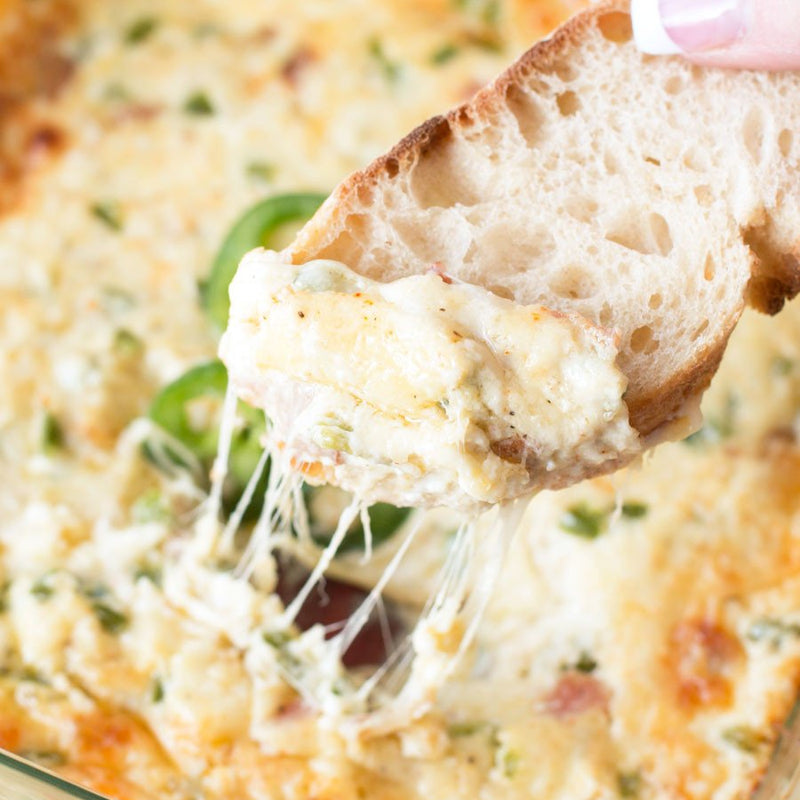 Y'all know I couldn't leave you hanging right before the big game on Sunday without something delicious to make, right? For the love of all things bacon and cheese, this Cheesy Jalapeno Bacon Dip is the one recipe that HAS to hit your game day spread this weekend.
I LOVE serving up cheesy dips for football parties because they are always the star of the entire day. The gooey cheese served up on crusty bread or tortilla chips is all too addicting (plus it helps balance out all those boozy drinks you'll be guzzling as you cheer your team on).
Heck, even if you are just watching for the commercials, you still need something to eat that'll warm you from the inside out! This creamy, cheesy dip is spicy and savory, with the perfect salty hit of bacon from Pig of the Month BBQ's Applewood Smoked Maple Bacon. The thick cuts of bacon really stick out in this dip, so it's ideal for all those bacon-lovers in yo life. When I dip, you dip, we dip! Time to DIG IN.
[vimeo 202231008 w=640 h=360]
Cheesy Jalapeno Bacon Dip from Pig of the Month BBQ on Vimeo.
Serves 6-8 INSTRUCTIONS: Preheat oven to 400 degrees. In a large bowl, mash together cream cheese, mozzarella cheese, jalapeños, mayonnaise, garlic, salt, pepper, cayenne, butter, and bacon until combined. Add mixture to a medium-sized baking dish. Bake for 20 to 25 minutes. Serve with tortilla chips or crusty bread. Shop This Post Pig of the Month BBQ Applewood Smoked Maple Bacon
*Recipe, photos and video by Meghan Bassett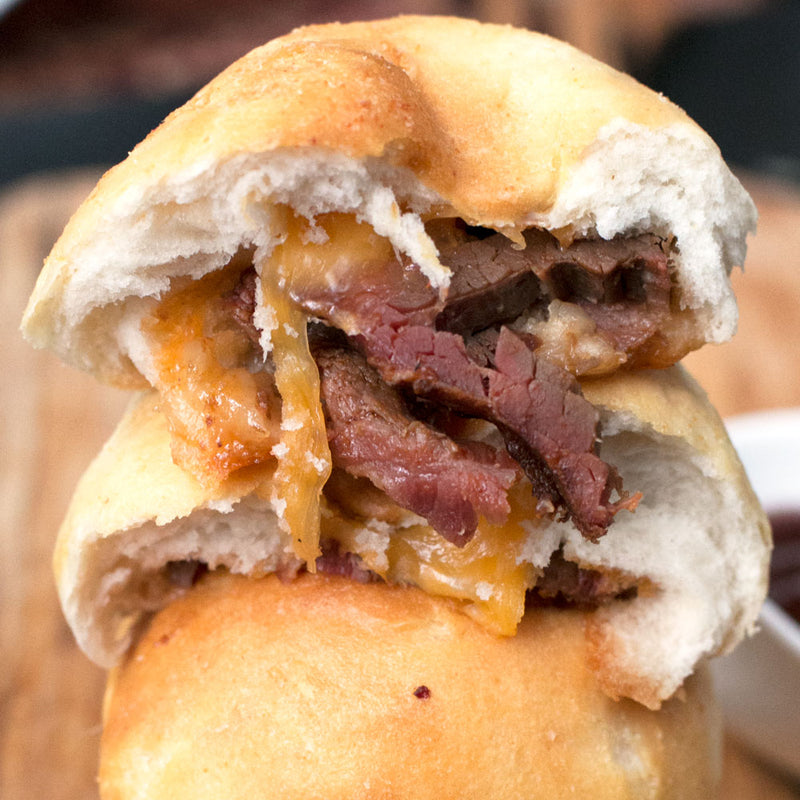 Ready to drop a bomb on that epic tailgating game this season? BOOM. These Brisket Bombs are here to do all the heavy lifting for ya.
Stuffed with Pig of the Month's INSANE brisket and all the cheddar cheese, these brisket bombs are the best football food you could ever ask for. It's got the carbs and the protein to load you up and balance out the booze, not to mention a ton of gooey cheese. Really, what is a football game without excessive amounts of cheese anyways?
It's a pretty boring event, that's what. You gotta get that cheese, meat and bread in while you tailgate for the big game this season! I mean, if you can't indulge before and during a football game, what the hell is the point of all the delicious, extravagant, decadent food out there in the world? I know that's a wee bit dramatic, but that's how freaking amazing these brisket bombs. They come together in about 15 minutes and they'll have everyone begging for more.
Brisket Bombs from Pig of the Month BBQ on Vimeo.
Don't believe me? I dare you to try these out for the next big game and prove me wrong...
INSTRUCTIONS: Preheat oven to 400 degrees. Line two baking sheets with a silicone baking mat or parchment paper. Separate biscuits. Flatten out each biscuit slightly and place 1 to 2 cubes of cheese in the center. Top with chopped biscuit and wrap the biscuit around the filling. Pinch the seams tightly and place seam-side down on the lined baking sheets. In a small bowl, combine melted butter, garlic powder and onion powder. Brush the tops of the biscuits with the seasoned butter. Bake 10 minutes. Remove from oven and brush the tops of the biscuits again with the seasoned butter. Serve with BBQ sauce.
Shop This Post
*Recipe, photos and video by Meghan Bassett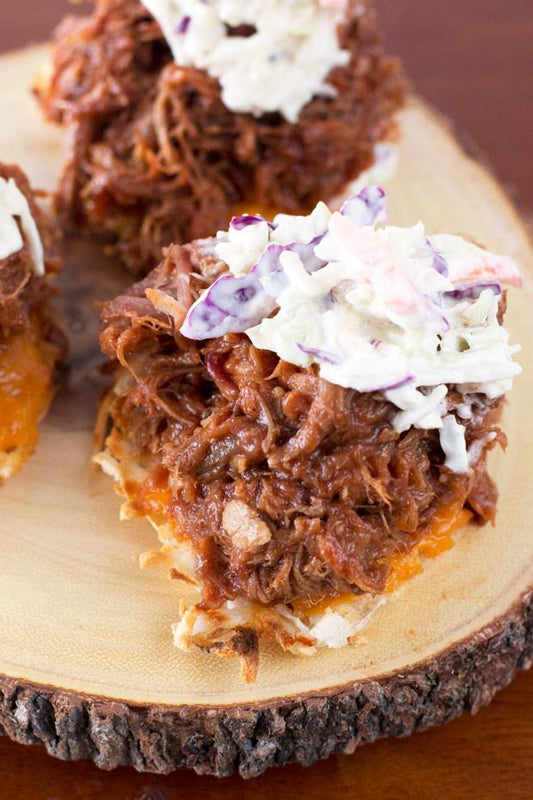 I can hardly believe that summer is almost over. Before you know it, Labor Day will have come and gone, the pumpkin spice lattes will be EVERYWHERE, and you'll be missing those long lazy summer afternoons of grilling so hard. I don't know about you, but I am packing in as much summer celebration as I can right about now. My weekends are all about party-hoppin' and backyard BBQ'ing. Of course, being the food-obsessed lady I am, I've got to bring the good stuff when I roll up to a party I'm not hosting. Now is the time to bust out those summer appetizers you have been meaning to make all summer long. You only live once right? Eat that extra slice of bacon. Stuff that sandwich with an extra slice of cheese. Get down on those summer flavors like there's no tomorrow, because soon tomorrow will be bringing that snowstorm that you've been dreading. I've rounded up some of my personal favorite summer appetizers below that are serious crowd-pleasers. These appetizer recipes are so bomb dot com, peeps! For real, I can promise you that you will never be heading home with leftovers.
Black Bean Jalapeño Poppers - Oh My Veggies Open-Faced Pulled Pork Sliders - Sauce + Style
Super-Size Bruschetta - Delish 5-Ingredient Garlic and Herb Cheese Bombs - Spoon University
Hawaiian BBQ Sliders - Nosh and Nourish Bacon-Wrapped Dates with Goat Cheese and Rosemary - Spoon University 
Lemon Pepper Bacon Wrapped Shrimp Skewers - Sauce + Style
Bacon Jalapeño Cream Cheese Poppers - Spoon University
Green Fries (AKA Crispy Baked Avocado Fries) - Sauce + Style
Tater Tot Nachos - Spoon University Hogs in a Blanket - Food & Wine Enjoy these last days of summer before it's too late!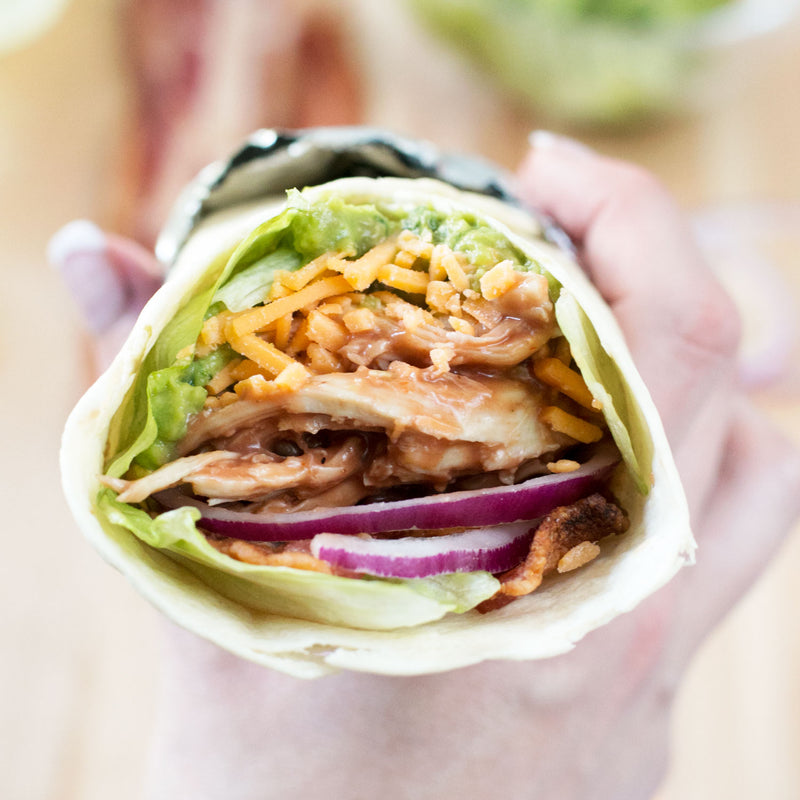 BBQ Chicken & Bacon Guacamole Wraps are here to make all your secret lunch dreams come true... I don't know about you all, but I get SO bored with eating salad and turkey club sandwiches for lunch every day. I can get into a serious rut when it comes to lunch. With all the work piling up, I never have time to really think about what I am eating unless I plan it out ahead of time.
Planning ahead is not necessarily my strong suit. As much as I would love to craft a gorgeous lunch every day, I need something that's ready to just dive into on the spot when my stomach starts rumbling. That's why this wrap is SO perfect. It's easy to make ahead of time (heck, you could even make it the night before) and it'll disappear in about 2.5 seconds. Surprised?
It's stuffed with BBQ-sauced chicken, guacamole and BACON so I'm not sure why you would be! It's better than any sandwich you'll ever grab at that sad little shop on the corner. Plus it even has some lettuce in there to make you feel even healthier as you wipe the BBQ sauce from your chin.
INSTRUCTIONS: In a medium bowl, stir together chicken, BBQ sauce and ranch dressing. Set aside. Microwave tortillas for 30 seconds to make them pliable.
To build the wraps, lay down a layer of lettuce and top with three strips of bacon in the center of each tortilla. Divide the red onion evenly between the two, then chicken, then cheddar cheese and finally guacamole.
Wrap tightly in foil and serve immediately or bring it with you for a delicious work lunch or picnic!
Shop This Post
Pig of the Month BBQ Applewood Smoked Maple Bacon
Pig of the Month BBQ Hand Pulled Chicken
*Recipe & photos by Meghan Bassett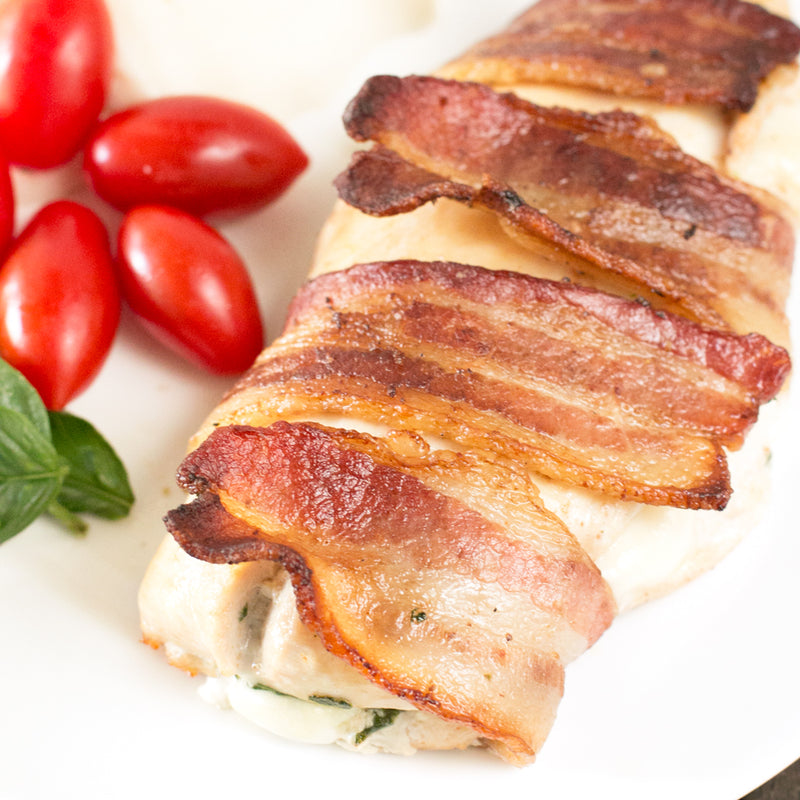 Weeknight meals can get really boring, am I right? I mean, there's only so many times you can cook a plain ol' chicken breast, match it up with some veggies and not get bored to tears. Sometimes you need to shake things up during the week, but you don't have time to master an insane recipe. Enter Bacon-Wrapped Caprese Stuffed Chicken.
These chicken breasts are going to seriously wow your family and I bet you already have most of these ingredients in your home (or even growing in your backyard for you herb and veggie growers out there!). All you have to do is stuff your chicken breasts with those classic caprese salad ingredients, wrap them in bacon and boom. Dinner is done in less than 30 minutes and your satisfying everyone at the table. I LOVE caprese salads - the mozzarella, the tomato, the basil - it all screams freshness and summer to me with every bite. Chicken lends itself so well to this combo so it only makes sense to stuff everything INSIDE the chicken breast. That combined with the bacon-wrapped exterior leaves you with one of the moistest pieces of chicken you'll ever dig into.
This will become a family fav in no time!
Bacon Wrapped Caprese Stuffed Chicken from Pig of the Month BBQ on Vimeo.
INSTRUCTIONS: Preheat oven to 400 degrees. Split each chicken breast in half. Stuff with 2 half slices of mozzarella, one half slice of tomato, and a generous sprinkle of chopped basil. Pinch the edges of the chicken breast closed.
Wrap each chicken breast with two slices of bacon, making sure the edges of the bacon overlap all on the same side of the breast. Heat olive oil in a large oven safe skillet over medium-high heat. Sear the chicken breasts for 2 to 3 minutes on each side, making sure to rotate to get it seared on all four sides. Place skillet in the oven and bake for 10 minutes, or until cooked through. Serve immediately.
Shop This Post
Pig of the Month Applewood Smoked Maple Bacon
*Recipe, photos and video by Meghan Bassett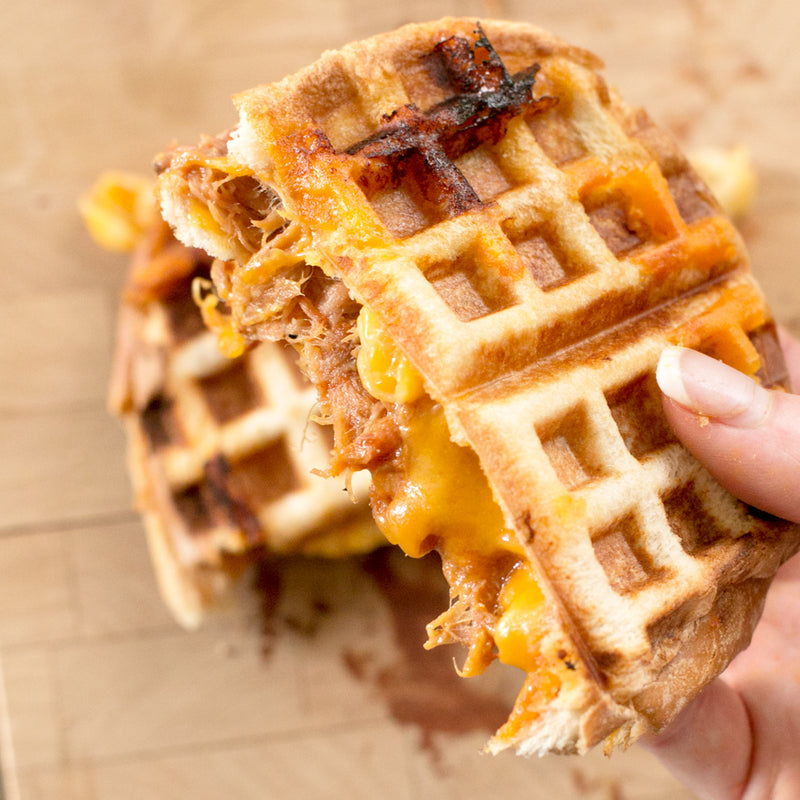 Hey food porn fans... I've got something extra special for you today... It's hot and crispy straight out of the waffle iron, stuffed with saucy pulled pork and so cheesy your head might explode. It's basically a giant mess of a sandwich, carefully contained in a pocket of waffle ironed bread.
This is seriously going to become your new favorite way to make grilled cheese sandwiches, period. The waffle iron crisps up the bread in a way that cooking it over the stove just doesn't do. It's like your own personal panini press, with more than one function in the kitchen! You just pinch down those edges and it forms a pocket of deliciousness.
When you open up this bad boy, all that pork, mac n cheese and cheddar comes oozing out in the most luscious way. You might have to stop and just stare at it before shoveling it in your mouth in one giant bite. Might have to stop. But we know you definitely won't delay the goodness, right?
Get those cameras ready folks, this is food worthy of that 'foodporn' hashtag on Instagram.
INSTRUCTIONS Grease waffle iron with cooking spray and turn on.
To assemble the sandwich, begin with adding one slice of cheese to a slice of bread.
Top with half of the pulled pork, then half of the mac and cheese.
Finish with the other slice of bread. Repeat with the second sandwich. When the waffle iron is hot, cook one sandwich at a time. Place the sandwich in the center and press down firmly. You may have to hold the waffle iron down as it will not close completely.
When the cheese is melted, approximately 1 to 2 minutes, remove sandwich from the waffle iron. Repeat with the other sandwich. Serve immediately.
Shop This Post
Pig of the Month BBQ Pulled Pork
*Recipe & photos by Meghan Bassett
« Previous
1
2
3
4
Next »