Posts tagged: cheddar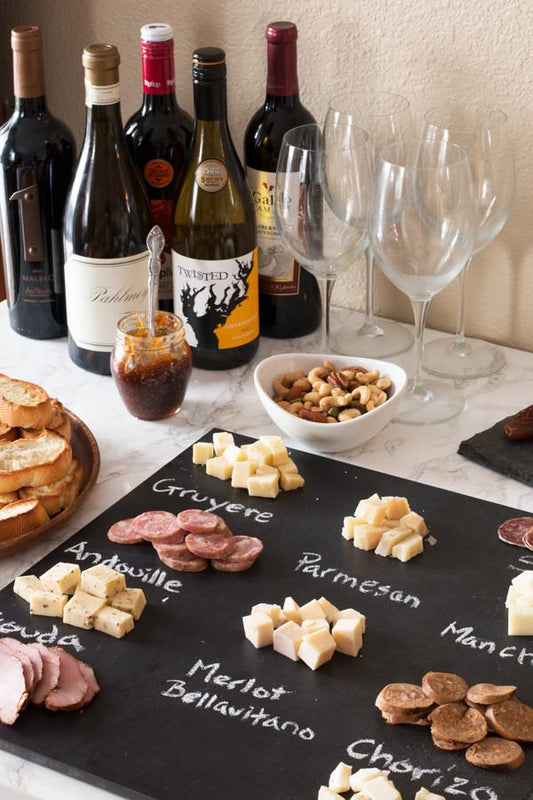 My ultimate go-to holiday party item is always a huge antipasti platter. I love all the different flavors and textures. You can really have a lot of fun with it! The real bonus is it requires very little effort and it always looks stunning.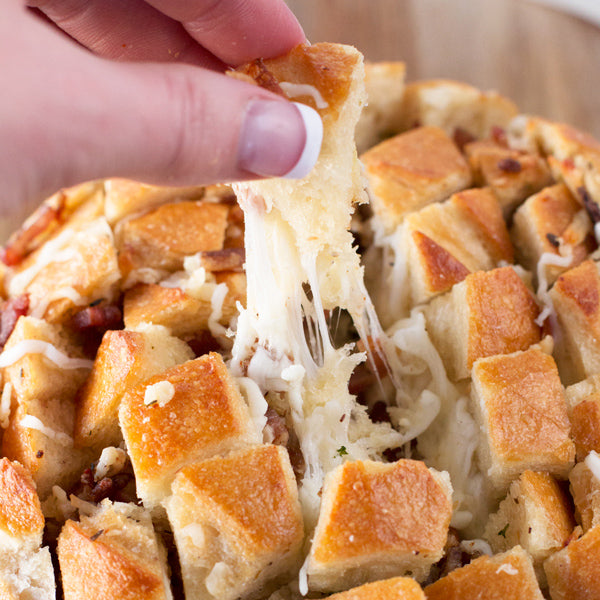 I'm about to blow your minds with some serious bacon and cheese action. You may think that it couldn't get any better than the fried mac n cheese we busted out earlier this week, but we just outdid ourselves. Yet again.
Pull apart breads are my new favorite recipe to whip out for a party, especially a huge spread like the one I'm hosting on Super Bowl Sunday in a couple weeks. This bread is so ridiculously simple, there's really no excuse for you to NOT make it. In about 5 minutes of prep time, you'll be a hot 15 minutes away from a cheesy, bacon-packed mess of a bread that everyone will gladly get messy for. Just take a gander at that cheese....
Ok one more... All that cheese and bacon stuffed into the cracks of that warm, crusty bread...
Enough torture, I promise. But seriously, can't you just taste the deliciousness that this cheesy, bacon bite must pack? Are you hungry yet?
INSTRUCTIONS: Preheat oven to 350 degrees F. In a small bowl, stir together melted butter, garlic, salt, pepper, parsley, thyme and oregano. In another small bowl, combine the two cheeses and bacon. Gently toss to combine.
Using a serrated knife, cut the bread on a diagonal angle into 1-inch diamond shapes, making sure you don't slice all the way through the loaf of bread.
Gently open up the cracks with your fingers. Drizzle each with a tsp of the butter mixture and a pinch of the cheese and bacon mix.
Wrap the loaf of bread in aluminum foil and bake for 15 minutes, until the cheese has mostly melted. Remove from the foil and bake for an additional 5 minutes, directly on the rack. Serve immediately.
Shop This Post 
Pig of the Month Applewood Smoked Maple Bacon
Recipe & Photos by Meghan Bassett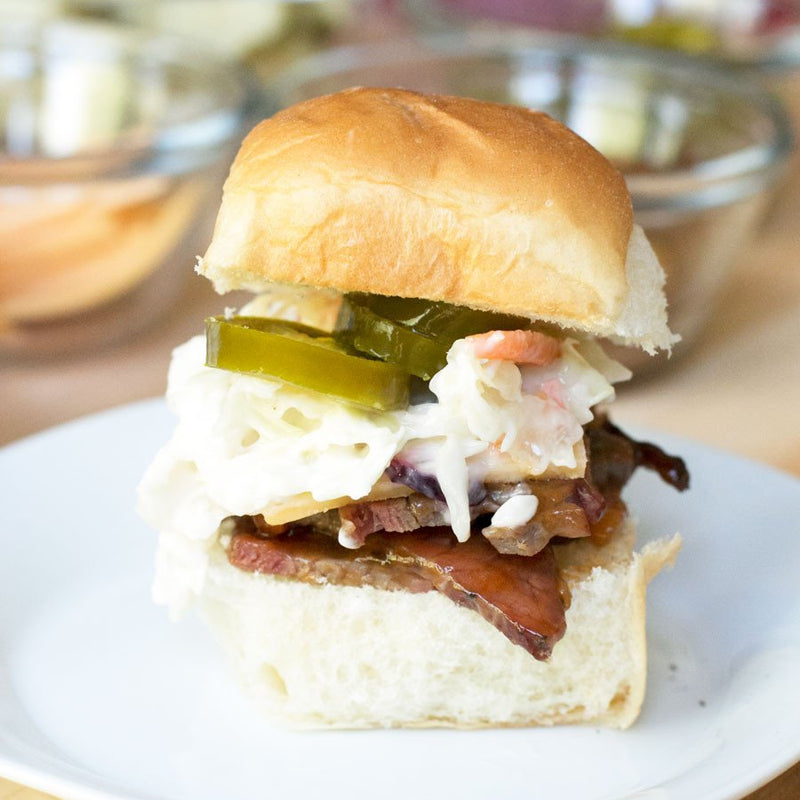 Stop trying to make the perfect sliders for everyone and have them make their own instead! Put the fun back into your food at your next gather with this super simple DIY Brisker Slider Bar. Instead of slaving away, trying to find the ideal slider that everyone will fall in love with, load up on some of our brisket and set out as many toppings as you can. All you guests will love jumping in to create their own version of the "best brisket slider", plus you can keep the options open no matter what foods some people love (or love to hate).
You can stick with a classic combo of a white bun, brisket, pickles, red onion and cheese.
Or shake things up with a Hawaiian bread bun, coleslaw and pickled jalapeños!
Not to mention all the stress this whole DIY slider bar takes off you as the host/hostess... But that's just an extra side bonus to everything loving the food and having fun, right? ;)
What You'll Need: Serves 12 to 14 2 types of slider buns (24 total) 1 lb Pig of the Month Brisket, warmed 1 red onion, thinly sliced 2 cups coleslaw 1 cup caramelized onions Sliced sharp cheddar cheese, cut into small squares Sandwich pickles Pickled jalapeños BBQ sauce Franks Red Hot Sauce
Place the buns on a large platter. Place warmed brisket on a separate large platter. Layer cheddar cheese slices on a small plate.
Add red onion, coleslaw, caramelized onions, sandwich pickles and pickled jalapeños to individual serving bowls. Place the buns to one side next to the brisket and then lay out all of the toppings in a line to make it easy for guests to pick and choose. Set out your favorite BBQ sauces and hot sauces for people to experiment with! Have fun with it!
Shop This Post
*Recipe & Photos by Meghan Bassett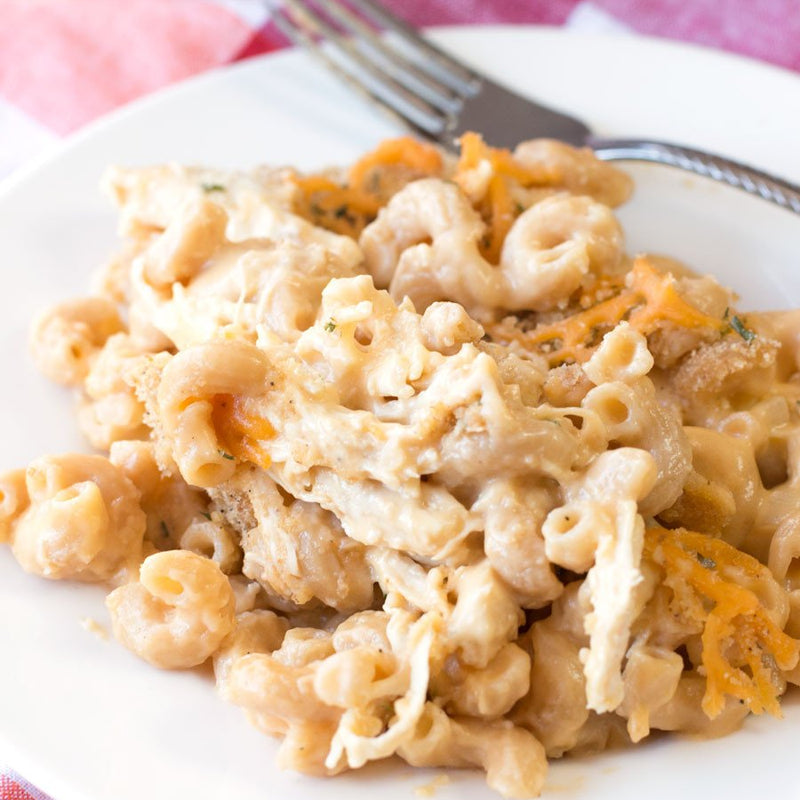 My ultimate comfort meal? A heaping bowl full of macaroni and cheese. No, not the stuff from the box people. I mean the real, down-home heart stuff that fills you up and warms you from the inside out.
Of course, eating bowl after bowl of that cheesy deliciousness is a little bad for the waistline... On the other hand, I don't believe in compromising flavor in favor of just eating the healthy stuff. That's why this Lightened Up Chicken Mac N Cheese is the one dinner you have to add to your winter weeknight rotation! It's creamy and dreamy and oh-so cheesy, but the lightened up cheese sauce and whole wheat noodles keep you from adding too much to your hips.
Without sacrificing any flavor! The Pig of the Month BBQ Pulled Chicken sure takes care of THAT. BOOM baby. Let's get cooking!
[vimeo 200244639 w=640 h=360]
Lightened Up Chicken Mac and Cheese from Pig of the Month BBQ on Vimeo.
INSTRUCTIONS: Preheat oven to 375 degrees. Spray a baking dish with cooking spray. In a large saucepan, melt butter over medium-high heat. Add onion and cook until tender, approximately 3 minutes. Add flour, stirring to combine, and cook until golden, approximately 30 seconds to 1 minute. Whisk in milk and broth. Bring the mixture to a boil and cook for 5 minutes, until thickened. Remove from heat and stir in cheese until melted. Season with salt and pepper to taste. Stir in macaroni and chicken into the saucepan. Pour into the prepared baking dish. Top with an extra sprinkled of cheese and the bread crumbs. Bake for 15 to 20 minutes, until bubbly and the top is golden.
Shop This Post Pig of the Month BBQ Pulled Chicken *Recipe, video and photos by Meghan Bassett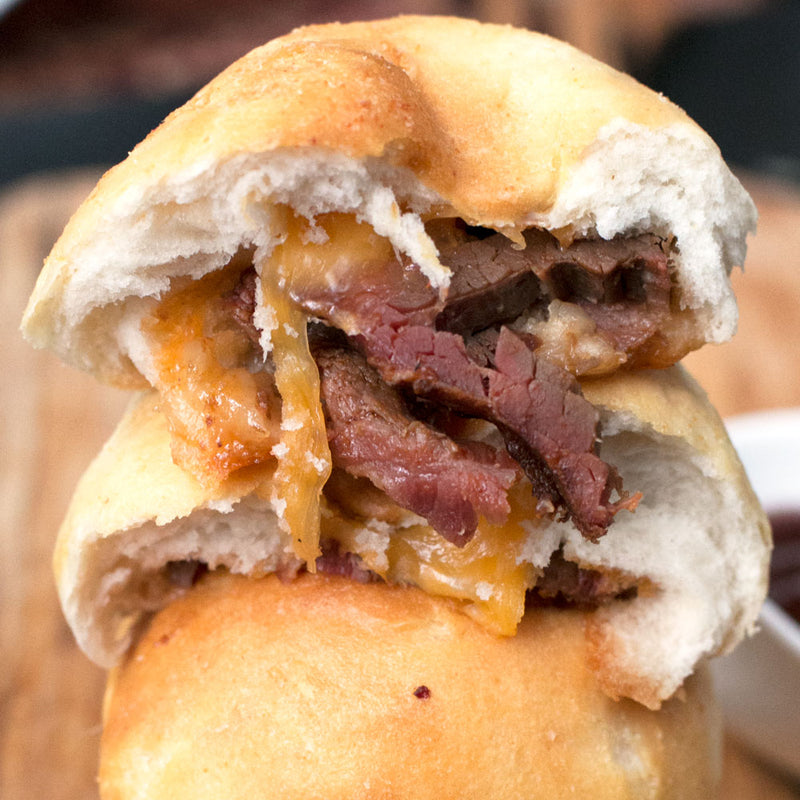 Ready to drop a bomb on that epic tailgating game this season? BOOM. These Brisket Bombs are here to do all the heavy lifting for ya.
Stuffed with Pig of the Month's INSANE brisket and all the cheddar cheese, these brisket bombs are the best football food you could ever ask for. It's got the carbs and the protein to load you up and balance out the booze, not to mention a ton of gooey cheese. Really, what is a football game without excessive amounts of cheese anyways?
It's a pretty boring event, that's what. You gotta get that cheese, meat and bread in while you tailgate for the big game this season! I mean, if you can't indulge before and during a football game, what the hell is the point of all the delicious, extravagant, decadent food out there in the world? I know that's a wee bit dramatic, but that's how freaking amazing these brisket bombs. They come together in about 15 minutes and they'll have everyone begging for more.
Brisket Bombs from Pig of the Month BBQ on Vimeo.
Don't believe me? I dare you to try these out for the next big game and prove me wrong...
INSTRUCTIONS: Preheat oven to 400 degrees. Line two baking sheets with a silicone baking mat or parchment paper. Separate biscuits. Flatten out each biscuit slightly and place 1 to 2 cubes of cheese in the center. Top with chopped biscuit and wrap the biscuit around the filling. Pinch the seams tightly and place seam-side down on the lined baking sheets. In a small bowl, combine melted butter, garlic powder and onion powder. Brush the tops of the biscuits with the seasoned butter. Bake 10 minutes. Remove from oven and brush the tops of the biscuits again with the seasoned butter. Serve with BBQ sauce.
Shop This Post
*Recipe, photos and video by Meghan Bassett
March Munchie Madness is BACK!
Do you know what time it is?? GAME TIME. March Madness is upon us with all your fav teams facing off in that good ol' tournament they call 'the big dance.' This has become our fav time of the year because it's the one time we can bust out all the munchies we want while streaming the TV loud and proud at work all day, erryday. We root for the upsets and keep extra beer in the fridge, ready to celebrate at a moment's notice. The question is, what will YOU be snacking on to fuel yourself through all those nail biter moments of the final games? It's your turn to tell us what you want to chow down on…March Munchie Madness is BACK! We're here to kickoff our 2016 Bracket Contest. It's simple – every few days tune in to vote for your favorite snack pick in 4 different categories, all the way to the final munch off. There will be a prize given for each winning game! The March Munchie Madness Prizes Are: Morning Meats: Win a bacon & sausage sampling including 1lb each of our best-selling sausages and 1lb each of our best-selling bacon Desserts:  Win a duo of chocolate covered bacon and applewood bacon salted caramels Classic BBQ:  Win 6 racks of ribs and sauce to slather it all down Snacks:  Win the ultimate sweet and salty snack pack For the semi-finals and finals you could win a HUGE package with tons of tasty meats and treats! Here's the March Munchie Madness breakdown:
Facebook
and
Instagram
to see more ways to enter.
A couple of years ago, we served up a quick go-to appetizer of open-faced pulled pork sliders. We've been using this recipe ever since, but we decided it was about time to make a little update to this bad boy. Why not get on the food porn train and really blow your minds? So we broke out the waffle iron, all the cheese and piled on even more saucy pulled pork for this revisited version of an old fav.
This open-faced slider is the perfect combination of savory, spicy and sweet. Instead of being sandwiched between a bun, this pork sings with the crunchy, spicy coleslaw and the crisp waffle fry. I promise your mouth will be bursting with flavor! These sliders are the perfect opening bite to start your summer BBQ festivities with a bang. You get a little bit of everything you could ever want in each loaded bite!
Any excuse to get extra saucy at a BBQ, am I right? Happy BBQing, piggy fans!
Open Faced Pulled Pork Sliders from Pig of the Month BBQ.
INSTRUCTIONS: Heat up a waffle iron and grease with cooking spray. Add the shredded hash browns in batches, creating the base for your sliders. Remove once golden brown and crispy. Cut the hash brown waffle into 4 pieces. Top each piece of hash brown waffle with one slice of sharp cheddar cheese. Broil until melted. Set aside. In a small bowl, combine coleslaw, mayonnaise, lemon juice, salt and pepper. Stir until coated evenly. Warm the pulled pork in the microwave and stir in more BBQ sauce as desired. Top the cheesy hash brown waffles with pork and top with coleslaw. Serve immediately. Shop This Recipe: Pig of the Month BBQ Pulled Pork Pig of the Month BBQ Sauces Recipe, photos & video by Meghan Bassett