Posts tagged: candied bacon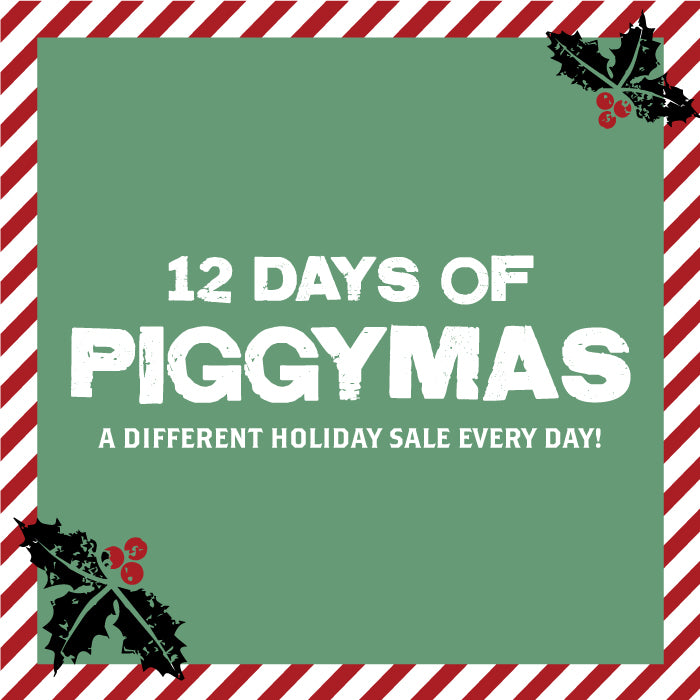 We're back with our favorite holiday giveaway and we're looking to spread a little holiday cheer...with BBQ sauce from ear to ear! :) We'll be giving away a little something tasty everyday for the next 12 days, so stay tuned on our Facebook page and find out more details below!
For our 12 days of Piggymas, we're sending you:
Day 1: A BBQ sauce sampler
Day 2: A trio of sweet and salty snacks - chocolate covered bacon, bacon jam and caramel cheddar bacon studded popcorn
Day 3: A bloody mary themed package with bloody mary mix, 1lb of peppered bacon, AND 1lb applewood smoked bacon
Day 4: 3 pounds of pulled meats; a little pork and a little chicken
Day 5: A bacon lovers dream with 3 specialty flavors of bacon
Day 6: Ribs!! 3 slabs of the good stuff, delivered
Day 7: All the sausage your heart could desire – sent to your door
Day 8: A heaping amount of BBQ brisket and baby back ribs…mmm mmm mmmm
Day 9: 6lbs of our best selling bacon and sausages
Day 10: A holiday ham to enjoy – we'll do all the cooking
Day 11: 6 slabs of ribs to enjoy for Christmas Dinner
Day 12: A mix of all of our best sellers; baby back ribs, pulled pork, BBQ sauce, brisket and bacon!
Look for instructions on how to enter each day on Facebook!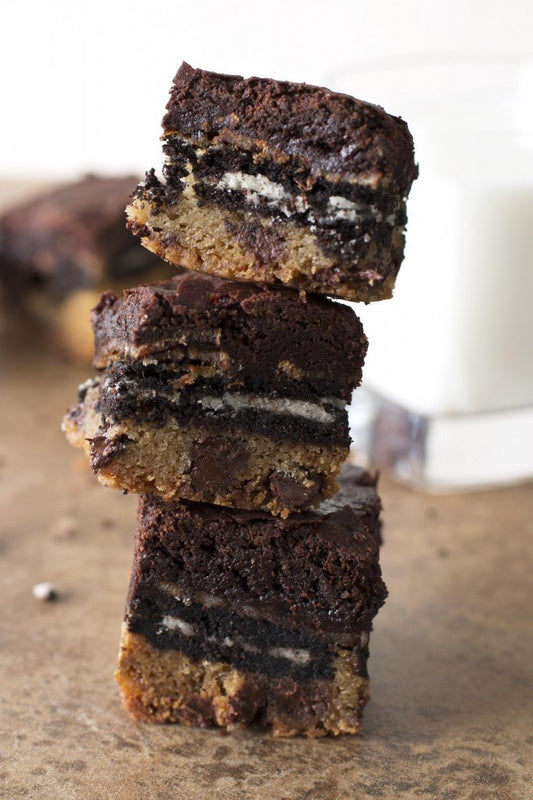 Oh yes, that's right. Just when you thought dessert couldn't get any better, it did. Look at those gorgeous layers - a layer of cookie, layer of Oreo, layer of candied BACON, and topped with a layer of brownie. If you've ever needed the perfect over-the-top, decadent, and oh-so addictive dessert, let me tell you right now folks - this is IT.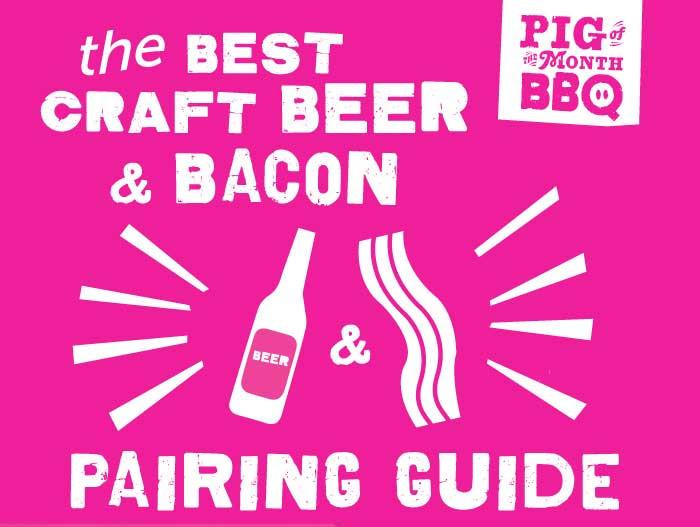 Pig of the Month Best Bacon & Craft Beer Pairings?
Oh yea, you heard that right...
You all know we love our bacon, but what we also love to indulge in is beer. There are so many diverse beer styles out there that compliment all sorts of flavors, it may seem a little impossible to choose. For our fellow beer and bacon lovers out there, isn't it about time you knew how to pair your favorite Pig of the Month BBQ bacon flavor with craft beer? We thought so. It took a lot of hard work on our part, tasting all that bacon and beer to create the perfect pairing guide for you all, but we did it. For the good of the TEAM. Such sacrifice, we know. The following Pig of the Month Best Bacon & Craft Beer Pairings guide gives you everything you need to know, so you can have even more excuses to indulge in more bacon and beer. You're welcome.
Happy pairing, piggy fans!
Shop This Post
Coffee & Red Chili Pepper Bacon
Extra Thick Hickory Smoked Bacon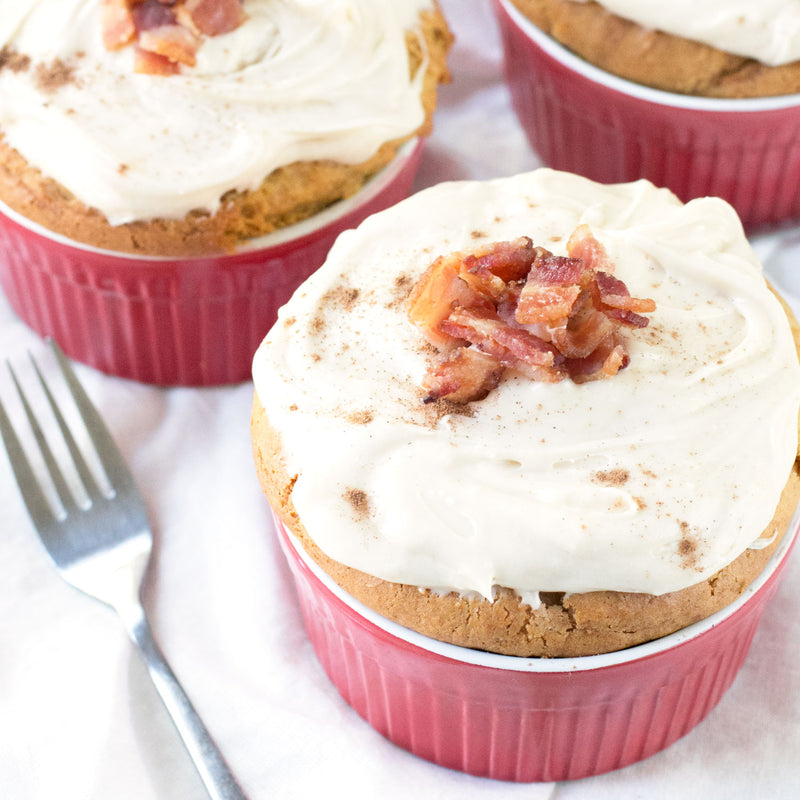 Pumpkin spice everything season is here! I don't know about you, but sometimes I need a break from all the meats and BBQ to satisfy that sweet tooth of mine. These little cakes are perfect for fall. They are packed with so much pumpkin spice, you will forget all about that PSL you were craving earlier this morning. Then you top of the moist, dense, delicious cake with cream cheese frosting and a little sprinkle of candied bacon (because we can't completely give up our meats now can we?).
I love making these cakes in the larger ramekins because they end up looking like giant frosted cupcakes! You can also make them in smaller ramekins if you don't want to be SO gluttonous. But who really wants to do that, right?
You can even make them cupcakes if you want to! Regardless, these cakes will be gone in a blink of an eye as soon as you serve them. Are you drooling yet? Time to get your bake on piggy peeps! Celebrate fall before that cold cold winter sets in. ;)
Serves 4 INSTRUCTIONS: Preheat oven to 350 degrees. In the bowl of a stand mixer, beat together butter and cream cheese. Add sugar and beat completely to combine. Add eggs one at a time, beating to combine fully between each. Beat in pumpkin and vanilla. Add dry ingredients and beat to incorporate fully. Grease 4 large ramekins. Fill the ramekins with the pumpkin batter approximately 3/4 of the way full. In a clean bowl, beat together cream cheese, butter, confectioners sugar, vanilla extract and milk for the cream cheese frosting until fully combined. Bake 20 minutes. Cool completely. Frost with cream cheese frosting and sprinkle with candied bacon.
Shop This Post
Pig of the Month BBQ Applewood Smoked Bacon  
*Recipe and photos by Meghan Bassett