Posts tagged: brunch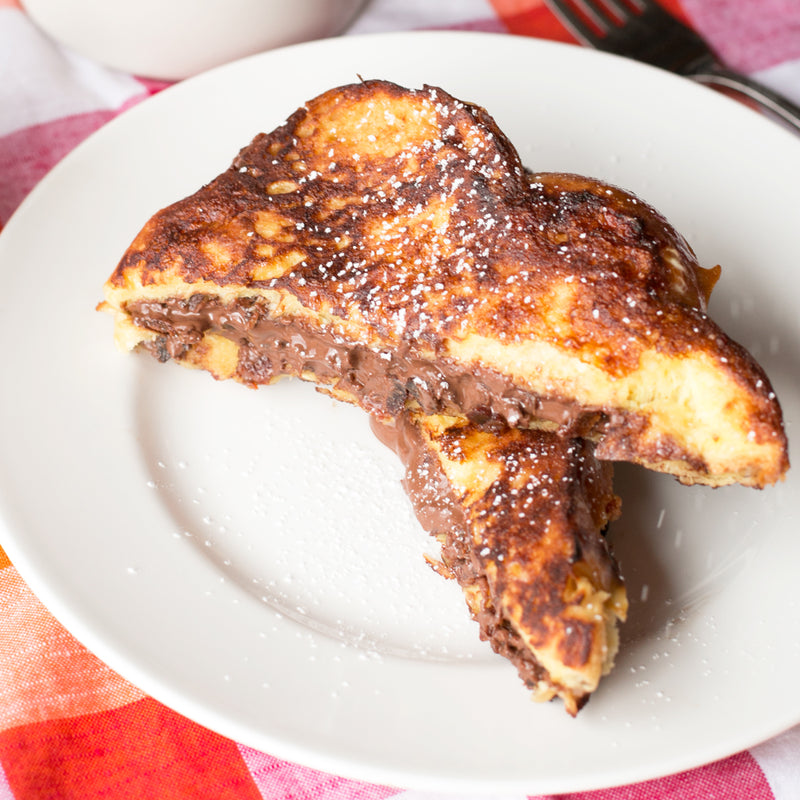 You guys.... It's time to find out what the BEST breakfast is EVER. Bacon-Stuffed Nutella French Toast... You will never believe the lusciousness that awaits you with every bite of this over-the-top French toast. The combination of bacon and Nutella is just about the best combination I've ever tasted. Just like chocolate-covered bacon, Nutella is an even better pairing for bacon.
This is the kind of breakfast that you serve when you are having a rough week or, especially, when you are trying to impress all those friends and family members. People will be swooning, they will be sighing, they will be melting in their seats when they take that first bite.
Or you can just hoard all of it to yourself and you don't have to worry at all about sharing. I totally support this decision, by the way. Just in case you were wondering.
INSTRUCTIONS: In a shallow bowl, whisk together eggs and milk. Spread four slices of the bread equally with Nutella. Sprinkle each with bacon. Top with the other slices of bread to form a Nutella sandwich. In a medium skillet, melt 1 Tbsp of butter. Dip both sides of one sandwich into the egg and milk mixture and place in the hot skillet. Cook for about 4 minutes per side, until golden brown on both sides. Repeat with remaining sandwiches. Cut each in half and serve. Shop This Post Pig of the Month BBQ Applewood Smoked Bacon
*Recipe & photos by Meghan Bassett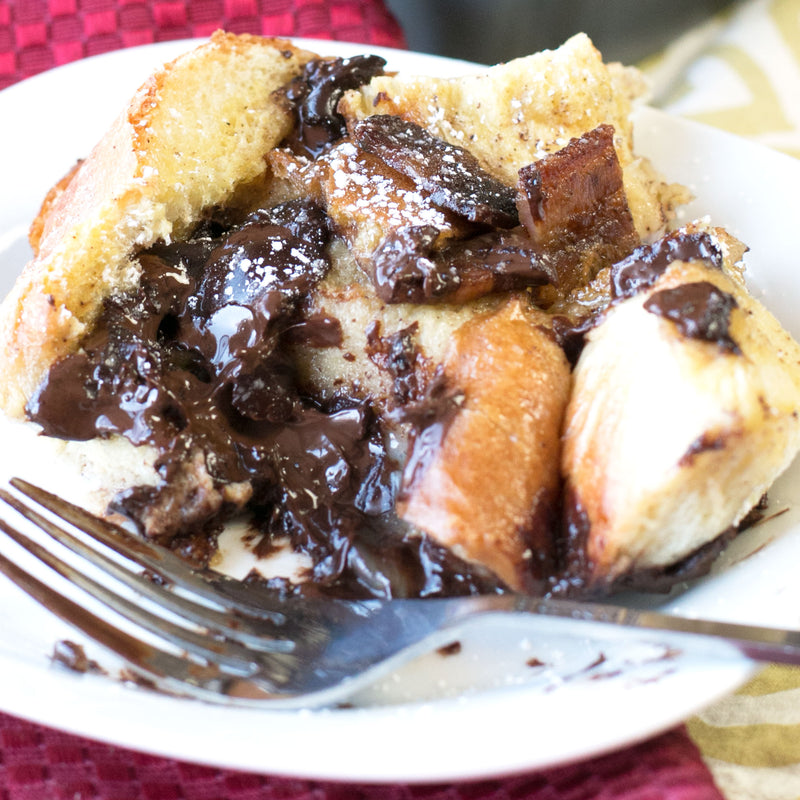 In the dead of winter, all I want to wake up to is something sweet, savory and super easy to make. That's why this Overnight Bacon & Chocolate Chip French Toast fits the bill almost every weekend. It's got sweet french toast, rich dark chocolate and savory bacon which when combined together in a baked up casserole of goodness, will completely blow you away with every single bite.
What I really love about this recipe is that you can easily make it the day or night before. That way when you are groggy in the morning, reaching for your cup of coffee, all you have to worry about is setting the oven and placing the baking dish in there. By the time you feel awake, you'll be sitting down to a heaping, gooey portion of this deliciousness...
It's perfect for the holidays, especially when you have family staying with you and the chaos of Christmas morning! However this recipe can keep you going and going throughout the cold months that are still ahead of us, so don't go only making it once ;) Happy holidays everyone! Enjoy the long weekend!
[vimeo 196762573 w=640 h=360]
Overnight Bacon & Chocolate Chip French Toast from Pig of the Month BBQ on Vimeo.
INSTRUCTIONS: Spray a 9x13-inch baking dish with non-stick cooking spray. Add half of the cubed bread to the pan and top it with half of the chopped bacon and chocolate chips. In a medium bowl, whisk together eggs, milk, sugar, vanilla, salt, cinnamon and cloves. Pour mixture over bread evenly to coat everything. Cover and refrigerate overnight. When ready to bake, preheat oven to 400 degrees. Bake uncovered for 15 to 20 minutes, until golden brown and the center is set. Top with powdered sugar and serve immediately.
Shop This Post:
Pig of the Month BBQ Applewood Smoked Maple Bacon  
*Recipe, video and photos by Meghan Bassett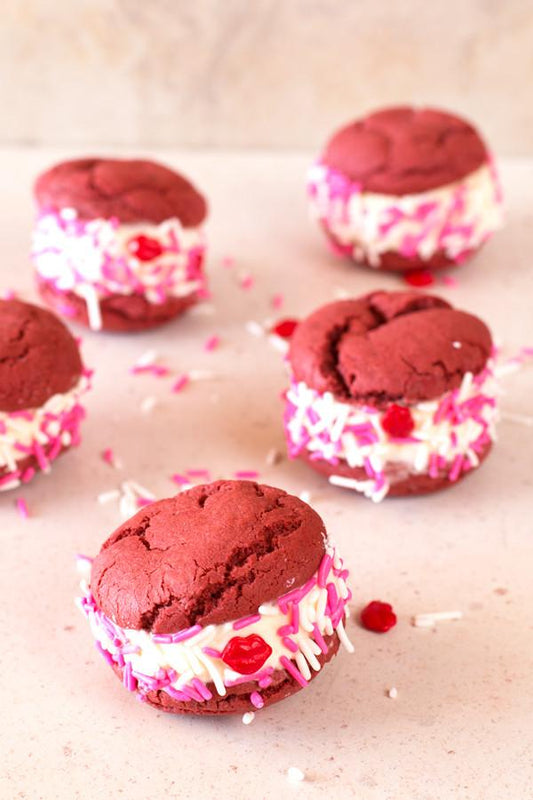 Valentine's Day is sneaking up fast, isn't it? That ooey gooey emotion-filled holiday where you can't help but dote on your loved ones with all sorts of treats and tasty delights. Even if you don't have a significant other in your life, you can still chow down on all the chocolate things as you celebrate your single-ness (trust me when I say it can be a freaking blessing at times...)! We love to be allllll about the love leading up to Valentine's Day, and the only way we know how to celebrate is through baking (and EATING) all the sweets. Heart-shaped delights, brownies covered in caramel and bacon, and red velvet delights are rounded up below for your Valentine's Day baking pleasure. Everything you could possible want to say "I love you" to the one you love the most (even if that someone happens to be Y-O-U!).
Double Chocolate Raspberry Mason Jars - Sauce + Style
Cinnamon Bun Bacon Cinnamon Buns - Sauce + Style
Bacon Bourbon Caramel Stuffed Brownies - Sauce + Style
Spicy Bacon Chocolate Chip Cookies - Sauce + Style
Red Velvet Ice Cream Sandwiches - Sauce + Style
Red Velvet Oreo Truffle Chocolate Cake - Pizzazzerie
The Ultimate Gooey Caramel Brownie Mug Cake Sundae - Willowbird Baking
Copycat Zupas Rockslide Brownies - Lovely Little Kitchen
Conversation Heart Cookies - Martha Stewart
Chocolate Covered Strawberry Cupcakes - Smells Like Home
Easy Chocolate Lava Cakes for 2 - Bakerita
Dreamy Chocolate Cupcakes filled with White Buttercream - Baker By Nature
Frosted Chocolate Fudge Brownies - Bakerita
Chocolate Chip Cookie Dippers - Supergolden Bakes Happy Baking!