Posts tagged: breakfast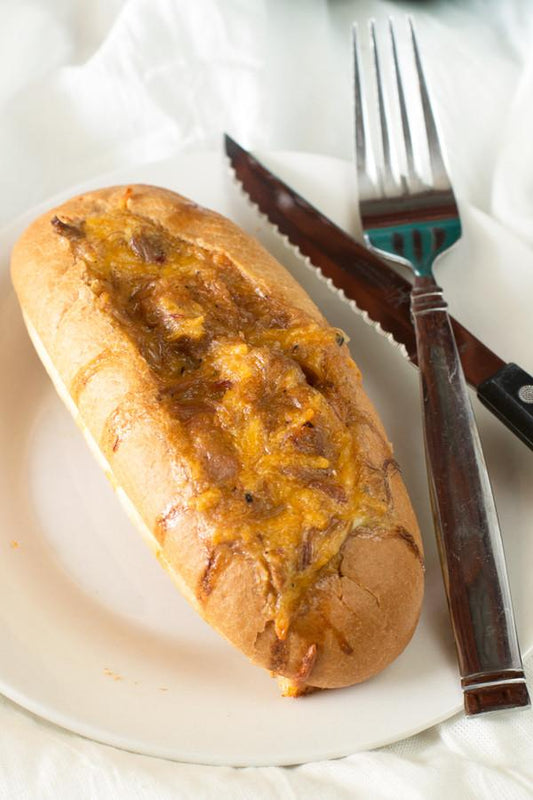 You'll want to get up early for one of these pulled pork egg boats. Egg boats are one of the most hearty and fulfilling breakfasts for me. You get eggs, meat, and carbs that you crave from a hearty breakfast, all in an individually portioned boat of perfection.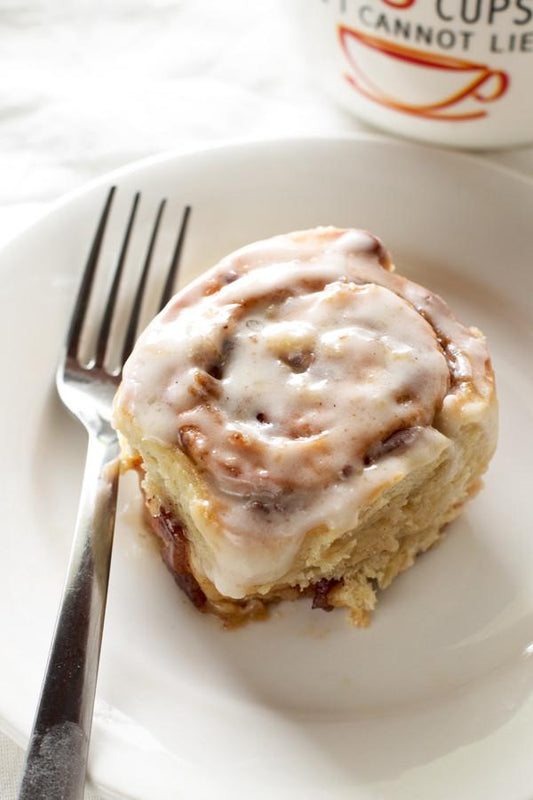 Cinnamon Bun Bacon is the best invention EVER. It tastes just like a cinnamon bun and bacon rolled together in every deliciously crispy bite. This makes it more than perfect to add to homemade cinnamon buns!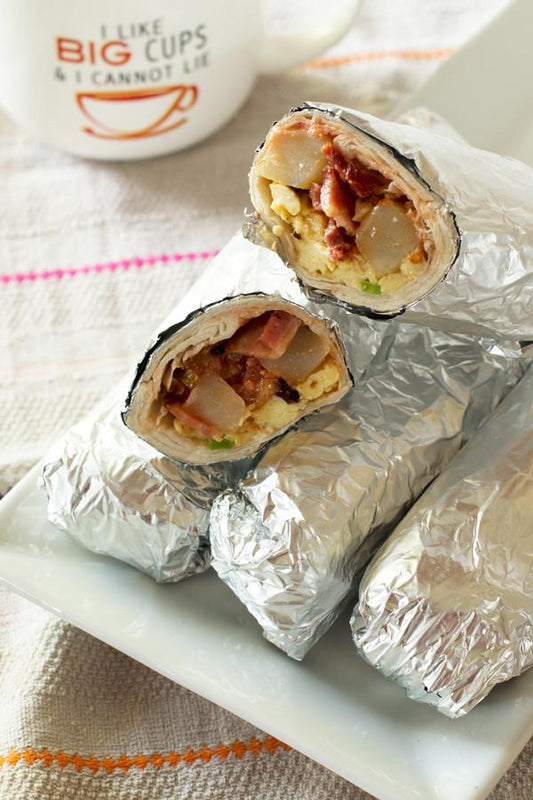 We've all been there… The morning after an epic night out filled with a pounding heading, aversion to light and a pain in your stomach that could or could not be helped by food.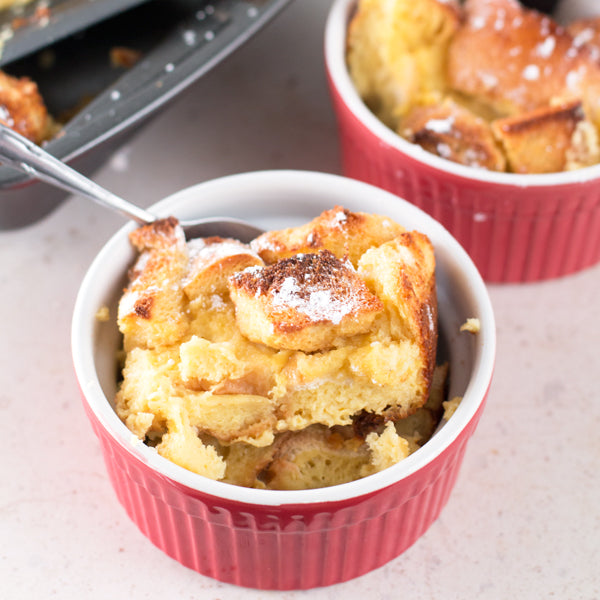 What do I love most about the holidays? EGGNOG.
As soon as eggnog shows up on the shelves in the grocery store, I'm buying it in bulk and enjoyed every smooth, rich moment of joy. Since eggnog never graces grocery store shelves for long enough in my opinion, I try to find new ways to use it throughout the holiday season.
Nothing says holidays more than eggnog and this eggnog bread pudding is going to be your new favorite holiday dessert. It's smooth, creamy, spiked and filled with the eggnog flavor you love. It makes for a delicious dessert, or even breakfast on Christmas morning!
With only a few steps to eggnog perfection, there's no reason not to make this gorgeous dish. No one will know how easy it was for you to make!
INSTRUCTIONS: Grease a large baking dish with butter or cooking spray. Add bread cubes to the baking dish and set aside. Over medium heat in a large saucepan, heat eggnog and milk until it just begins to bubble. While the milk and eggnog are heating, whisk together eggs, yolks, sugar, and salt until frothy. Add 1 cup of the warm eggnog mixture, whisking as you pour. Whisk in the remaining eggnog mixture, vanilla, rum and nutmeg.
Pour custard over the bread in the baking dish, making sure to slightly push down the bread pieces to get them saturated with the liquid. Chill for at least 1 hour or up to overnight (breakfast, anyone?). Preheat oven to 375 degrees and bake the bread pudding for 40 to 45 minutes, until golden brown and the custard is set. Serve warm.
Recipe & Photos by Meghan Bassett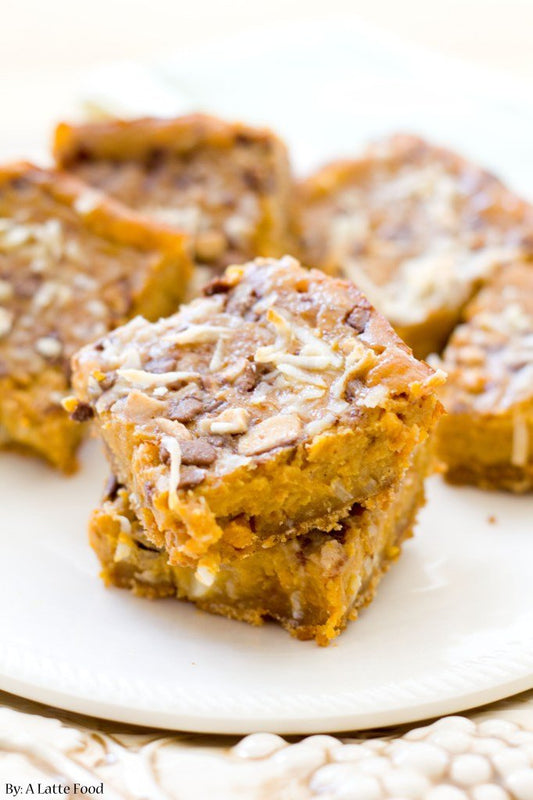 When Starbucks announced that the Pumpkin Spice Latte was back, I'm pretty sure the entire world lost its freaking mind. Have you already downed fifty pumpkin spice lattes at this point? Are you in the pumpkin spice ZONE? Are you ending every tweet with #PSL?? We sure are! September is already wrapping up (how did THAT happen??) and we can't stop, won't stop with all things pumpkin spice. Pumpkin spice latte runs have become somewhat regular during the mid-afternoon lull and we're oh-so ready for those extra large sweaters and boots. But those pumpkin spice lattes at Starbucks sure can get expensive, can't they...? It's about time we stopped losing all our money and starting getting that pumpkin spice fix a home! Today we're rounding up our favorite ways to get a little kick of pumpkin spice right in your own kitchen. From milkshakes to desserts, breakfasts to cocktails, the list below has everything you need for the rest of pumpkin spice season. Even if you aren't absolutely obsessed with pumpkin spice lattes, we bet you will find it hard to resist whipping up any one of these insanely addictive recipes.
Dark Chocolate-Espresso Pumpkin Bread Pudding with Salted Caramel Sauce - Portuguese Girl Cooks
Grown Up Pumpkin Pie Milkshakes - How Sweet It Is Pumpkin Spice Latte Brownies -
Pumpkin Bread Pudding with Dulce de Leche - Martha Stewart Pumpkin Coffee Cake Donuts - Delightful E Made
Nutella Swirled Pumpkin Bread - Broma Bakery Pumpkin Pie Dream Bars - A Latte Food
Pumpkin Dulce de Leche Baked Doughnuts - Bakerita.com
PSL Cake with Spiced Buttercream - Bethcakes
Triple-Chocolate Pumpkin Pie - Martha Stewart Pumpkin Spice Fudge - Aunt Peg's Recipe Box
Pumpkin Spice Syrup - Popsugar Pumpkin Margarita - Sweet Life Cheers to the pumpkin spice season! Take advantage now before it's too late... Before you know it, it'll be Christmas. WHAT.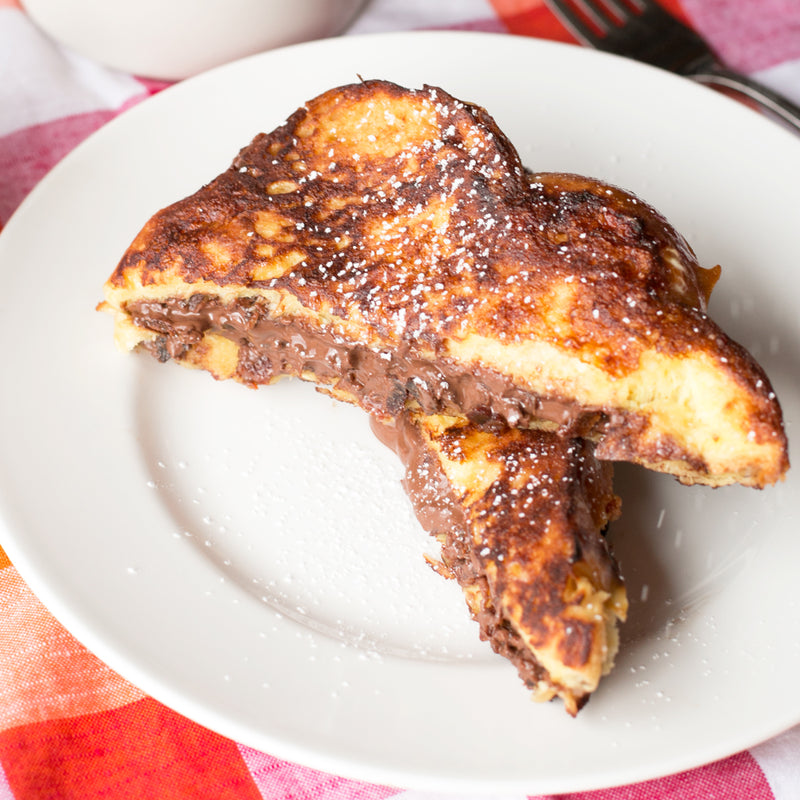 You guys.... It's time to find out what the BEST breakfast is EVER. Bacon-Stuffed Nutella French Toast... You will never believe the lusciousness that awaits you with every bite of this over-the-top French toast. The combination of bacon and Nutella is just about the best combination I've ever tasted. Just like chocolate-covered bacon, Nutella is an even better pairing for bacon.
This is the kind of breakfast that you serve when you are having a rough week or, especially, when you are trying to impress all those friends and family members. People will be swooning, they will be sighing, they will be melting in their seats when they take that first bite.
Or you can just hoard all of it to yourself and you don't have to worry at all about sharing. I totally support this decision, by the way. Just in case you were wondering.
INSTRUCTIONS: In a shallow bowl, whisk together eggs and milk. Spread four slices of the bread equally with Nutella. Sprinkle each with bacon. Top with the other slices of bread to form a Nutella sandwich. In a medium skillet, melt 1 Tbsp of butter. Dip both sides of one sandwich into the egg and milk mixture and place in the hot skillet. Cook for about 4 minutes per side, until golden brown on both sides. Repeat with remaining sandwiches. Cut each in half and serve. Shop This Post Pig of the Month BBQ Applewood Smoked Bacon
*Recipe & photos by Meghan Bassett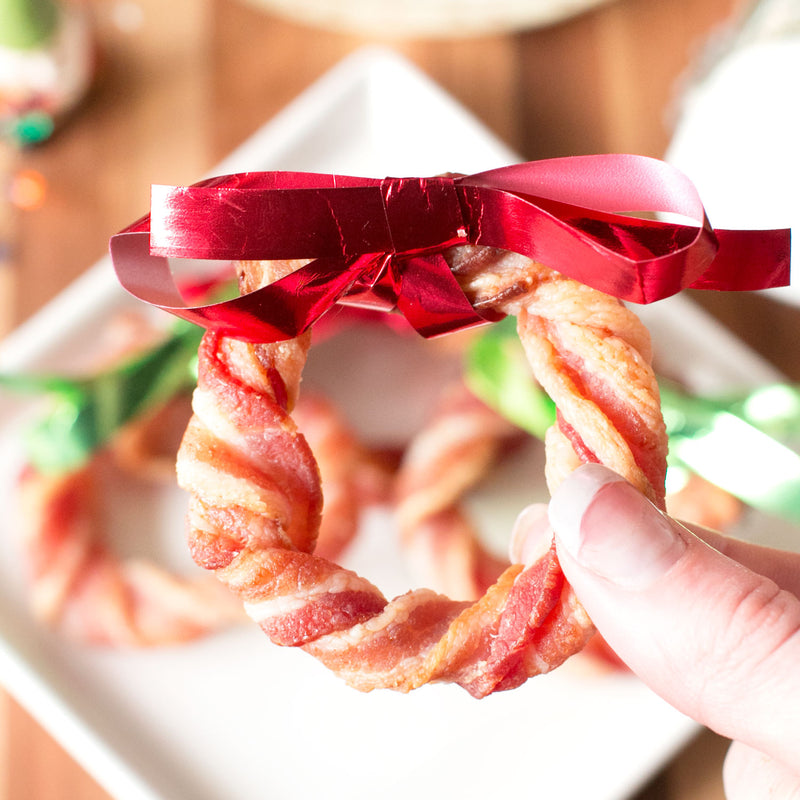 'Tis the season for all things BACON! Right?
I mean, everything's better with bacon, so really Christmas decorations should also be much improved with some crispy slices of delicious tasty bacon. These little bacon wreaths are the most adorable bacon surprise for all of you bacon-loving friends and family. You can hang them up on the tree (assuming you have no dogs of course...) or simply make them for Christmas morning breakfast to get extra festive!
They are super easy to make and everyone will think they are just the cutest darn things they've ever seen!
INSTRUCTIONS: Preheat oven to 425 degrees. Lay two pieces of bacon on a clean work surface, stacking the ends furthest away from you on top of each other.
Twist the bacon slices around each other to create a twisted rope of bacon.
Form the rope of bacon into a circle and attach all four ends of bacon together with a toothpick. Place on a rack on a lined baking sheet. Repeat with remaining bacon slices.
Bake for 15 minutes, until cooked through. Let cool. Once cool enough to handle. remove toothpicks and wrap ribbon around where the ends connect. Make a pretty bow and then give them out as presents to all your bacon-lovin' pals!
Shop This Post
Pig of the Month Applewood Smoked Maple Bacon (or any one of these flavors!)  
*Recipe and photos by Meghan Bassett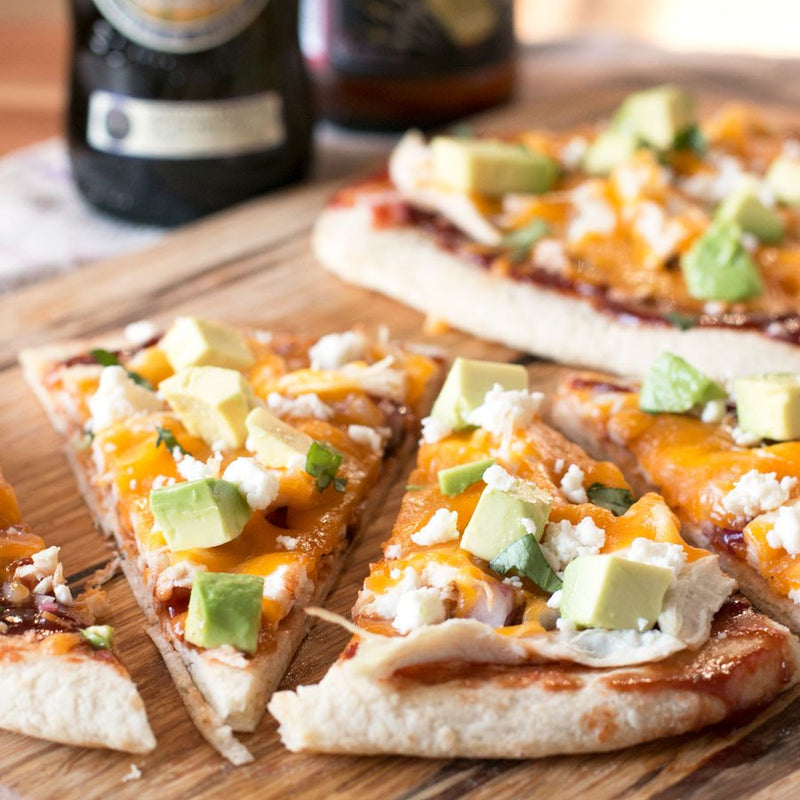 Welcome to 2017 piggy peeps! I don't know about you but I am not ready to get back into the swing of things to kick off the New Year. It feels like there are 5 million to-do's on my list and I am barely making a dent in them a few days into the new year... One thing that's falling off my radar? Dinner. I am struggling with pumping out tasty meals without spending wayyyyy too much time on them. Since I have too much to do at work, I am starting to rely on meals of popcorn and soda - NOT how I wanted to start the year.
Instead, I'm pulling out my Pig of the Month BBQ Shredded Chicken and I'm making something more than just a sandwich with it. These flatbreads are one of the easiest meals EVER and there's no one that can resist them, I don't care how picky of an eater they are. The fluffy naan with BBQ sauce, chicken and avocado is the best base for any pizza. Throw in the bite of some red onion and salty cheese and holy wow, this pizza is one the entire family will be begging you to make on a regular basis. Not to mention it's pretty dang healthy in terms of pizza, so you can feel ok about sticking to those New Year resolutions ;)
INSTRUCTIONS: Place naan on a lined baking sheet.
Spread each with half of the BBQ sauce.
Top with chicken, red onion and cheese.
Place under broiler set to high for approximately 2 to 3 minutes, or until the cheese melts.
Remove from oven, top with avocado, cilantro and a sprinkle of queso fresco. Serve.
Shop This Post
Pig of the Month BBQ Shredded Chicken
Pig of the Month BBQ Love Me Tender Sauce
*Recipe and photos by Meghan Bassett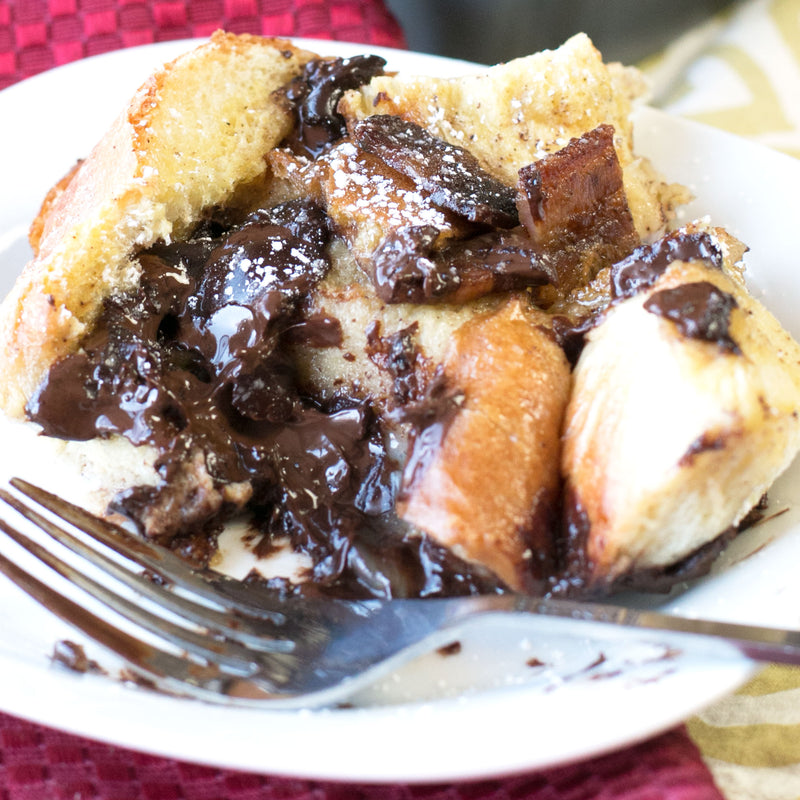 In the dead of winter, all I want to wake up to is something sweet, savory and super easy to make. That's why this Overnight Bacon & Chocolate Chip French Toast fits the bill almost every weekend. It's got sweet french toast, rich dark chocolate and savory bacon which when combined together in a baked up casserole of goodness, will completely blow you away with every single bite.
What I really love about this recipe is that you can easily make it the day or night before. That way when you are groggy in the morning, reaching for your cup of coffee, all you have to worry about is setting the oven and placing the baking dish in there. By the time you feel awake, you'll be sitting down to a heaping, gooey portion of this deliciousness...
It's perfect for the holidays, especially when you have family staying with you and the chaos of Christmas morning! However this recipe can keep you going and going throughout the cold months that are still ahead of us, so don't go only making it once ;) Happy holidays everyone! Enjoy the long weekend!
[vimeo 196762573 w=640 h=360]
Overnight Bacon & Chocolate Chip French Toast from Pig of the Month BBQ on Vimeo.
INSTRUCTIONS: Spray a 9x13-inch baking dish with non-stick cooking spray. Add half of the cubed bread to the pan and top it with half of the chopped bacon and chocolate chips. In a medium bowl, whisk together eggs, milk, sugar, vanilla, salt, cinnamon and cloves. Pour mixture over bread evenly to coat everything. Cover and refrigerate overnight. When ready to bake, preheat oven to 400 degrees. Bake uncovered for 15 to 20 minutes, until golden brown and the center is set. Top with powdered sugar and serve immediately.
Shop This Post:
Pig of the Month BBQ Applewood Smoked Maple Bacon  
*Recipe, video and photos by Meghan Bassett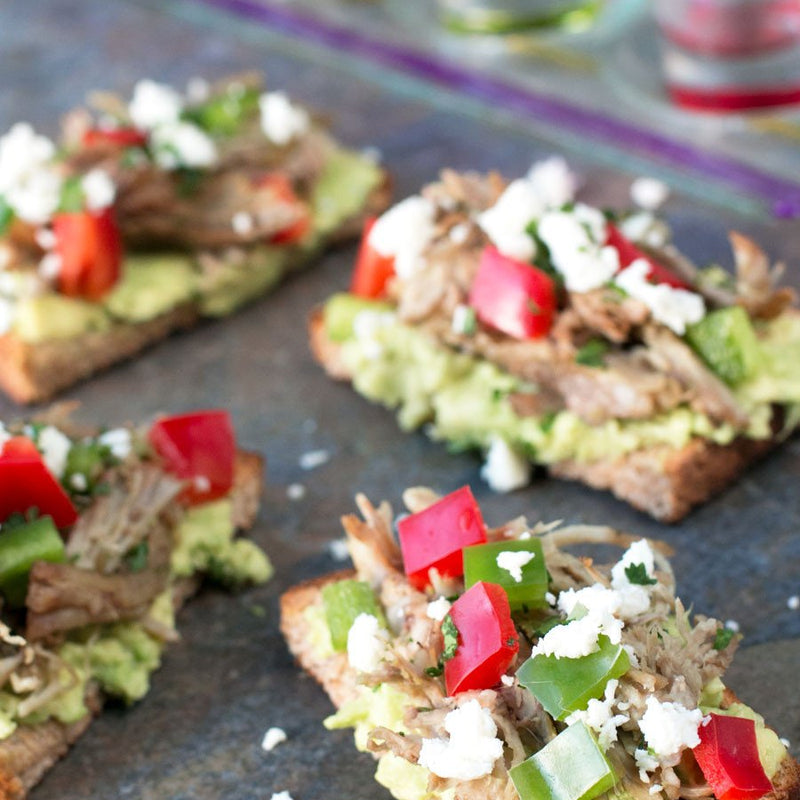 Avocado toast might be all the rage for all those health nuts out there wanting to eat something good for breakfast or lunch, and while we appreciate the healthy attempt, I kind of like to trash my healthy plans up... With a whole heaping helping of meat in these killer Pulled Pork Veggie Avocado Toasts!
I can honestly admit that my attempts at getting healthy this year are pretty dang lame... I am not the biggest fan of sticking to a strict diet. For obvious reasons I'm sure. I mean when I have Pig of the Month BBQ Pulled Pork in my fridge, why the heck would I ever want to just eat my fruits and veggies?! Nope, instead I want to load up on my pork and I GUESS I can load up on some veggies at the same time.
With the pulled pork, these veggie avocado toasts burst with tons of flavor. It's like eating a pulled pork taco but on toast! I love making this for breakfast or lunch, or a mid-afternoon snack, because it's super easy AND it's easy to throw together in even the smallest of kitchens (like that dinky one at your office...). So load up and get healthy (well healthy-ISH)!
INSTRUCTIONS: Spread toast with a layer of mashed avocado. Top with pulled pork, chopped bell peppers, queso fresco and chopped cilantro. Serve!
Shop This Post: Pig of the Month BBQ Pulled Pork *Recipe and photos by Meghan Bassett
1
2
Next »