Posts tagged: BBQ ribs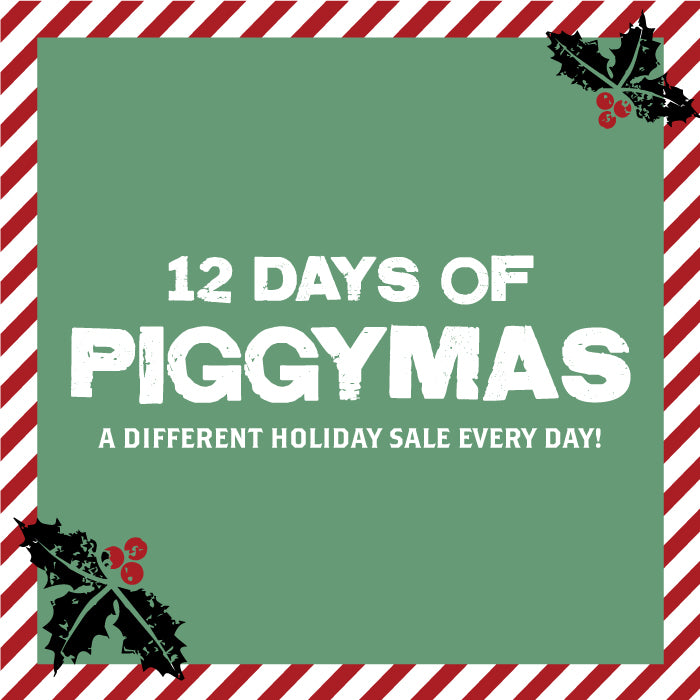 We're back with our favorite holiday giveaway and we're looking to spread a little holiday cheer...with BBQ sauce from ear to ear! :) We'll be giving away a little something tasty everyday for the next 12 days, so stay tuned on our Facebook page and find out more details below!
For our 12 days of Piggymas, we're sending you:
Day 1: A BBQ sauce sampler
Day 2: A trio of sweet and salty snacks - chocolate covered bacon, bacon jam and caramel cheddar bacon studded popcorn
Day 3: A bloody mary themed package with bloody mary mix, 1lb of peppered bacon, AND 1lb applewood smoked bacon
Day 4: 3 pounds of pulled meats; a little pork and a little chicken
Day 5: A bacon lovers dream with 3 specialty flavors of bacon
Day 6: Ribs!! 3 slabs of the good stuff, delivered
Day 7: All the sausage your heart could desire – sent to your door
Day 8: A heaping amount of BBQ brisket and baby back ribs…mmm mmm mmmm
Day 9: 6lbs of our best selling bacon and sausages
Day 10: A holiday ham to enjoy – we'll do all the cooking
Day 11: 6 slabs of ribs to enjoy for Christmas Dinner
Day 12: A mix of all of our best sellers; baby back ribs, pulled pork, BBQ sauce, brisket and bacon!
Look for instructions on how to enter each day on Facebook! 
Spicy Dry Rub Ribs are smoky and spicy, perfect for your next BBQ gathering! The ribs come out extra tender and juicy, hot off the grill and finger-lickin' good.
It's finally grilling season! Is anyone else as excited as I am about this? I've been busting out the grill almost every single night for dinner and I gotta tell you, that grilled charcoal flavor is what I've been missing since Labor Day. Chicken, vegetables, burgers, steaks, I've been grilling it ALL.
Recently though, I've been obsessed about perfecting dry rub ribs on the grill. I've baked them more times than I can count, but nothing gets that BBQ flavor packed into the ribs like a grill. These ribs are the best combination of spicy and smoky on the outside, with perfectly tender and juicy meat on the inside. Seriously, the meat practically melts in your mouth with every bite.
Your next BBQ NEEDS these ribs. Or even your next weeknight meal! Rub the ribs down and wrap 'em up before you head to work in the morning, then just throw 'em on the grill when you get home. You'll have grilled up ribs in under an hour that'll curb all those BBQ cravings you've been having lately.
INSTRUCTIONS: In a medium bowl, stir to combine salt, brown sugar, paprika, garlic powder, onion powder, chili powder, cumin, black pepper and cayenne pepper.
Rub down the racks of ribs with the dry rub evenly. Wrap the racks in plastic wrap and let rest in the refrigerator for at least 2 hours.
Heat up your grill to 350 to 400 degrees and rub the grill racks with olive oil. Remove the ribs from the plastic wrap and place directly on the grill. Cook for 40 minutes, turning occasionally, until crispy and cooked through.
Allow the racks to rest 10 minutes before cutting into them and serving.
Recipe & photos by Meghan Bassett