Posts tagged: BBQ pulled pork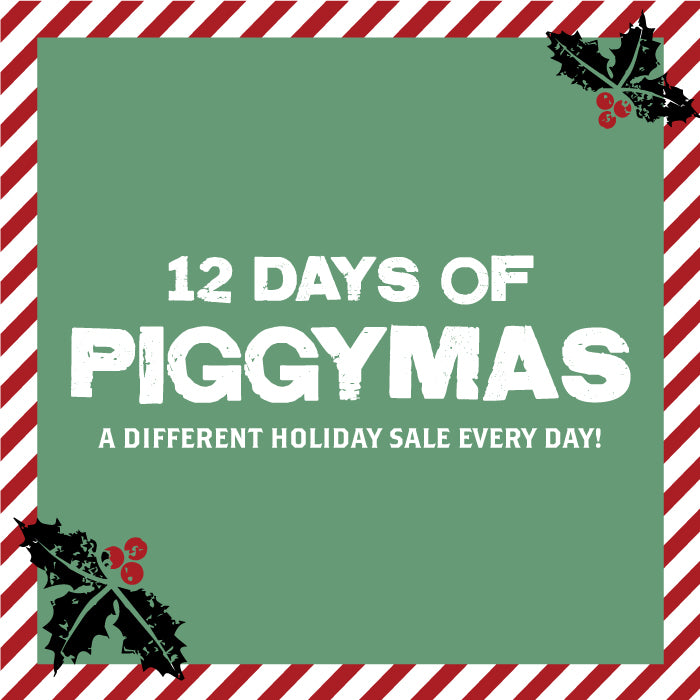 We're back with our favorite holiday giveaway and we're looking to spread a little holiday cheer...with BBQ sauce from ear to ear! :) We'll be giving away a little something tasty everyday for the next 12 days, so stay tuned on our Facebook page and find out more details below!
For our 12 days of Piggymas, we're sending you:
Day 1: A BBQ sauce sampler
Day 2: A trio of sweet and salty snacks - chocolate covered bacon, bacon jam and caramel cheddar bacon studded popcorn
Day 3: A bloody mary themed package with bloody mary mix, 1lb of peppered bacon, AND 1lb applewood smoked bacon
Day 4: 3 pounds of pulled meats; a little pork and a little chicken
Day 5: A bacon lovers dream with 3 specialty flavors of bacon
Day 6: Ribs!! 3 slabs of the good stuff, delivered
Day 7: All the sausage your heart could desire – sent to your door
Day 8: A heaping amount of BBQ brisket and baby back ribs…mmm mmm mmmm
Day 9: 6lbs of our best selling bacon and sausages
Day 10: A holiday ham to enjoy – we'll do all the cooking
Day 11: 6 slabs of ribs to enjoy for Christmas Dinner
Day 12: A mix of all of our best sellers; baby back ribs, pulled pork, BBQ sauce, brisket and bacon!
Look for instructions on how to enter each day on Facebook!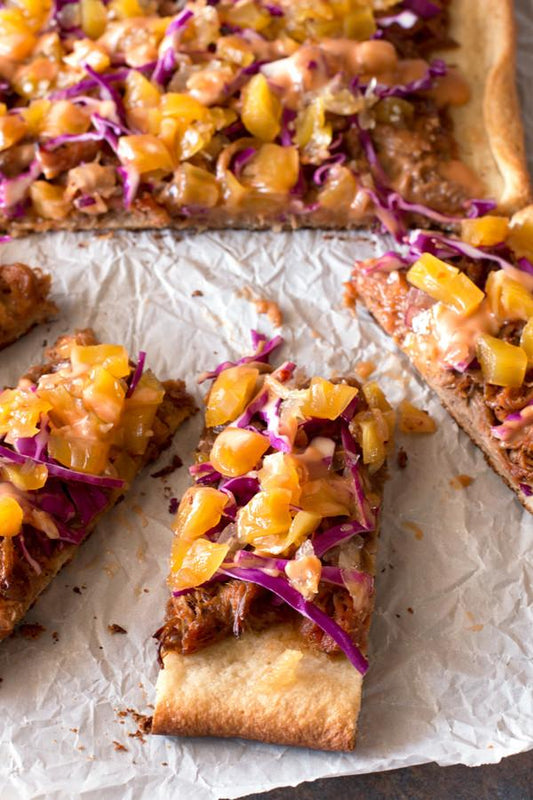 This is officially my new favorite way to devour pulled pork. I'm serious, I can't even begin to convey how much I love this flatbread. All of the layers of flavors on top of a perfectly crisp flatbread makes this dish a must have for anyone who loves pulled pork.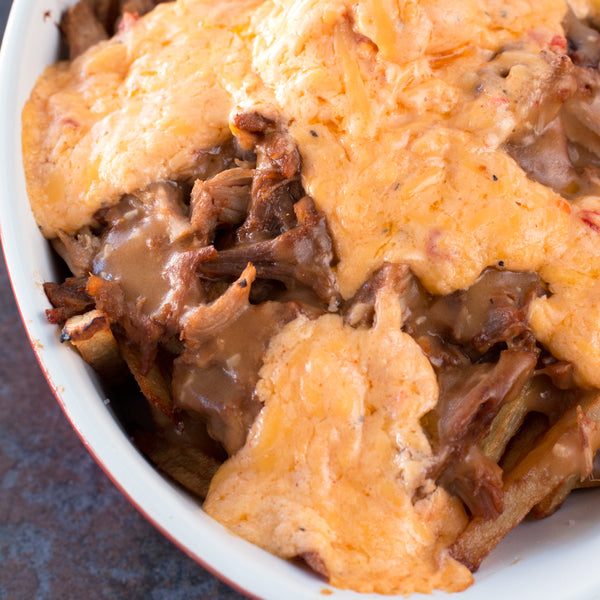 Pimento Pulled Pork Poutine! I dare you to say that five times fast...
Tongue-tied yet? Well, this poutine is exactly what you need to untie that bad boy and get down on some serious pulled pork. Poutine is one of my all-time favorite gluttonous meals to indulge in. After years and years of eating the same go-to recipe, I've decided to shake things up a bit by adding a hefty helping of pulled pork and ditching the cheese curds for some creamy, spicy pimento cheese spread. This is quite possibly the best combo of Canada meets Southern comfort you've ever tasted.
This dish is a glorious mess that people will be swooning for on game day this Sunday. Whether you're rooting for the Broncos or the Panthers on game day, this poutine is a must-have for your Super Bowl spread.
Hint: You can even whip up some frozen fries for this dish if you'd like to save time and get to the poutine sooner!
INSTRUCTIONS: Place the cut potatoes in a large bowl and cover with cold water. Refrigerate for about 1 hour.
While the potatoes are chilling, melt butter in a medium saucepan over medium-high heat. Stir in flour until the mixture is smooth. Stir in garlic and cook until fragrant, approximately 1 minute. Add beef stock, ketchup, and Worcestershire. Bring the mixture to a boil, stirring occasionally, until thickened, approximately 6 minutes. Season with salt and pepper to taste. Cover and keep warm on low heat until ready to serve.
Pour enough oil into a dutch oven to be 3" deep. Heat over medium heat until the temperature reaches 325 degrees. Drain potatoes and dry completely with paper towels. Fry the potatoes, working in small batches, until tender and just crisp. Remove to a paper towel lined plate to drain. Cool for 20 minutes.
Increase heat to medium-high and allow oil to heat to reach 375 degrees. Fry potatoes in the same small batches, until golden brown, approximately  2 minutes. Remove to fresh paper towel lined plate and sprinkle with salt. Preheat oven to 450 degrees F.
Add fries to an overproof baking dish. Top with the pulled pork, spreading it evenly across the whole dish.
Spoon the gravy over the fries and dollop the pimento cheese spread all over the top. Bake for approximately 5 minutes, until the cheese is melted and bubbly. Serve immediately.
Shop This Post
Recipe & Photos by Meghan Bassett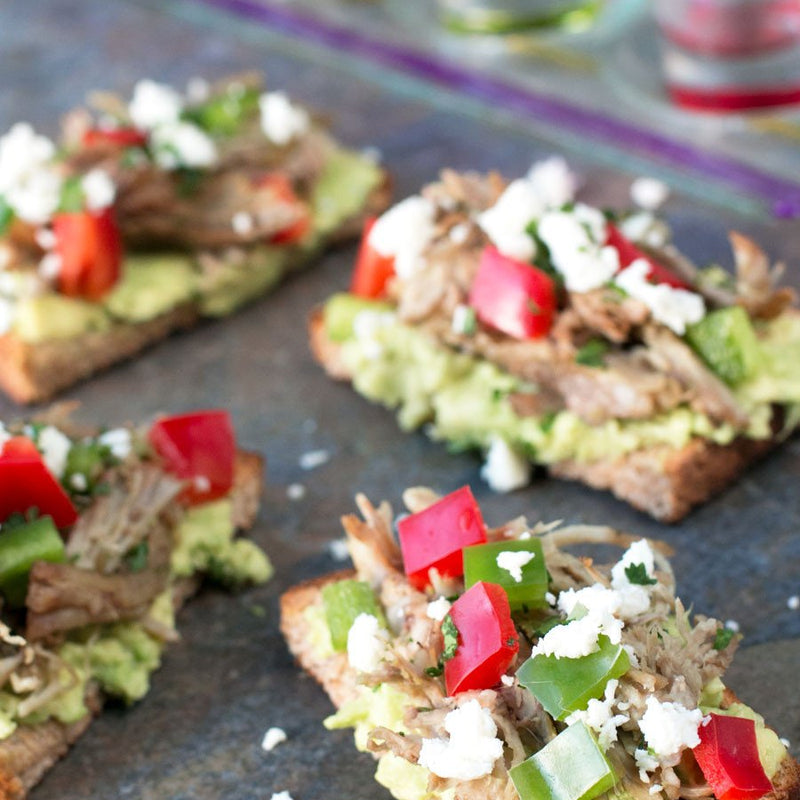 Avocado toast might be all the rage for all those health nuts out there wanting to eat something good for breakfast or lunch, and while we appreciate the healthy attempt, I kind of like to trash my healthy plans up... With a whole heaping helping of meat in these killer Pulled Pork Veggie Avocado Toasts!
I can honestly admit that my attempts at getting healthy this year are pretty dang lame... I am not the biggest fan of sticking to a strict diet. For obvious reasons I'm sure. I mean when I have Pig of the Month BBQ Pulled Pork in my fridge, why the heck would I ever want to just eat my fruits and veggies?! Nope, instead I want to load up on my pork and I GUESS I can load up on some veggies at the same time.
With the pulled pork, these veggie avocado toasts burst with tons of flavor. It's like eating a pulled pork taco but on toast! I love making this for breakfast or lunch, or a mid-afternoon snack, because it's super easy AND it's easy to throw together in even the smallest of kitchens (like that dinky one at your office...). So load up and get healthy (well healthy-ISH)!
INSTRUCTIONS: Spread toast with a layer of mashed avocado. Top with pulled pork, chopped bell peppers, queso fresco and chopped cilantro. Serve!
Shop This Post: Pig of the Month BBQ Pulled Pork *Recipe and photos by Meghan Bassett
Meat Lovers Pizza Roll Ups are a meat lover's dream! Packed with three different Pig of the Month BBQ meats, you will be in BBQ pizza heaven with every bite. 
I have a serious obsession with BBQ pizza as soon as the warmer weather comes around. Aside from grilling everything and anything in sight, I'm all about the easy appetizers or snacks that I can munch on (or turn into a whole meal) while I messing with whatever I have going on the grill. These meat lovers pizza roll ups are my favorite solution for something summer and BBQ-packed that doesn't require me whipping out the grill - or something that doesn't take up that valuable real estate, you know?
Whether you are making these as a snack or appetizer for a party, or turning these into a fun weeknight BBQ meal for the family, you won't find a more meaty recipe out there that's this easy.
All you have to do is roll out some dough, stuff it with meat, bake and top with cheese. Just don't forget the extra BBQ sauce to serve them up with!
Sling me a beer and lets cheers to those tasty, juicy meats!
[vimeo 166821716 w=640 h=360]
Meat Lovers Pizza Roll Ups
from
Pig of the Month BBQ
on
Vimeo
.
INSTRUCTIONS:
Preheat oven to 425 degrees. Grease a baking sheet and set aside. On a lightly floured surface, roll out the pizza dough into a large 9x13-inch rectangle. Brush the dough with 1/3 cup of BBQ sauce. Layer on the pulled pork, brisket and bacon. Roll the dough up tightly and slice in 3/4-inch thick rolls. Add rolls to prepared baking sheet. Bake for 15 minutes. Sprinkle the rolls with cheese and broil until the cheese is melted. Serve immediately with extra BBQ sauce for dipping.
Shop This Post
Pig of the Month BBQ Pulled Pork
Pig of the Month BBQ Brisket
Pig of the Month BBQ Applewood Smoked Maple Bacon
  Recipe, photos & video by Meghan Bassett
A couple of years ago, we served up a quick go-to appetizer of open-faced pulled pork sliders. We've been using this recipe ever since, but we decided it was about time to make a little update to this bad boy. Why not get on the food porn train and really blow your minds? So we broke out the waffle iron, all the cheese and piled on even more saucy pulled pork for this revisited version of an old fav.
This open-faced slider is the perfect combination of savory, spicy and sweet. Instead of being sandwiched between a bun, this pork sings with the crunchy, spicy coleslaw and the crisp waffle fry. I promise your mouth will be bursting with flavor! These sliders are the perfect opening bite to start your summer BBQ festivities with a bang. You get a little bit of everything you could ever want in each loaded bite!
Any excuse to get extra saucy at a BBQ, am I right? Happy BBQing, piggy fans!
Open Faced Pulled Pork Sliders from Pig of the Month BBQ.
INSTRUCTIONS: Heat up a waffle iron and grease with cooking spray. Add the shredded hash browns in batches, creating the base for your sliders. Remove once golden brown and crispy. Cut the hash brown waffle into 4 pieces. Top each piece of hash brown waffle with one slice of sharp cheddar cheese. Broil until melted. Set aside. In a small bowl, combine coleslaw, mayonnaise, lemon juice, salt and pepper. Stir until coated evenly. Warm the pulled pork in the microwave and stir in more BBQ sauce as desired. Top the cheesy hash brown waffles with pork and top with coleslaw. Serve immediately. Shop This Recipe: Pig of the Month BBQ Pulled Pork Pig of the Month BBQ Sauces Recipe, photos & video by Meghan Bassett