Posts tagged: BBQ pulled chicken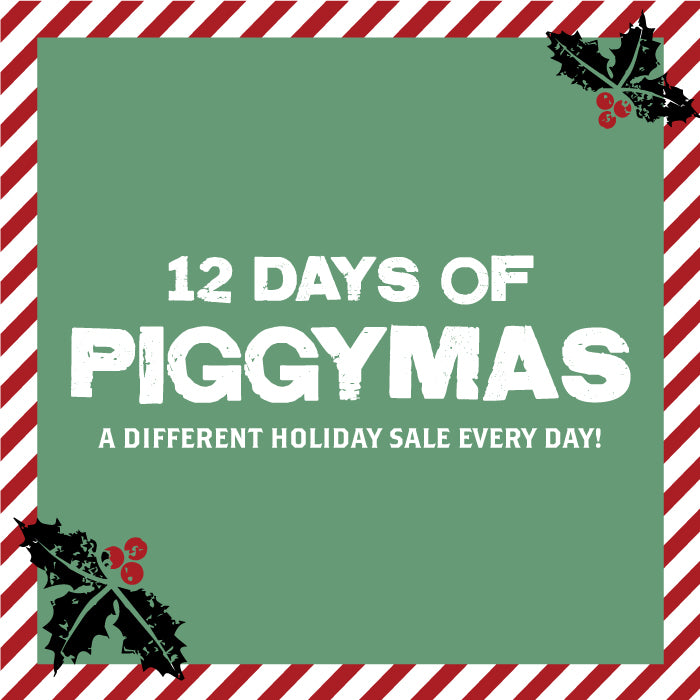 We're back with our favorite holiday giveaway and we're looking to spread a little holiday cheer...with BBQ sauce from ear to ear! :) We'll be giving away a little something tasty everyday for the next 12 days, so stay tuned on our Facebook page and find out more details below!
For our 12 days of Piggymas, we're sending you:
Day 1: A BBQ sauce sampler
Day 2: A trio of sweet and salty snacks - chocolate covered bacon, bacon jam and caramel cheddar bacon studded popcorn
Day 3: A bloody mary themed package with bloody mary mix, 1lb of peppered bacon, AND 1lb applewood smoked bacon
Day 4: 3 pounds of pulled meats; a little pork and a little chicken
Day 5: A bacon lovers dream with 3 specialty flavors of bacon
Day 6: Ribs!! 3 slabs of the good stuff, delivered
Day 7: All the sausage your heart could desire – sent to your door
Day 8: A heaping amount of BBQ brisket and baby back ribs…mmm mmm mmmm
Day 9: 6lbs of our best selling bacon and sausages
Day 10: A holiday ham to enjoy – we'll do all the cooking
Day 11: 6 slabs of ribs to enjoy for Christmas Dinner
Day 12: A mix of all of our best sellers; baby back ribs, pulled pork, BBQ sauce, brisket and bacon!
Look for instructions on how to enter each day on Facebook!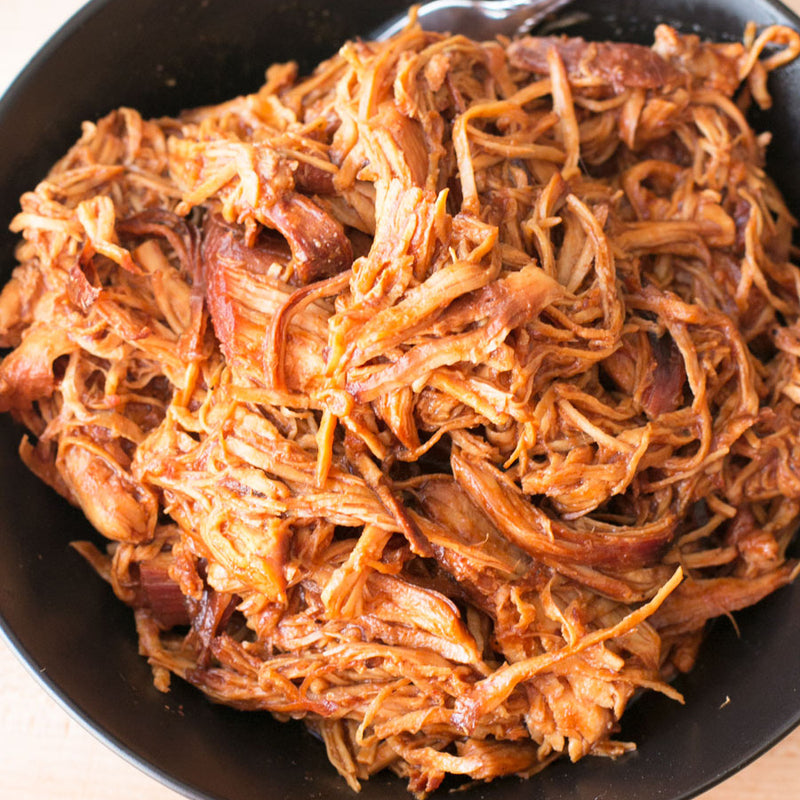 This new best ever crockpot BBQ chicken is going to be a family favorite in no time. With only 5 ingredients, all you gotta do is dump everything into your slow cooker and wait for the deliciousness to be ready. I love being able to dump meals like this before heading into the office. Coming home to a house filled with that tasty BBQ scent is more welcoming than any scented candle could ever be.
The final result is this tender, juicy chicken packed with flavor and ready to be eaten however you choose! You can eat it plain along with some veggies, make BBQ chicken sandwiches or sliders with it, or ever whip up some BBQ chicken tacos. You can even roll up the chicken with some avocado in an egg roll wrapper and fry them... The possibilities are endless with this simple recipe, and it'll keep the whole family happy! This crockpot BBQ chicken is even amazing for parties when you don't want to get stuck fussing over food in the kitchen for hours. You can simply leave the chicken in the sauce on low throughout the party to make sure it stays toasty and tasty.
No one will ever believe this recipe requires just 5 measly ingredients! Don't worry, I promise not to reveal our little secret... Let them think you slaved for hours!
[vimeo 186283536 w=640 h=360]
Best Ever Crockpot BBQ Chicken from Pig of the Month BBQ on Vimeo.
INSTRUCTIONS: Add chicken breasts to the insert of a slow cooker. Season breasts with salt and pepper. Add salt, cayenne, brown sugar and BBQ sauce. Stir briefly to coat the chicken breasts. Cook on high for 3 to 4 hours. Shred with two forks in the pan and let the chicken warm in the sauce for 15 minutes for extra flavor. Serve as sliders or sandwiches.
Shop This Post:
Pig of the Month Love Me Tender BBQ Sauce  
*Recipe, photos and video by Meghan Bassett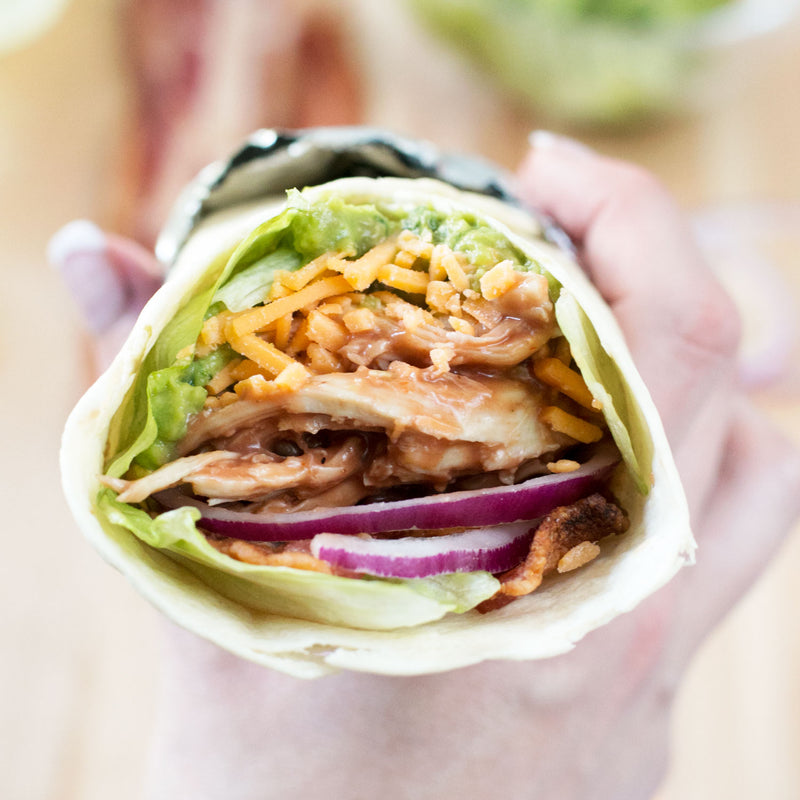 BBQ Chicken & Bacon Guacamole Wraps are here to make all your secret lunch dreams come true... I don't know about you all, but I get SO bored with eating salad and turkey club sandwiches for lunch every day. I can get into a serious rut when it comes to lunch. With all the work piling up, I never have time to really think about what I am eating unless I plan it out ahead of time.
Planning ahead is not necessarily my strong suit. As much as I would love to craft a gorgeous lunch every day, I need something that's ready to just dive into on the spot when my stomach starts rumbling. That's why this wrap is SO perfect. It's easy to make ahead of time (heck, you could even make it the night before) and it'll disappear in about 2.5 seconds. Surprised?
It's stuffed with BBQ-sauced chicken, guacamole and BACON so I'm not sure why you would be! It's better than any sandwich you'll ever grab at that sad little shop on the corner. Plus it even has some lettuce in there to make you feel even healthier as you wipe the BBQ sauce from your chin.
INSTRUCTIONS: In a medium bowl, stir together chicken, BBQ sauce and ranch dressing. Set aside. Microwave tortillas for 30 seconds to make them pliable.
To build the wraps, lay down a layer of lettuce and top with three strips of bacon in the center of each tortilla. Divide the red onion evenly between the two, then chicken, then cheddar cheese and finally guacamole.
Wrap tightly in foil and serve immediately or bring it with you for a delicious work lunch or picnic!
Shop This Post
Pig of the Month BBQ Applewood Smoked Maple Bacon
Pig of the Month BBQ Hand Pulled Chicken
*Recipe & photos by Meghan Bassett