Posts tagged: barbecue sauce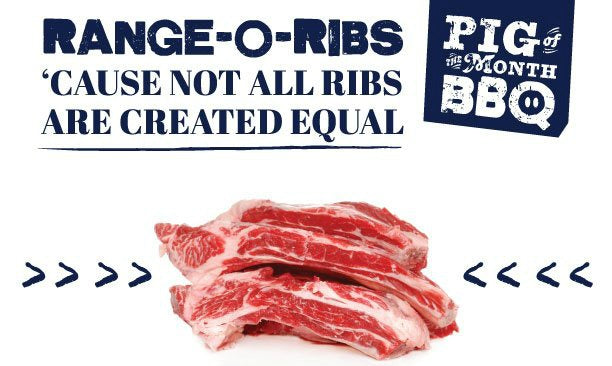 We get questions about what the different rib styles are all about all the time. Mostly everyone knows that our Memphis is 
sweet,
 and that our Carolina is mustard based. But, we thought it would be fun to make a little infographic showing what spices and flavors actually go into each style. Enjoy!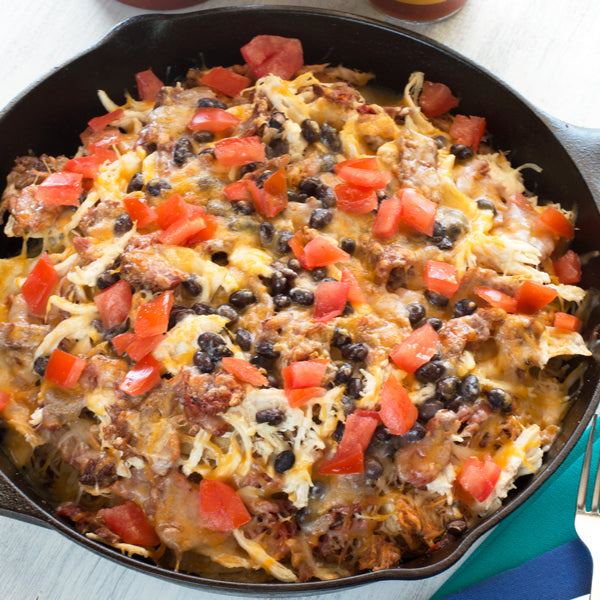 Imagine this… You're sitting around the campfire, drinking a couple beers and joking with your friends. Then someone says, "dinner's ready" and you all gather around a large cast iron skillet. The aluminum foil gets peeled off and you instantly smell the best campfire dinner smell ever – barbeque.
Now I'm turning that imagined experience into a reality for you with these campfire barbeque nachos! Featuring Pig of the Month meats, all you have to worry about is preparing shredded chicken prior to packing up and heading to your campsite. Then simply assemble all the ingredients, cover with foil and cook directly on the campfire until everything's warm and the cheese is melted.
You'll end up loving the three-meat combination on these campfire nachos so much, you'll be building fire pits in your backyard just for an excuse to eat them on a weeknight! DIG IN!
INSTRUCTIONS: Layer the tortilla chips on the bottom of the cast iron skillet, filling it approximately 1/3 of the way full. Add the pulled pork, brisket and pulled chicken in an even layer on top of the chips.
Top the meats with black beans, sliced jalapeños, and cheese. Cover the cast iron skillet with aluminum foil and place directly on the campfire. Cook until the dish is warmed through and the cheese is melted, approximately 5 to 10 minutes. You can also cook this under the broiler on low for approximately 5 minutes at home!
Remove from heat, peel off the foil and top with the fresh tomato chunks. Serve immediately with either barbeque sauce or salsa and hot sauce.
  Shop This Post
Pig of the Month Pulled Pork Pig of the Month Brisket
Recipe & Photos by Meghan Bassett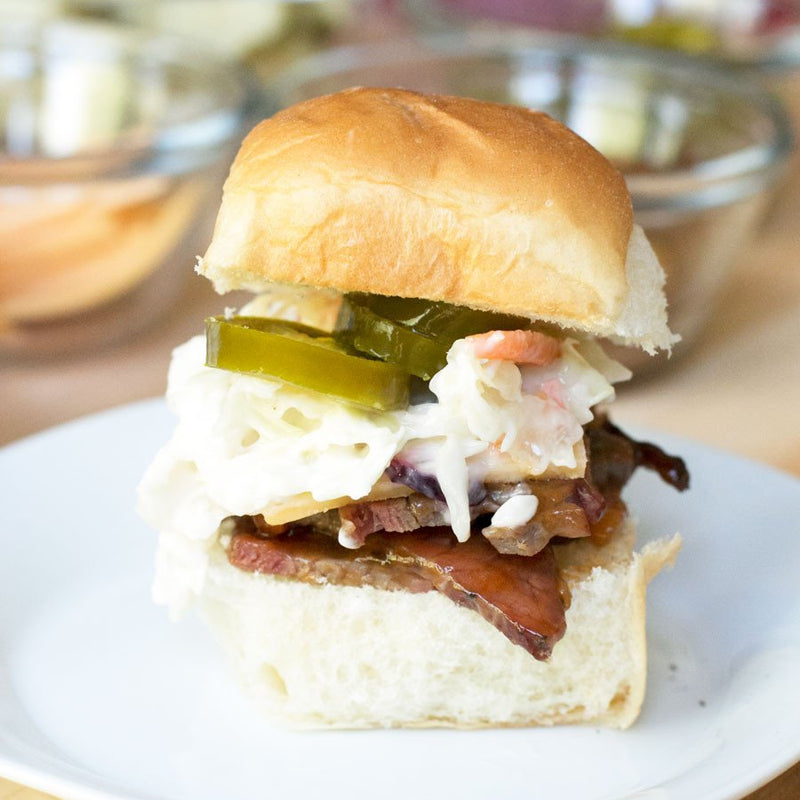 Stop trying to make the perfect sliders for everyone and have them make their own instead! Put the fun back into your food at your next gather with this super simple DIY Brisker Slider Bar. Instead of slaving away, trying to find the ideal slider that everyone will fall in love with, load up on some of our brisket and set out as many toppings as you can. All you guests will love jumping in to create their own version of the "best brisket slider", plus you can keep the options open no matter what foods some people love (or love to hate).
You can stick with a classic combo of a white bun, brisket, pickles, red onion and cheese.
Or shake things up with a Hawaiian bread bun, coleslaw and pickled jalapeños!
Not to mention all the stress this whole DIY slider bar takes off you as the host/hostess... But that's just an extra side bonus to everything loving the food and having fun, right? ;)
What You'll Need: Serves 12 to 14 2 types of slider buns (24 total) 1 lb Pig of the Month Brisket, warmed 1 red onion, thinly sliced 2 cups coleslaw 1 cup caramelized onions Sliced sharp cheddar cheese, cut into small squares Sandwich pickles Pickled jalapeños BBQ sauce Franks Red Hot Sauce
Place the buns on a large platter. Place warmed brisket on a separate large platter. Layer cheddar cheese slices on a small plate.
Add red onion, coleslaw, caramelized onions, sandwich pickles and pickled jalapeños to individual serving bowls. Place the buns to one side next to the brisket and then lay out all of the toppings in a line to make it easy for guests to pick and choose. Set out your favorite BBQ sauces and hot sauces for people to experiment with! Have fun with it!
Shop This Post
*Recipe & Photos by Meghan Bassett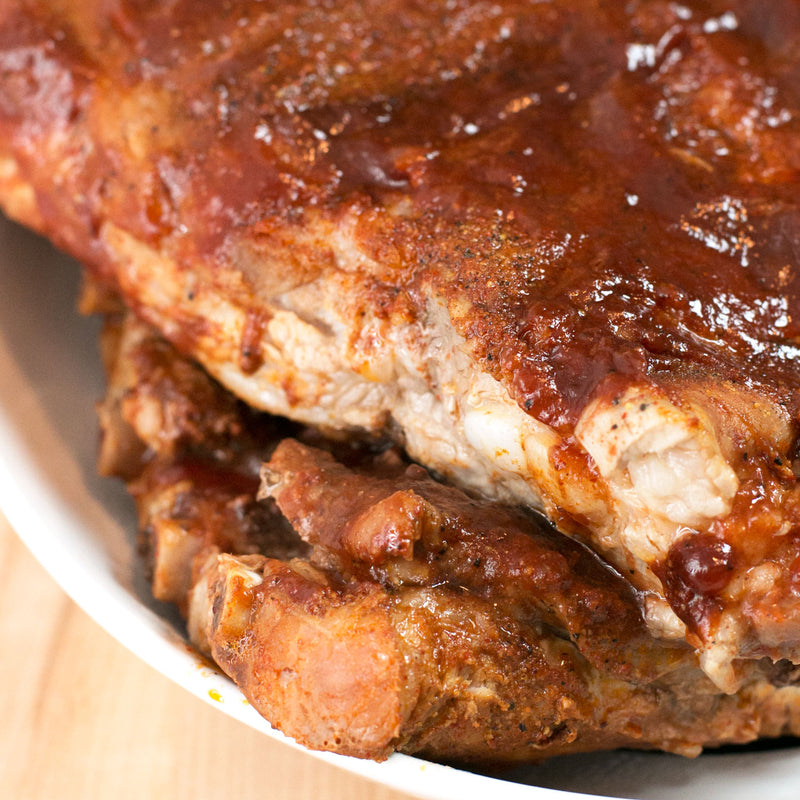 You know when you want those tasty, saucy, oh-so tender ribs but you don't have the time to slave away over the grill? I'm talking about those weeknights when you want to roll up to a giant slab of ribs without spending an arm and a leg, and without having to tend to a grill all dang day.
Wish no more, because I've got your weeknight meal run rescue right here. All you have to do is get your slow cooker ready for a day's worth of cooking those meaty bones low and slow. When you get home to these bad boys, your home will smell like BBQ and you'll be drooling in anticipation of that fall off the bone tender meat!
It's the rub PLUS the Pig of the Month BBQ Love Me Tender BBQ Sauce that make these ribs so ridiculously flavorful and delicious. You don't have to worry about adding extra liquid because these ribs will put their own juices to work. You don't end up with a gross watery mess at the end of this cooking round. Nope, you get those perfectly cooked, tender, melt-in-your-mouth ribs you've been dreaming of. So who's hungry?!
[vimeo 187700215 w=640 h=360]
Crockpot Memphis Style BBQ Ribs from Pig of the Month BBQ on Vimeo.
INSTRUCTIONS: In a small bowl, whisk together spices to create the super secret rub. Remove the membrane from the ribs and cut slab into three equal pieces. Add one of the three piece to the insert of a slow cooker. Top with one third of the rub, using your hands to rub it into the meat. Top the slab piece with one third of the BBQ sauce. Repeats these layers (ribs, rub, sauce) until the last layer of sauce. Cook on low for 8 to 10 hours. Remove from slow cooker and serve.
Shop This Post
Pig of the Month BBQ Love Me Tender BBQ Sauce  
*Recipe, photos and video by Meghan Bassett