Posts tagged: baked chicken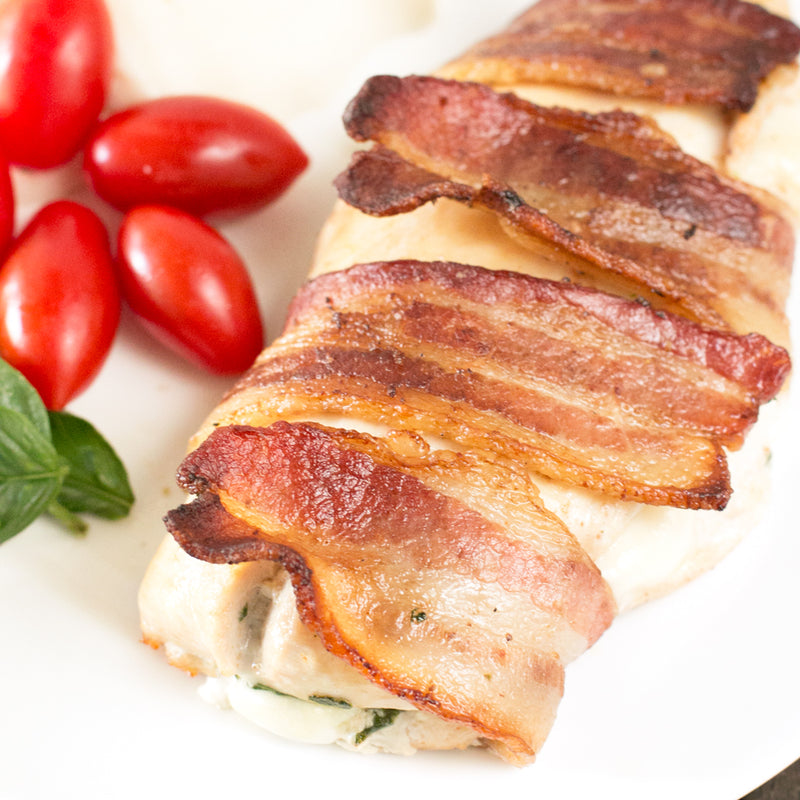 Weeknight meals can get really boring, am I right? I mean, there's only so many times you can cook a plain ol' chicken breast, match it up with some veggies and not get bored to tears. Sometimes you need to shake things up during the week, but you don't have time to master an insane recipe. Enter Bacon-Wrapped Caprese Stuffed Chicken.
These chicken breasts are going to seriously wow your family and I bet you already have most of these ingredients in your home (or even growing in your backyard for you herb and veggie growers out there!). All you have to do is stuff your chicken breasts with those classic caprese salad ingredients, wrap them in bacon and boom. Dinner is done in less than 30 minutes and your satisfying everyone at the table. I LOVE caprese salads - the mozzarella, the tomato, the basil - it all screams freshness and summer to me with every bite. Chicken lends itself so well to this combo so it only makes sense to stuff everything INSIDE the chicken breast. That combined with the bacon-wrapped exterior leaves you with one of the moistest pieces of chicken you'll ever dig into.
This will become a family fav in no time!
Bacon Wrapped Caprese Stuffed Chicken from Pig of the Month BBQ on Vimeo.
INSTRUCTIONS: Preheat oven to 400 degrees. Split each chicken breast in half. Stuff with 2 half slices of mozzarella, one half slice of tomato, and a generous sprinkle of chopped basil. Pinch the edges of the chicken breast closed.
Wrap each chicken breast with two slices of bacon, making sure the edges of the bacon overlap all on the same side of the breast. Heat olive oil in a large oven safe skillet over medium-high heat. Sear the chicken breasts for 2 to 3 minutes on each side, making sure to rotate to get it seared on all four sides. Place skillet in the oven and bake for 10 minutes, or until cooked through. Serve immediately.
Shop This Post
Pig of the Month Applewood Smoked Maple Bacon
*Recipe, photos and video by Meghan Bassett