Posts tagged: baked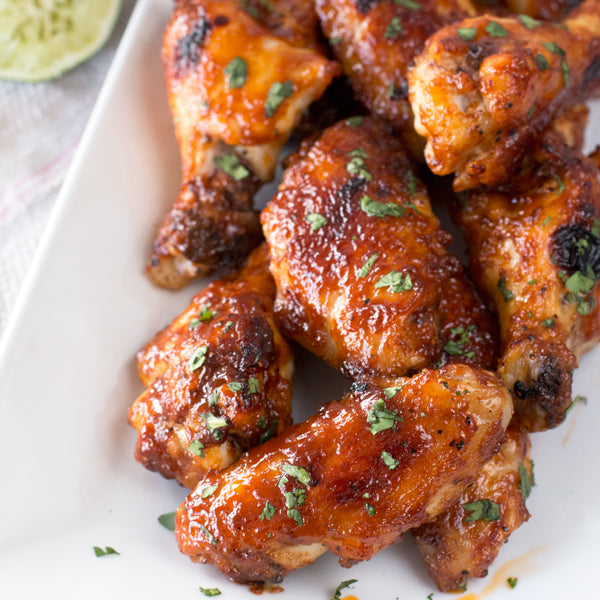 It's March and that means one thing in my foodie-obsessed brain - March Madness parties for days. That's right, that means chips and dip, guacamole, sliders, jalapeño poppers and, most importantly, crispy sticky chicken wings. Sriracha Lime Baked Chicken Wings, to be exact.
If you ever have a snack attack, March Madness-related or not, your next go-to recipe absolutely has to be these wings. They are baked to crispy perfection in the oven, and the sticky spicy and tangy glaze makes them positively finger-licking good. You'll need the wet wipes for these, folks.
The Sriracha and lime juice make this super simple glaze full of flavor that you simply can't find anywhere else. No need to go out for chicken wing perfection - time to stay in with your friends and family watching the next March madness game, or just enjoying a leisurely spring afternoon with a couple of hearty beers.
INSTRUCTIONS: Preheat oven to 400 degrees F. Line a large baking sheet with parchment paper. Set aside. In a medium saucepan over medium heat, melt 5 Tbsp unsalted butter. Once melted, whisk in 1 Tbsp flour and brown for approximately 1 minutes. Add in the hoisin sauce, Sriracha, soy sauce and lime juice, stirring to combine. The mixture should become nice and thick pretty quickly, in less than a minute. In a large bowl, combine the chicken wings, 2 Tbsp melted butter, vegetable oil, salt and pepper. Toss to coat the wings evenly.
Add the wings in an even layer to the lined baking sheet.
Brush the wings with a layer of glaze. Bake the wings for 25 minutes, turning them over halfway through and adding another coat of glaze. After 25 minutes are up, brush the wings with a final layer of glaze and broil for 4 to 5 minutes until crispy. Garnish with chopped fresh cilantro and serve immediately.
Recipe & photos by Meghan Bassett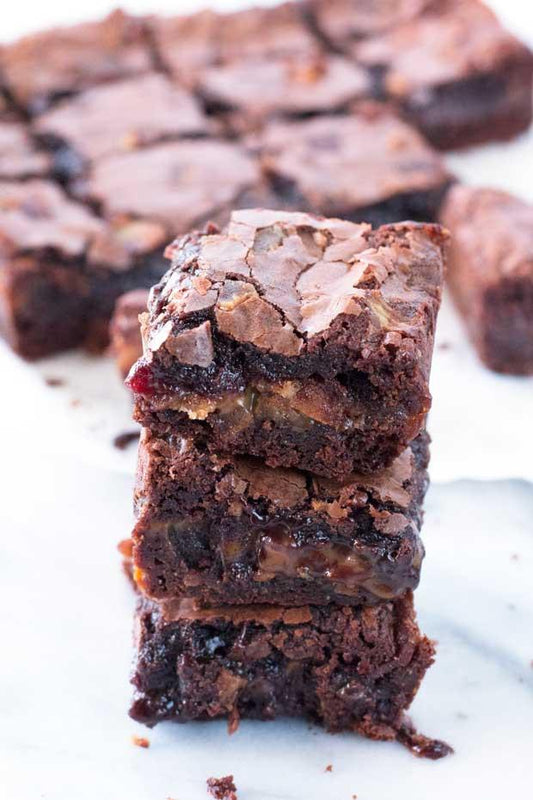 They say that everything is better with bacon and here at Pig of the Month BBQ, y'all know we are inclined to agree with them. ESPECIALLY when it comes to desserts with bacon. That salty, savory taste of bacon goes so perfectly with everything from apples to chocolate, caramel to maple - it's a insane party of flavor that we will stuff our faces with all day, erry day! Now that Thanksgiving is all wrapped up (and we are still a little sad that the leftovers didn't last longer...), it's time to hit that holiday baking and treat making... HARD. We are rounding up all the things that are topping our wishlist to make this holiday season, and a few that we're planning to make for a second (ok more like tenth) time. You really can't argue with a classic like Bacon Bourbon Caramel Stuffed Brownies, you know? So whip out the apron and turn that oven on. It's time to get into that sweater body with alllll the bacon-packed desserts. You can save hitting the gym for your New Year's resolution... ;)
Individual Pumpkin Spice Cakes with Cream Cheese Frosting & Candied Bacon - Sauce + Style
Bacon Bourbon Caramel Stuffed Brownies - Sauce + Style
Cinnamon Bun Bacon Cinnamon Rolls - Sauce + Style
Spicy Bacon Chocolate Chip Cookies - Sauce + Style
Slutty Brownies with Candied Bacon - Sauce + Style
Apple Pie with Bacon Lattice - Babble Chocolate Bacon Cupcakes with Dulce de Leche Frosting - Food Network
Bacon Bomb Pie - Wine & Glue
Bourbon Bacon Brittle - Baking the Goods
Easy Sticky Buns with Bacon - Just a Taste Beer & Bacon Pecan Bars - The Beeroness
Chocolate Bacon Bundt Cake - Your Cup of Cake
Chocolate Covered Bacon Bites - Cooking Classy Chocolate Bacon Truffles - Candiquik Blog
Chocolate Covered Pretzels with Maple Smoked Bacon Crumbles - Butterlust Maple Bacon & Chocolate Peanut Butter - Keepin' It Kind
Maple-Bacon Marshmallows - Epicurious Happy baking, piggy fans!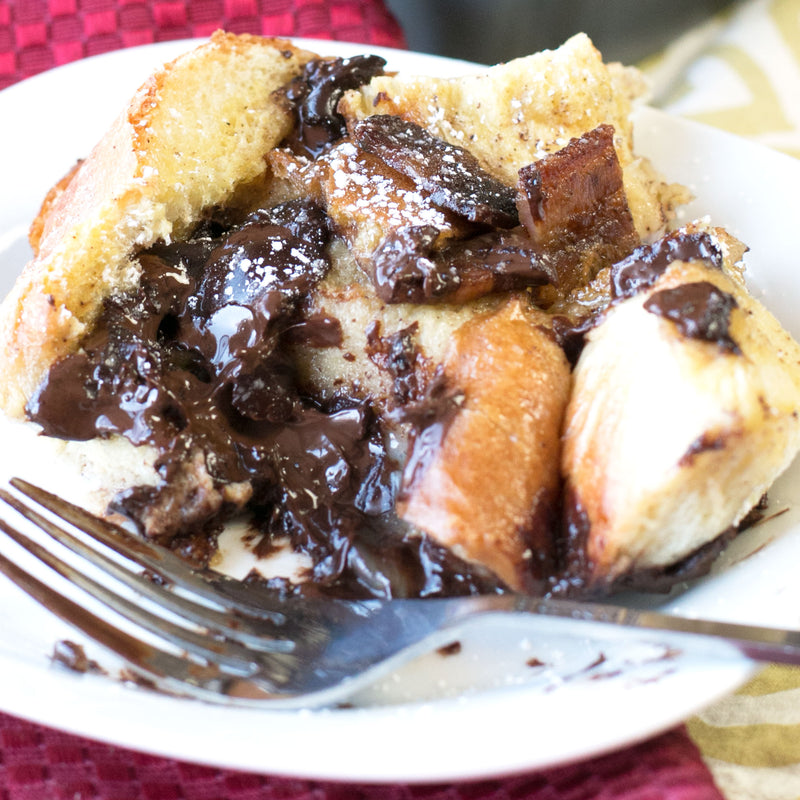 In the dead of winter, all I want to wake up to is something sweet, savory and super easy to make. That's why this Overnight Bacon & Chocolate Chip French Toast fits the bill almost every weekend. It's got sweet french toast, rich dark chocolate and savory bacon which when combined together in a baked up casserole of goodness, will completely blow you away with every single bite.
What I really love about this recipe is that you can easily make it the day or night before. That way when you are groggy in the morning, reaching for your cup of coffee, all you have to worry about is setting the oven and placing the baking dish in there. By the time you feel awake, you'll be sitting down to a heaping, gooey portion of this deliciousness...
It's perfect for the holidays, especially when you have family staying with you and the chaos of Christmas morning! However this recipe can keep you going and going throughout the cold months that are still ahead of us, so don't go only making it once ;) Happy holidays everyone! Enjoy the long weekend!
[vimeo 196762573 w=640 h=360]
Overnight Bacon & Chocolate Chip French Toast from Pig of the Month BBQ on Vimeo.
INSTRUCTIONS: Spray a 9x13-inch baking dish with non-stick cooking spray. Add half of the cubed bread to the pan and top it with half of the chopped bacon and chocolate chips. In a medium bowl, whisk together eggs, milk, sugar, vanilla, salt, cinnamon and cloves. Pour mixture over bread evenly to coat everything. Cover and refrigerate overnight. When ready to bake, preheat oven to 400 degrees. Bake uncovered for 15 to 20 minutes, until golden brown and the center is set. Top with powdered sugar and serve immediately.
Shop This Post:
Pig of the Month BBQ Applewood Smoked Maple Bacon  
*Recipe, video and photos by Meghan Bassett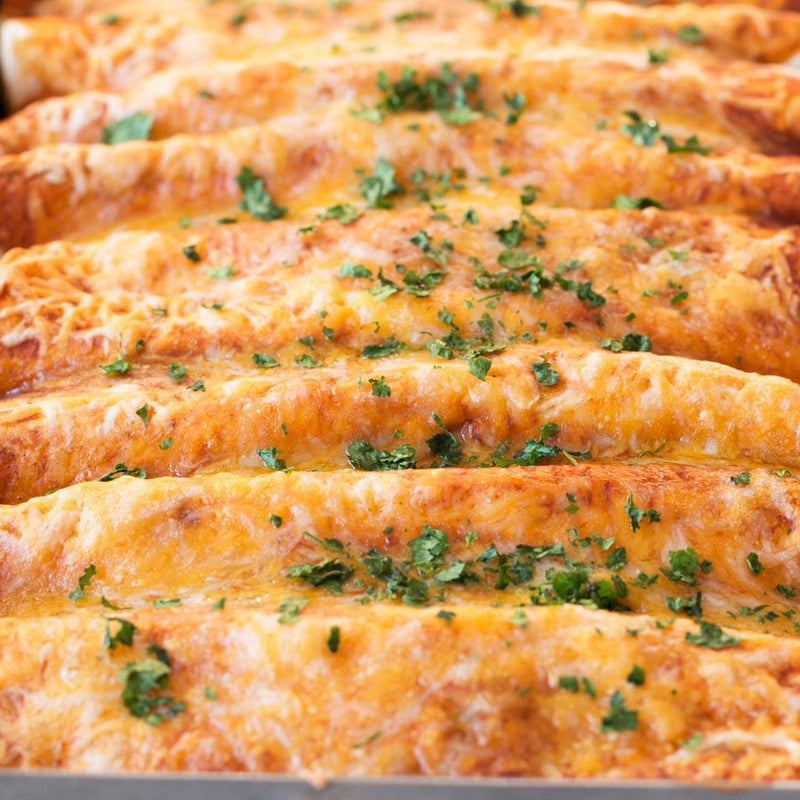 You know when you discover one of the best combinations ever? Because I just did. It's called the happy little crossing place between Mexican and BBQ....
I can't lie; it's freaking magical!
The cheesy, ooey gooey normal enchiladas recipe is made oh-so much better with the addition of BBQ sauce and the best ever Pig of the Month BBQ pulled chicken. It's a little spicy, a little sweet and totally tangy, making every bite the most dreamy thing to hit your taste buds since a slice o' crispy bacon.  If your tummy isn't rumbling at the sound of that, there's honestly something wrong with you...
Get down to Chow Town!
Serves 4 to 6 INSTRUCTIONS Preheat oven to 350 degrees. Grease a 9x13-inch baking dish. Add vegetable oil to a medium skillet and heat over medium-high heat. Add onion and cook until tender, approximately 3 minutes. Add chicken and chiles. Season with salt and pepper and cook until warm. Keep warm over low heat. Whisk together enchilada sauce and BBQ sauce in a small bowl. Set aside. Assemble the enchiladas by laying out the tortillas one at a time on a clean work surface. Spoon on 2 Tbsp of the enchilada BBQ sauce, spreading it out to coat the entire tortilla. Add 2 Tbsp of the chicken mixture down the center of the tortilla, then sprinkle with cheese. Roll up tightly and place in baking dish. Repeat with remaining tortillas. Spread remaining sauce over the top of the enchiladas. Top with remaining cheese. Bake for 20 minutes. Garnish with chopped cilantro and serve immediately.
Shop This Post
Pig of the Month BBQ Pulled Chicken  
*Recipe & photos by Meghan Bassett