Posts tagged: bacon stuffed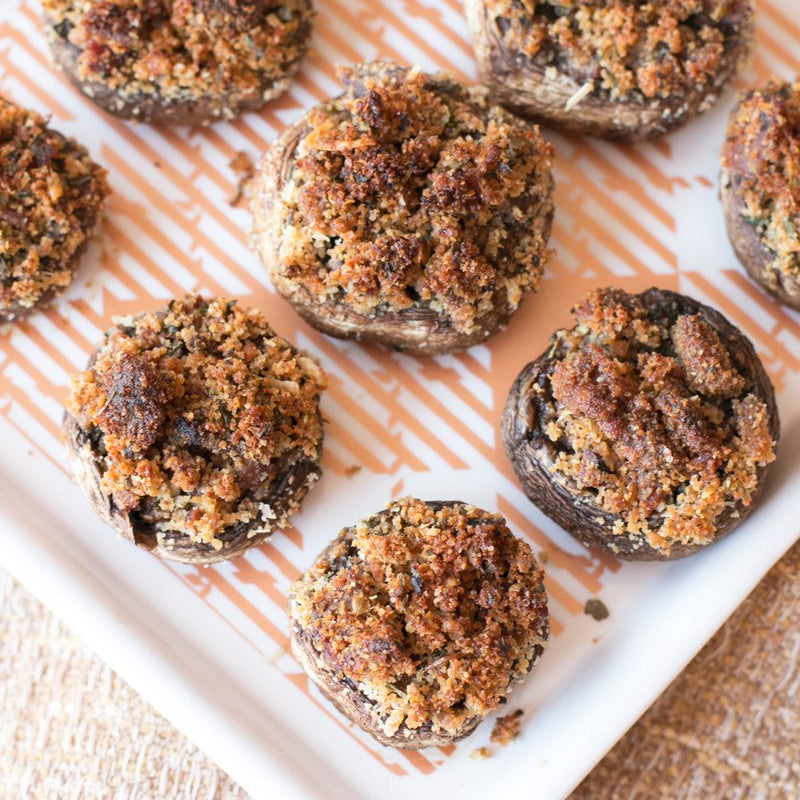 We are in prime holiday season and I don't know about you, but I need a ton of appetizer recipes on hand to get through to the end of the year.
From Thanksgiving to Christmas, Friendsgiving to New Year's Eve, there are about five million parties that are screaming for the perfect appetizer to stuff your face with. These little stuffed mushrooms are so easy to make and they are awesome for taking over to a party that you are attending. They are not too heavy so they won't spoil your appetite, but you might have trouble stopping at just one or too.
The earthy mushroom, the savory bacon and all the herbs blend together to make a delicious bite of crispy-topped perfection.
[vimeo 191819578 w=640 h=360]
Cheesy Bacon-Stuffed Mushrooms from Pig of the Month BBQ on Vimeo.
INSTRUCTIONS: Preheat oven to 400 degrees. In a medium bowl, stir together bread crumbs, cheese, garlic, bacon, oregano, parsley, pepper, salt and 2 Tbsp olive oil. Set aside. Drizzle a baking sheet with 1 1/2 Tbsp olive oil. Add 1 to 1 1/2 tsp of filling to each mushroom and place in an even layer on the baking sheet. Bake for 25 minutes, or until golden brown. Serve.
Shop This Post
Pig of the Month BBQ Applewood Smoked Maple Bacon
*Recipe, photos and video by Meghan Bassett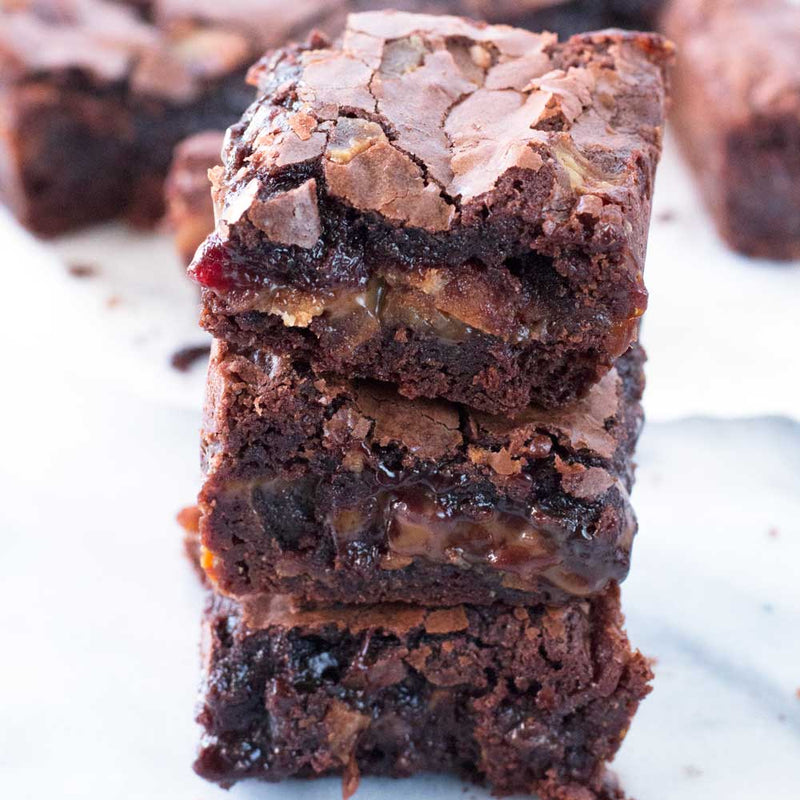 Bacon Bourbon Caramel Stuffed Brownies are an indulgent, decadent dessert that combines our love of bacon, chocolate, caramel and BOOZE. 
When we go for dessert, we go big. Real big. Like, Super Bowl big.
These bacon bourbon caramel stuffed brownies are the latest food porn creation that we absolutely can't get enough of. If you thought brownies couldn't get any better, well you're just plan wrong. We stuffed ours with a rich, creamy bourbon caramel and lots of our top selling bacon to really send it over the edge.
It's sweet, it's savory and it's so gooey and decadent, you might just faint after the first bite. If you really want to bring your A-game to your next party, picnic or to spoil your significant other, this is the ultimate recipe to bust out. Everyone will be freaking the hell out the moment you set these out. Then just sit back and watch as everyone clammers to get another one before they're all gone.
Chocoholics, bacon-lovers, bourbon-obsessed fans and caramel-cravers UNITE. This is the only dessert you need to make for the rest of your darn life. For real.
INSTRUCTIONS: Preheat oven to 350 degrees F. Grease an 8x8 baking dish with nonstick spray & line with parchment paper.
Make brownie batter according to the instructions on the package. Pour half the batter into the baking dish and bake for 20 minutes. Cool for 20 minutes.
Combine caramels, cream and bourbon in medium saucepan over medium heat. Stir constantly until smooth and creamy, about 4 to 5 minutes.
Pour in caramel then add layer of chopped bacon, reserving 1/4 of the chopped bacon for later.
Top with the rest of brownie batter and sprinkle with remaining bacon. Bake for 20 more minutes and cool completely before cutting.
Shop This Post
Recipe & Photos by Meghan Bassett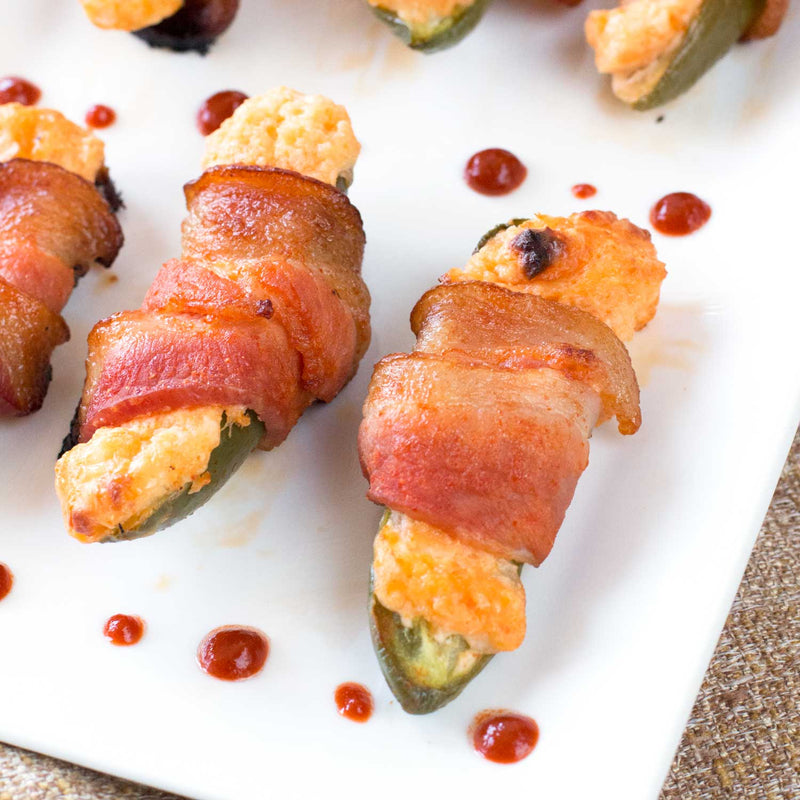 Sriracha Bacon Wrapped Stuffed Jalapeños really bring the heat! This spicy, crispy and creamy appetizer will win over everyone at your next party. 
Wrapping things in bacon is kind of a specialty of mine. If anything just isn't quite working for me in the kitchen, I usually head straight for the extra pound of bacon I always have sitting in my refrigerator. You know, just in case there's a bacon-related emergency - which surprisingly happens on a weekly basis for me. You'd be surprised by just how many things can be wrapped in bacon! Potatoes, rolls, scallops, shrimp, meatloaf, yea this list could go on forever. Today I'm bringing you one of my new favorite bacon-wrapped recipes that'll light a fire on your tongue and in your belly.
Sriracha Bacon Wrapped Stuffed Jalapeños are the best combo of crispy, creamy, spicy and extra cheesy. The Sriracha bacon and added Sriracha in the filling make these little guys just the right amount of wicked. You'll feel the heat but you won't be burning your taste buds off with each bite. Pro tip: try slicing a sausage or brat in half and stuffing it with one of these stuffed jalapeños. Next level amazingness right there, I'm just saying.
INSTRUCTIONS: Preheat oven to 400 degrees. Grease a baking dish and set aside.
In a medium bowl, beat together cream cheese, cheddar cheese, Monterrey Jack cheese, garlic, Sriracha and salt with an electric mixer until smooth and well-combined.
Add the halved jalapeños to the baking dish and fill each one evenly with the spicy cream cheese filling.
Wrap each stuffed jalapeño half with half a slice of Sriracha bacon, securing with a toothpick. Bake for 25 minutes, or until the bacon is as crispy as desired. Serve immediately.
Shop This Post:
Pig of the Month Sriracha Bacon  
Recipe & Photos by Meghan Bassett