Posts tagged: bacon jalapenos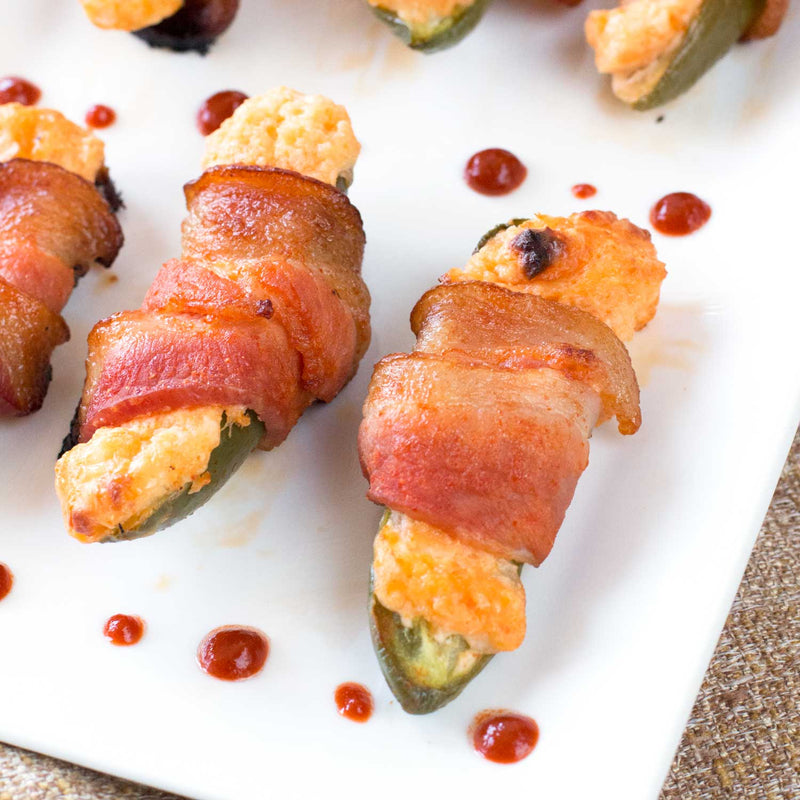 Sriracha Bacon Wrapped Stuffed Jalapeños really bring the heat! This spicy, crispy and creamy appetizer will win over everyone at your next party. 
Wrapping things in bacon is kind of a specialty of mine. If anything just isn't quite working for me in the kitchen, I usually head straight for the extra pound of bacon I always have sitting in my refrigerator. You know, just in case there's a bacon-related emergency - which surprisingly happens on a weekly basis for me. You'd be surprised by just how many things can be wrapped in bacon! Potatoes, rolls, scallops, shrimp, meatloaf, yea this list could go on forever. Today I'm bringing you one of my new favorite bacon-wrapped recipes that'll light a fire on your tongue and in your belly.
Sriracha Bacon Wrapped Stuffed Jalapeños are the best combo of crispy, creamy, spicy and extra cheesy. The Sriracha bacon and added Sriracha in the filling make these little guys just the right amount of wicked. You'll feel the heat but you won't be burning your taste buds off with each bite. Pro tip: try slicing a sausage or brat in half and stuffing it with one of these stuffed jalapeños. Next level amazingness right there, I'm just saying.
INSTRUCTIONS: Preheat oven to 400 degrees. Grease a baking dish and set aside.
In a medium bowl, beat together cream cheese, cheddar cheese, Monterrey Jack cheese, garlic, Sriracha and salt with an electric mixer until smooth and well-combined.
Add the halved jalapeños to the baking dish and fill each one evenly with the spicy cream cheese filling.
Wrap each stuffed jalapeño half with half a slice of Sriracha bacon, securing with a toothpick. Bake for 25 minutes, or until the bacon is as crispy as desired. Serve immediately.
Shop This Post:
Pig of the Month Sriracha Bacon  
Recipe & Photos by Meghan Bassett