Posts tagged: applewood smoked bacon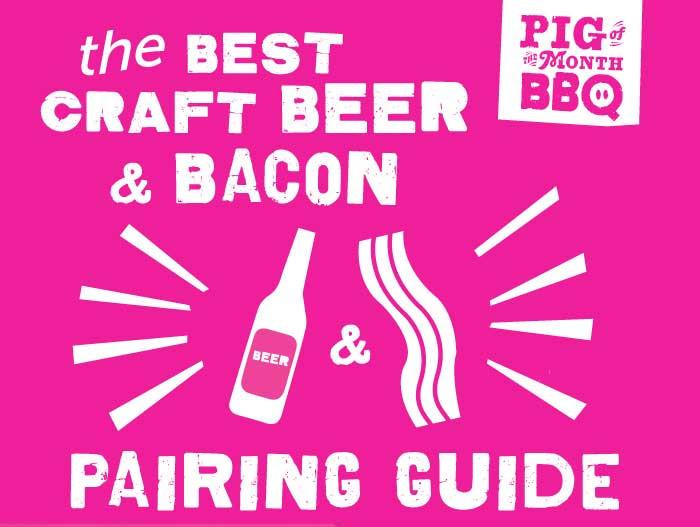 Pig of the Month Best Bacon & Craft Beer Pairings?
Oh yea, you heard that right...
You all know we love our bacon, but what we also love to indulge in is beer. There are so many diverse beer styles out there that compliment all sorts of flavors, it may seem a little impossible to choose. For our fellow beer and bacon lovers out there, isn't it about time you knew how to pair your favorite Pig of the Month BBQ bacon flavor with craft beer? We thought so. It took a lot of hard work on our part, tasting all that bacon and beer to create the perfect pairing guide for you all, but we did it. For the good of the TEAM. Such sacrifice, we know. The following Pig of the Month Best Bacon & Craft Beer Pairings guide gives you everything you need to know, so you can have even more excuses to indulge in more bacon and beer. You're welcome.
Happy pairing, piggy fans!
Shop This Post
Coffee & Red Chili Pepper Bacon
Extra Thick Hickory Smoked Bacon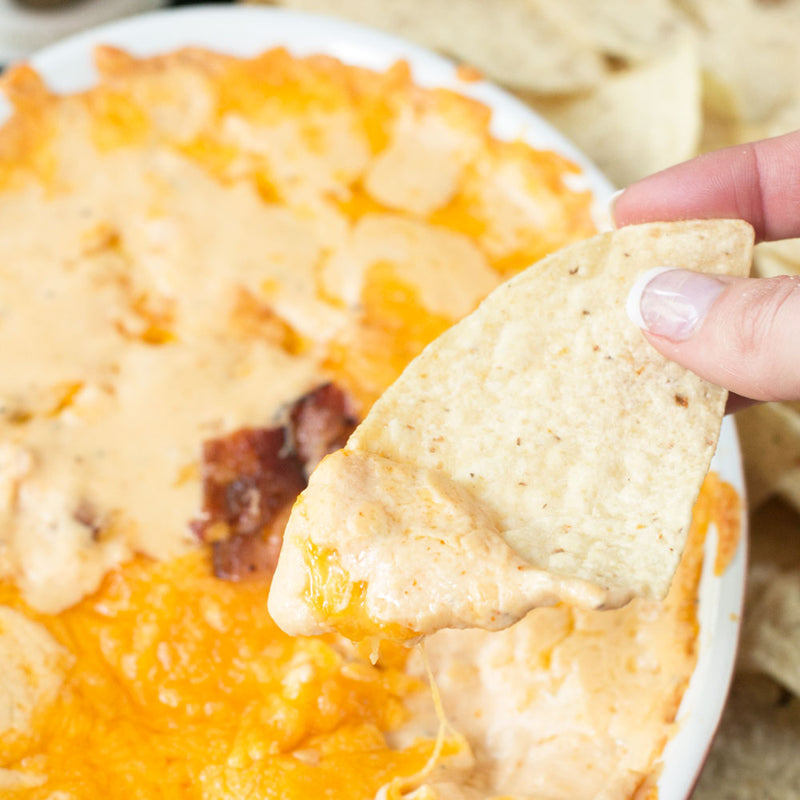 When beer, bacon and cheese come together, it's a beautiful thing. It's an even more beautiful thing when it's all baked up into a gooey dip like the one you see right here. I don't know of anyone who could resist diving into this dish headfirst. I mean, it's bacon and cheese so it's a given that everyone will be obsessed with it.
But it's the beer that really makes this dip insanely delicious. The hoppy IPA gives the dish a little bite of beer flavor that pairs so perfectly with all that crispy bacon and massive amounts of cheese. The result is a dip that needs to be busted out on the regular, especially during tailgating season. As you gather around the TV to watch your favorite team bring home the win, this cheesy mess of goodness will make the win that much sweeter (or cheesier....). Beer and beer always go hand in hand. Don't try to argue with that logic, because you'll lose.
Load up those chips and get to eating, piggy fans!
[vimeo 181794693 w=640 h=360]
Bacon & Beer Cheese Dip from Pig of the Month BBQ on Vimeo.
INSTRUCTIONS: Preheat oven to 350 degrees. In a medium saucepan over medium high heat, melt butter. Add onion and cook down til tender, approximately 3 minutes. Whisk in mustard, then pour in beer. Stir and bring to a boil for 5 minutes. Whisk in cream cheese and reduce heat to medium. Whisk until the cheese is melted. Remove from heat and add monterey jack cheese and 3/4 of the cheddar cheese. Stir until cheese is melted. Add spices and 3/4 of the bacon, stirring to combine. Pour cheese dip into a baking dish. Top with remaining cheese and bacon. Bake for 20 to 25 minutes.
Shop This Post
Pig of the Month Applewood Smoked Maple Bacon  
*Recipe, photos and video by Meghan Bassett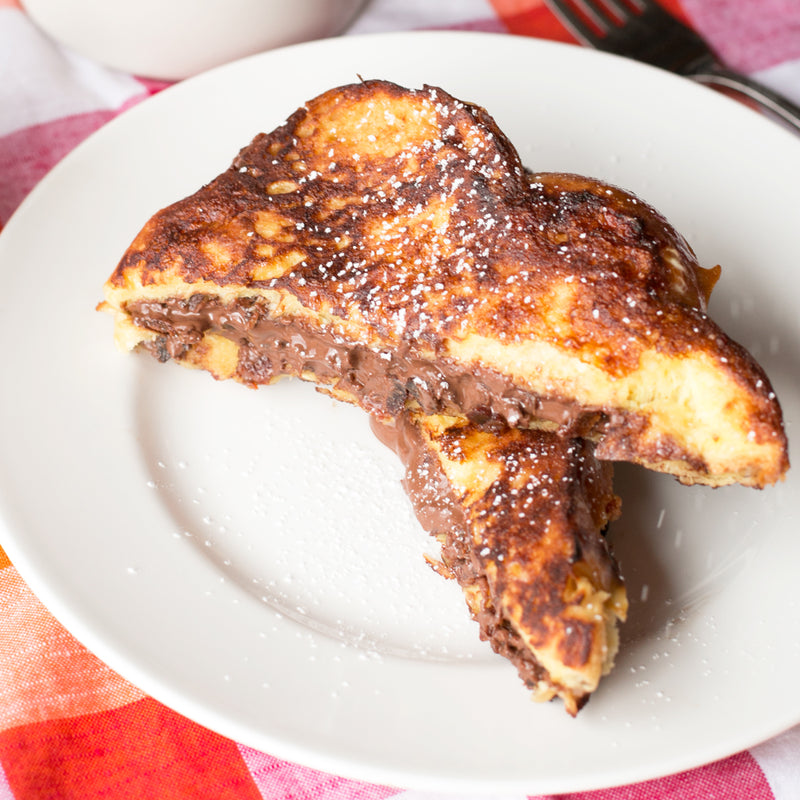 You guys.... It's time to find out what the BEST breakfast is EVER. Bacon-Stuffed Nutella French Toast... You will never believe the lusciousness that awaits you with every bite of this over-the-top French toast. The combination of bacon and Nutella is just about the best combination I've ever tasted. Just like chocolate-covered bacon, Nutella is an even better pairing for bacon.
This is the kind of breakfast that you serve when you are having a rough week or, especially, when you are trying to impress all those friends and family members. People will be swooning, they will be sighing, they will be melting in their seats when they take that first bite.
Or you can just hoard all of it to yourself and you don't have to worry at all about sharing. I totally support this decision, by the way. Just in case you were wondering.
INSTRUCTIONS: In a shallow bowl, whisk together eggs and milk. Spread four slices of the bread equally with Nutella. Sprinkle each with bacon. Top with the other slices of bread to form a Nutella sandwich. In a medium skillet, melt 1 Tbsp of butter. Dip both sides of one sandwich into the egg and milk mixture and place in the hot skillet. Cook for about 4 minutes per side, until golden brown on both sides. Repeat with remaining sandwiches. Cut each in half and serve. Shop This Post Pig of the Month BBQ Applewood Smoked Bacon
*Recipe & photos by Meghan Bassett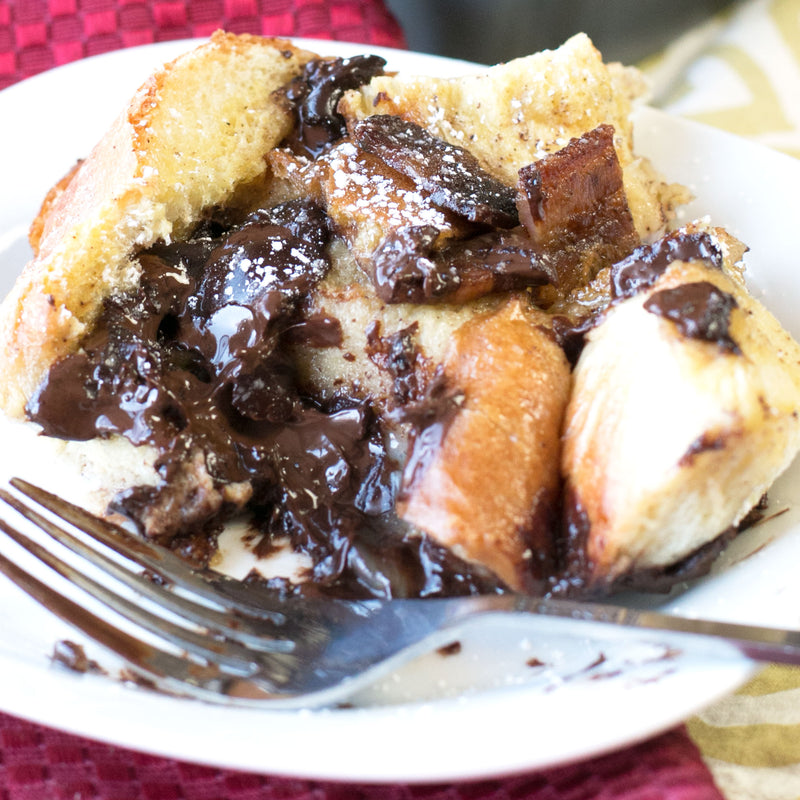 In the dead of winter, all I want to wake up to is something sweet, savory and super easy to make. That's why this Overnight Bacon & Chocolate Chip French Toast fits the bill almost every weekend. It's got sweet french toast, rich dark chocolate and savory bacon which when combined together in a baked up casserole of goodness, will completely blow you away with every single bite.
What I really love about this recipe is that you can easily make it the day or night before. That way when you are groggy in the morning, reaching for your cup of coffee, all you have to worry about is setting the oven and placing the baking dish in there. By the time you feel awake, you'll be sitting down to a heaping, gooey portion of this deliciousness...
It's perfect for the holidays, especially when you have family staying with you and the chaos of Christmas morning! However this recipe can keep you going and going throughout the cold months that are still ahead of us, so don't go only making it once ;) Happy holidays everyone! Enjoy the long weekend!
[vimeo 196762573 w=640 h=360]
Overnight Bacon & Chocolate Chip French Toast from Pig of the Month BBQ on Vimeo.
INSTRUCTIONS: Spray a 9x13-inch baking dish with non-stick cooking spray. Add half of the cubed bread to the pan and top it with half of the chopped bacon and chocolate chips. In a medium bowl, whisk together eggs, milk, sugar, vanilla, salt, cinnamon and cloves. Pour mixture over bread evenly to coat everything. Cover and refrigerate overnight. When ready to bake, preheat oven to 400 degrees. Bake uncovered for 15 to 20 minutes, until golden brown and the center is set. Top with powdered sugar and serve immediately.
Shop This Post:
Pig of the Month BBQ Applewood Smoked Maple Bacon  
*Recipe, video and photos by Meghan Bassett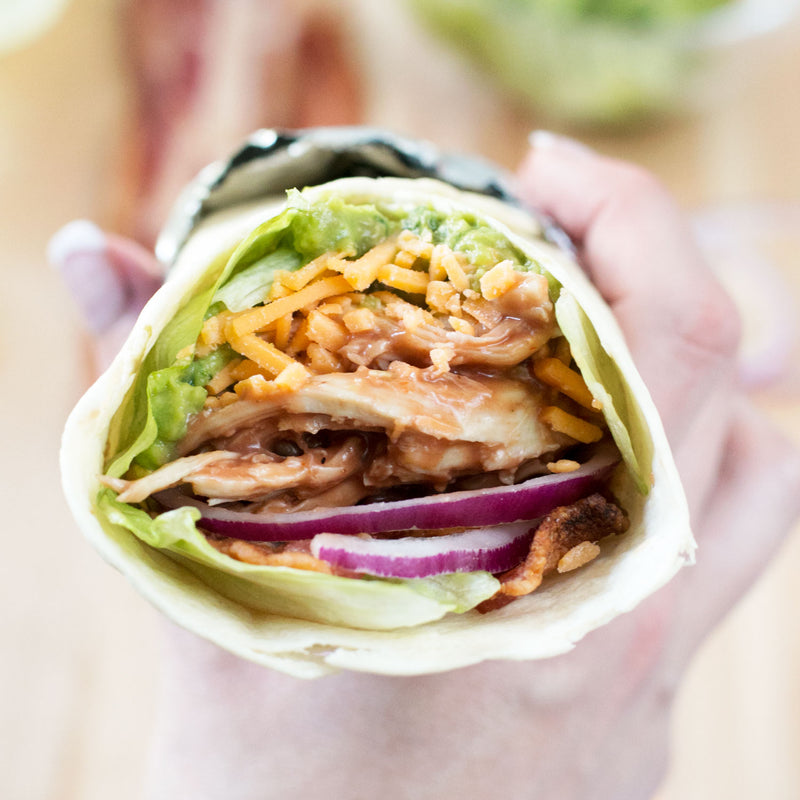 BBQ Chicken & Bacon Guacamole Wraps are here to make all your secret lunch dreams come true... I don't know about you all, but I get SO bored with eating salad and turkey club sandwiches for lunch every day. I can get into a serious rut when it comes to lunch. With all the work piling up, I never have time to really think about what I am eating unless I plan it out ahead of time.
Planning ahead is not necessarily my strong suit. As much as I would love to craft a gorgeous lunch every day, I need something that's ready to just dive into on the spot when my stomach starts rumbling. That's why this wrap is SO perfect. It's easy to make ahead of time (heck, you could even make it the night before) and it'll disappear in about 2.5 seconds. Surprised?
It's stuffed with BBQ-sauced chicken, guacamole and BACON so I'm not sure why you would be! It's better than any sandwich you'll ever grab at that sad little shop on the corner. Plus it even has some lettuce in there to make you feel even healthier as you wipe the BBQ sauce from your chin.
INSTRUCTIONS: In a medium bowl, stir together chicken, BBQ sauce and ranch dressing. Set aside. Microwave tortillas for 30 seconds to make them pliable.
To build the wraps, lay down a layer of lettuce and top with three strips of bacon in the center of each tortilla. Divide the red onion evenly between the two, then chicken, then cheddar cheese and finally guacamole.
Wrap tightly in foil and serve immediately or bring it with you for a delicious work lunch or picnic!
Shop This Post
Pig of the Month BBQ Applewood Smoked Maple Bacon
Pig of the Month BBQ Hand Pulled Chicken
*Recipe & photos by Meghan Bassett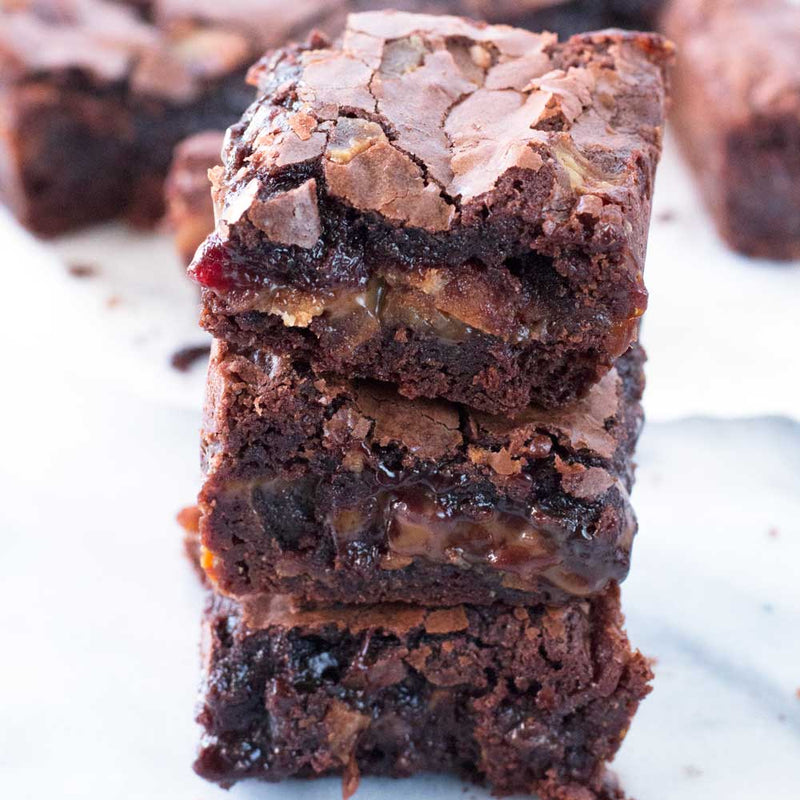 Bacon Bourbon Caramel Stuffed Brownies are an indulgent, decadent dessert that combines our love of bacon, chocolate, caramel and BOOZE. 
When we go for dessert, we go big. Real big. Like, Super Bowl big.
These bacon bourbon caramel stuffed brownies are the latest food porn creation that we absolutely can't get enough of. If you thought brownies couldn't get any better, well you're just plan wrong. We stuffed ours with a rich, creamy bourbon caramel and lots of our top selling bacon to really send it over the edge.
It's sweet, it's savory and it's so gooey and decadent, you might just faint after the first bite. If you really want to bring your A-game to your next party, picnic or to spoil your significant other, this is the ultimate recipe to bust out. Everyone will be freaking the hell out the moment you set these out. Then just sit back and watch as everyone clammers to get another one before they're all gone.
Chocoholics, bacon-lovers, bourbon-obsessed fans and caramel-cravers UNITE. This is the only dessert you need to make for the rest of your darn life. For real.
INSTRUCTIONS: Preheat oven to 350 degrees F. Grease an 8x8 baking dish with nonstick spray & line with parchment paper.
Make brownie batter according to the instructions on the package. Pour half the batter into the baking dish and bake for 20 minutes. Cool for 20 minutes.
Combine caramels, cream and bourbon in medium saucepan over medium heat. Stir constantly until smooth and creamy, about 4 to 5 minutes.
Pour in caramel then add layer of chopped bacon, reserving 1/4 of the chopped bacon for later.
Top with the rest of brownie batter and sprinkle with remaining bacon. Bake for 20 more minutes and cool completely before cutting.
Shop This Post
Recipe & Photos by Meghan Bassett
Meat Lovers Pizza Roll Ups are a meat lover's dream! Packed with three different Pig of the Month BBQ meats, you will be in BBQ pizza heaven with every bite. 
I have a serious obsession with BBQ pizza as soon as the warmer weather comes around. Aside from grilling everything and anything in sight, I'm all about the easy appetizers or snacks that I can munch on (or turn into a whole meal) while I messing with whatever I have going on the grill. These meat lovers pizza roll ups are my favorite solution for something summer and BBQ-packed that doesn't require me whipping out the grill - or something that doesn't take up that valuable real estate, you know?
Whether you are making these as a snack or appetizer for a party, or turning these into a fun weeknight BBQ meal for the family, you won't find a more meaty recipe out there that's this easy.
All you have to do is roll out some dough, stuff it with meat, bake and top with cheese. Just don't forget the extra BBQ sauce to serve them up with!
Sling me a beer and lets cheers to those tasty, juicy meats!
[vimeo 166821716 w=640 h=360]
Meat Lovers Pizza Roll Ups
from
Pig of the Month BBQ
on
Vimeo
.
INSTRUCTIONS:
Preheat oven to 425 degrees. Grease a baking sheet and set aside. On a lightly floured surface, roll out the pizza dough into a large 9x13-inch rectangle. Brush the dough with 1/3 cup of BBQ sauce. Layer on the pulled pork, brisket and bacon. Roll the dough up tightly and slice in 3/4-inch thick rolls. Add rolls to prepared baking sheet. Bake for 15 minutes. Sprinkle the rolls with cheese and broil until the cheese is melted. Serve immediately with extra BBQ sauce for dipping.
Shop This Post
Pig of the Month BBQ Pulled Pork
Pig of the Month BBQ Brisket
Pig of the Month BBQ Applewood Smoked Maple Bacon
  Recipe, photos & video by Meghan Bassett
Boring old fried onion rings are sooooooo yesterday. No one needs all that greasy breading. Instead, you need all that greasy, crispy BACON. These bacon-wrapped onion rings are the only way you should be eating your onion rings from now on. Everything is better with bacon, you all know that! These onion rings might look a little intimidating to make, but they are so much easier than dragging out the fryer and going through the batter process normal onion rings require. Instead just wrap these bad boys up and bake until they are crispy and delicious. No possible oil burns and no risk of a grease fire. Which for someone as clumsy as myself is a serious MUST.
The hint of BBQ sauce and smoky flavor of the bacon give new life to onion rings that is downright addictive. Trust me when I say you won't regret diving into a bowl of these savory rings of bacon-wrapped onion rings (aka serious deliciousness) for a second; and if you do, hand them over, I'll finish off the rest for you.
INSTRUCTIONS: Preheat oven to 400 degrees F. Line with foil and place rack on baking sheet.
Brush the onion rings with BBQ sauce, then carefully wrap in bacon. Start by wrapping one end of a bacon slice snuggly around the onion ring so it just slightly overlaps itself. You'll use about 1 1/2 to 2 slices of bacon per onion ring.
Place the wrapped onion rings bacon-end side down on the rack and bake for 20 minutes. Flip the onion rings and bake another 15 to 20 minutes. Finish the onion rings with a few minutes under the broil if you like crispier bacon. Remove from oven and rest at least 5 minutes. Serve with more BBQ sauce if desired.
Shop This Post Pig of the Month BBQ Applewood Smoked Maple Bacon Recipe & photos by Meghan Bassett